Matt Iseman is simply one nicest guys I have ever met. While best known for hosting some of the nation's top shows including the most recent season of NBC's "American Ninja Warrior" what many people don not know is that Matt is also a licensed physician and worked as a doctor before taking the leap of faith embracing his true passion in life, comedy. While our Bromance grew, (my doctor never looked like him) I also learned that he has an inspiring personal story to share as he is battling Rheumatoid Arthritis or RA, which impacts 1.3 million Americans. Matt gets infusion therapy to treat his RA and is an infusion of light, love as well as a big dose of funny.
Photo Credit: Matt Iseman
JE: What is more daunting, a room full of medical school cadavers or an audience at a comedy club?
MI: A roomful of cadavers are definitely more unbalancing. While I will probably catch some fiery darts for sharing trade secrets - dead people smell horrendous. That's not to say I haven't been in my fair share of comedy clubs where I encountered a noticeable odor, but I love stand up. I guess the only up side to medical school was my audience couldn't tell me I sucked.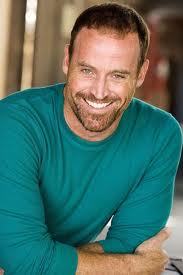 Photo Credit: Matt Iseman
JE: How did you get involved in "American Ninja Warriors"?
MI: I'm not quite sure. Okay honesty check, I have absolutely no idea. I know things went well for me on "Sports Soup" and I know that they wanted someone who knew something about sports but could also take a lighthearted, comedic approach to the show. It's a wild ride and once you jump on you or are in it whether you're a contestant or watching it from home. So while I would like to think I was the most qualified, its probably because I was simply crazy enough to think I could take this on and make what is huge Pop Culture success in Japan equally as engaging here in the states. They also told me they would pay me.
JE: Talk to me a bit about your connection to RA.
MI: My connection to Rheumatoid Arthritis (RA) is very personal. I have it, I'm living with it and I want to show people in a similar situation to mine that although it is a chronic autoimmune disease - with the right treatment and a strong support system we can take back our lives and live them with a sense of dignity, hope and hopefully more than just a few laughs. (RA) is serious and insidious... I went from feeling like a fit 30-year-old man to someone who couldn't and some days simply didn't want to get out of bed. By putting a face to the disease I hope I can educate others and help them see life is still full of opportunity.
JE: What's next on the horizon for you?
I have a comedy tour coming up in Utah. Yes, Utah I know most people don't imagine the words "comedy" and "Utah" to appear in the same sentence but I always have a great time when I'm there and the audiences are fantastic. As for the rest of the horizon? I plan to stay healthy, happy and wish everyone the same.