While the masses of muggles, the non-magicians among us anxiously await any word from the world of wizardry. I too countdown the hours waiting for breaking news and line up in costume for hours at bookstores upon release of anything potteresque , theaters sell out in minutes at mere mention of "Potter Fodder" and this summer the Mother Ship has landed and the "Potter Heads" are friendly.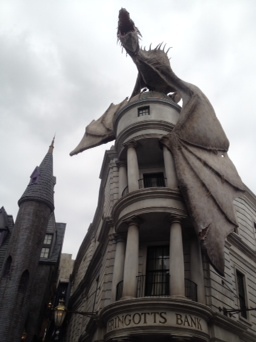 Photo Credit: Joshua Estrin
Welcome to Diagon Alley in The Wizarding World of Harry Potter at Universal Orlando. A major expansion and addition to the complex's hugely popular Hogsmeade Village and Hogwarts Castle within Universal's Islands of Adventure theme park.
Guests and Harry Potter fanatics can re-enact the iconic movie scene where Harry first sets out for Hogwarts and climbs aboard the Hogwarts Express at Platform 9 3/4 at King's Cross Station in London to travel between the two lands using their Park-to-Park admission ticket. During their trip through the British countryside, guests meet characters and creatures from the Harry Potter films with more than a few other magical surprises.
The newly created attraction is designed to allow us to follow in the footsteps of Harry Potter as he walks through the streets of London to the fabled Diagon Alley. The major attraction is the multi-dimensional 3D thrill ride, Harry Potter and the Escape from Gringotts, the goblin-run bank. Guests enter beneath the massive fire-breathing dragon, walk by hard-working goblins in the bank lobby, and find themselves at the heart of the pulse-quickening action as they navigate the Gringott's vaults helping Harry, Ron and Hermione evade Voldemort, Bellatrix, and other evil creatures.
Dining opportunities include a stop at Harry's favorite Leaky Cauldron for authentic British pub treats, or Florean Fortescue's Ice Cream Parlour for a refreshing frozen snack. Universal has no lack of imagination in recreating the famous shops of Diagon Alley. Hopeful practitioners can watch as a wand chooses a wizard at Ollivanders, or stock up on magical jokes and novelty items at Weasleys' Wizard Wheezes. Madam Malkin's Robes for All Occasions has all the clothing needs for the wizard to be who wants to look perfect for any occasion.
After a hard day of wizarding, a family needs a place to relax and Universal provides the perfect option with its all-new on-site Cabana Bay Beach Resort. Located within a short walk or easy shuttle ride to the theme parks, Cabana Bay is designed as a throwback to the iconic family vacations of the 50s and 60s, where mom, dad and the kids piled in the station wagon for a road trip -- with plenty of modern-day amenities and bold colors to compliment the retro architecture, the entire family can enjoy sand beach, Lazy River Courtyard, waterslides, a bowling alley, and Fitness Studio.
An added benefit is that guests are privy to an extra hour of The Wizarding World of Harry Potter with the early park admission included when booking a stay at any of the on-site hotels. "Potter Heads" The all-new Cabana Bay Beach Resort and Diagon Alley are calling all muggles, wizards, and families to plan a trip to Universal Orlando for what is sure to be an adventure to remember.
PHOTO GALLERY
Potter Heads Unite for A New Adventure at Universal Orlando
Photo Credit: Joshua Estrin
NOTE: In the name of fully transparency I am an unwavering Harry Potter fan but have no commercial connection to any of the brands mentioned in this article nor was I paid to write it.