Health fanatics often raise the cosmic question, "Do we eat to live or live to eat?" While I would like to report that I have transcended mere mortals and embrace my body as a temple, I admit without remorse that I sit squarely with a low center of gravity and few extra pounds as one who lives to eat.
If chips still remain in the bag, I am not full. If cookies remain on the plate, I certainly have room for a few (dozen) more, and if a slice of cake stares with a neglected frown from the dessert table, I confess I understand the concept of "shame eating" as it is a shame to let any delectable treat go to waste. Bring on the salty, the sweet, the savory and the infused flavors, and drive them across my palette with a lust and tenacity devoid of apology. I am a foodie and my body is more a monument to calories consumed than that of a temple.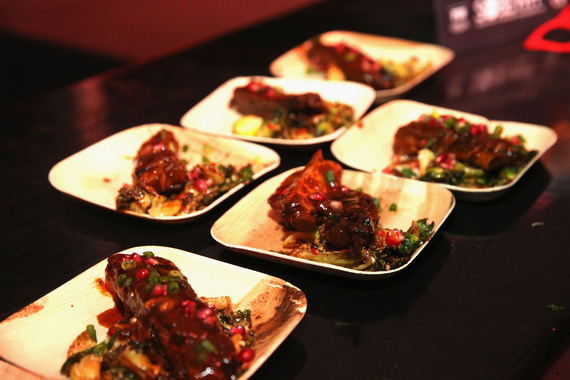 Photo Credit: South Beach WIne and Food Festival
That being the case, where is a foodie to go? This year, I once again made the nearly holy pilgrimage to the South Beach Wine and Food Festival in Miami (SOBEWFF) giving me reason to love my life as well as begin to plan the complex if not convoluted algorithm of just how much pre and post cardio to endure in order to remain marginally able to fit into my clothes as I deal with my gluttony before next year.
With large-scale events like the "Q" and "Burger Bash" attracting thousands, I have learned the art of pacing oneself as well as the a relentless truth... You simply can't eat the bun at "Burger Bash" as the bread expands to epic proportions with the host of libations on hand. It is full court press in this caloric game and if eating were an Olympic sport, I would proudly take home the gold.
With nearly all the Food Network celebrities on hand, it was a time to unite in joyful excess surrounded by friends who basked in the Miami sun as they exchanged secret foodie handshakes and recipes that traversed the social media highways as quickly as the likes of Giada, Robert Irvine and Anne Burrell pulled them from the ovens and lifted them off the grill.
With the best and the brightest on hand, Lee Schrager and his team created an atmosphere as savory and sweet as the city that hosted it.
As I reflect on the number staring back at me on the scale, as well as the fond tasty memories that induced my sugar coma and created a bit more love on my love handles, I simply can't wait until next year. Ah, the roar of the ovens and the screech of the treadmill -- a magical mix of culinary chaos at its finest.