Each time I get the opportunity to speak with Anne Burrell my diehard foodie friends no longer try to hide their jealousy and the one or two people on this planet who may only be marginally aware of who she is wonder out loud, "Wow, Anne Burrell what is she really like?"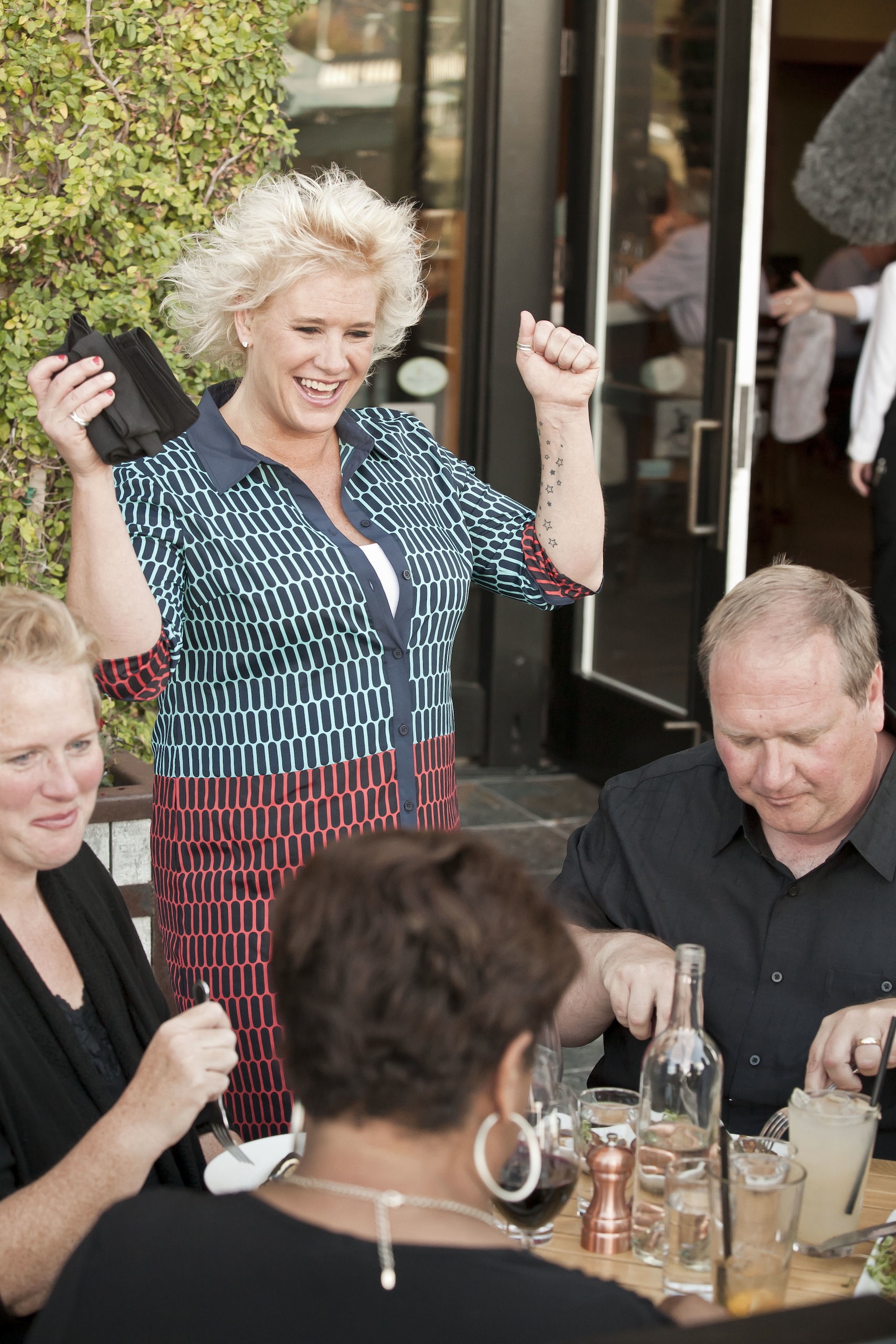 PHOTO CREDIT" Food Network
Jealous I can understand, but this fascination with what Anne is really like baffles me as I for one have always experienced her as nothing less than delicious and also one of the most authentic and transparent celebrities I have ever met. She is who she is without apology and to that end why should any woman, any person-apologize for being strong, powerful, uplifting and willing to stand behind his/her strong opinions?
She is joyful noise, she is boisterous and she is simply one of the most down to earth and good natured human beings I have ever met. Her sharp tongue and equally quick wit are balanced by her desire and willingness to be both teacher and student and she is quite simply as real as they come!
Therefore, during a recent chat with one of the most fantabulous foodies on the planet, I got a much-needed infusion of a woman I have come to not only enjoy on TV, but also equally admire.
Women are still finding their way out of the traditional kitchen and into a more professional setting -- what advice would you give to those up-and-coming female chefs?
While some might not think it the most politically correct answer, a few morsels of truth. Do not act like a girl, don't ask anyone to help you move the heavy stuff, don't let them see you cry and equally important, you may not be able to keep a manicure, but enjoy a regular pedicure as you're going to spend the rest of your life on your feet ladies.
In this season of Chef Wanted you are literally all over the map what was filming like for you?
It was like a Where's Waldo moment actually. It was exhausting, it was exhilarating and I wouldn't change anything about it. Most of the time I got random text messages from my friends that simply said, "Where are you?" And sometimes, the truth of the matter is I had to stop and think about my answer. Don't worry I'm not slipping and this girl hasn't lost her game. It was just a lot of cities and a lot of locations compressed into a very short amount of time. For the record, I might not always know where I am, but I'm damn sure I know where I'm going!
Tell me about your new cookbook.
"Own Your Kitchen: Recipes to Inspire & Empower" is about having fun and using cooking and food both literally and figuratively as an empowering experience. Creating interesting and exciting meals is a journey and it's a metaphor for life. I hope people will be uplifted not only by the recipes, but by the entire process. Maybe they will even discover a softer side of me... People see what they want to see but there is a whole lot more to Anne, to me, which is evident in this cookbook as well as Chef Wanted. This time around you get more of Anne Burrell the mentor as opposed to the drill sergeant that I know I can be. But I'm not afraid to show my softer side. It's my job to kick some foodie butt and take talented chefs to the next level but I am actually a really nice person... (No really I am).
While I'm not stalking you. If I were to sneak into your house right now and look in your refrigerator and cupboards what would I find?
Well, as we talked about before I have been away from home a great deal so my refrigerator is fully stocked with wine and condiments. My cupboards... Triscuits, salsa, Tostitos and hummus. Definitely not in that order and clearly I like my hummus and my salsa fresh -- but you get the idea. I like my snacks and I like to keep life crunchy.
Tune in Thursdays at 10pm ET/7 p.m. PT on the Food Network for "Chef Wanted"
This Week: August 15th
"Punk Rock Gastrobrewery"
Originally a Baptist church and a punk rock rehearsal space in Hermosa Beach, CA, gastro-brewery Abigaile was created under the inspiration of "Food Anarchy." Now, owner Jed Sanford and Executive Chef Tin Vuong are looking for a Chef de Cuisine to take the reins of Abigaile. Chef Anne Burrell brings in four chefs to compete for this coveted spot. The chefs are tasked with creating a bold vegetarian dish fitting with Abigaile's menu and recreating a fast food guilty pleasure into a restaurant-worthy dish. During dinner, one chef struggles to balance the restaurant's needs with his ego, while the other struggles with the overwhelming service. Only one will be left standing as the new Chef of this famed brewery.
Competing Chefs: Benny Diaz; Christopher Mack; Jamil Peden; Juan Pedrosa