The "home cook" has long been a misunderstood American treasure, but on Sunday, April 13th the Food Network is about to heat things up as they search for America's Best Cook. In a sit down and cook up some bacon with one of the show's team mentors, Chef Michael Symon -- I gained insight into the man behind the myth who is both charming and irreverent as only a self-proclaimed pork addict can be.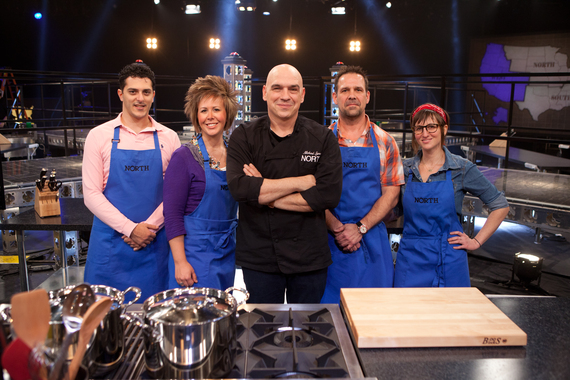 Photo Credit: Food Network
With a trademark laugh and killer smile, Chef Symon is known for being a fierce competitor and was deliciously charismatic and gracious enough to only put me in one headlock and a half nelson as we discussed the show.
Joshua Estrin: When working with untrained cooks how do you guide them in an effort to challenge them without raising the bar too high?
Michael Symon: The contestants on the show may not be formally trained, but most if not all have remarkably refined palettes and that is the key to success. Nearly anyone can be taught technique, but the foundation of creating truly inspiring meals is being able to taste and experience all the complexities of a dish.
JE: Your background is both Greek and Italian... How is that reflected in the dishes you prepare?
MS: I find that what both cultures and cuisines have in common is that 'less is more'. As a result, I keep that in mind whenever I am preparing a meal. I believe that even the most experienced chef can falter by trying to do too much to food that already has so much personality of its own.

JE: If I were to raid your refrigerator tonight during a midnight snack attack what would I find?
MS: I tend to shop daily especially for protein, but at the moment (he runs to the refrigerator) you can see I have whole milk, bottled water, four varieties of beer, cheese, blueberries, as well as a variety of hot sauces and mustards and of course the iconic bacon.
America's Best Cook premiers Sunday, April 13 at 9 p.m. ET/PT on the Food Network
NOTE: In the spirit of full disclosure, I have no commercial connection to any person or commercial entity named in this article.