What's your favorite meal? To me, this popular ice-breaking question is much more personal than sharing your favorite color. As a professional chef in Boston, MA choosing a go-to meal is quite revealing. And to answer this question, I find myself reflecting on how I learned to appreciate flavor in the first place.
My earliest memories of enjoying food involve salmon. My mother made it for us when I was a kid; with rice pilaf, from a box, and broccoli. She lived on a Christmas tree farm in Western Massachusetts. I'll never forget that meal. A week later she let me help her make a meat loaf. She told her boyfriend at the time he was lucky, that "Josh was making dinner." It made an impression on me. My answer to that common question -- what's your favorite meal? -- became "my mother's salmon." And I began to cook.
My Jewish grandmother also served us lox and cream cheese, on bagels of course, every weekend. Once I was old enough to write a Christmas list, at the very top of it every year was "smoked salmon." It always appeared under the tree, ironically. My grandmother's aunt Margaret -- dubbed "Auntie" -- proudly served us cured and dried salmon, heavily peppered, on sticks during a young visit to her in Montreal. We also had dry cured salamis for the first time, and the most interesting pickles.
As a teenager, I don't remember eating wild salmon from the Atlantic. Some of my friends do. They were popular off the coast of Cape Cod. It was common to see Atlantic salmon served with fresh peas, a proper July meal. Salmon today is largely farmed. Some of it quite sustainably so, depending on who you ask. Some of it, not so much.
Now, in the professional kitchen, I find myself in a position to make large decisions about food purchasing. About flavor. About memories. With the flavor of fresh salmon always on my mind, I try to be diligent. I want to pass along the flavor, the experience, of my favorite meal.
Our menu at Beacon Hill Bistro represents a rapidly changing seasonal New England landscape. Our produce is delivered by farmers, personally, freshly harvested. Our meat is often delivered on the shoulder of the man, or woman, who drove it to slaughter. Much of our seafood comes from within a few miles of our own shores in Boston -- in tubs, carried by a fisherman with salt still in his hair. But each summer, our salmon arrives fresh from Bristol Bay.
Bristol Bay, Alaska is home to the world's greatest salmon sockeye run; 37 million fish strong. Through working with Chefs Collaborative and the Bristol Bay Regional Seafood Development Association during the Savor Bristol Bay Salmon dinner series, I can serve this delicious red fish during the peak of salmon season, and add my voice to the public advocating for the protection of this precious natural resource (now threatened by Pebble Mine).
Through connecting with people in Bristol Bay, I've also made friends with families who have fished there for generations. In the words of a friend from Egegik (on the south side of Bristol Bay):
"My immediate and extended family was built on Bristol Bay summers; my family currently has four living generations that fish Bristol Bay each year. I can only imagine how many more generations the salmon of Bristol Bay could nourish, and it would break my heart to see it end with a mine. The salmon that return to Bristol Bay each year are a reflection of the resiliency of the people that fish for them."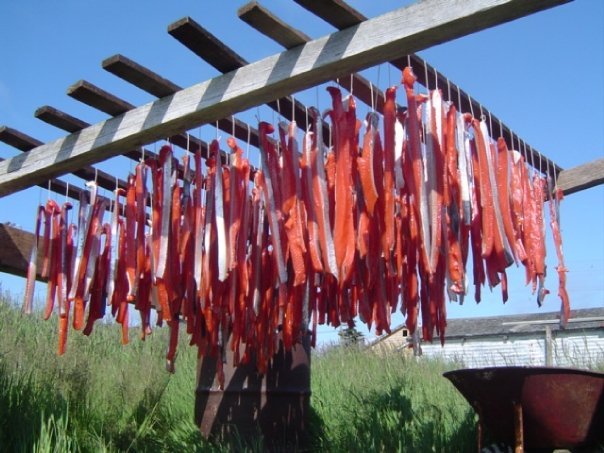 So even though this sockeye comes from more than 4,700 miles away, I serve it to our guests in Boston every day that it is in season. I am familiar with the families working the Bay and the Captains of the boats catching the fish. I love them. And their way of life. And I love their salmon: fresh, cured, smoked, salted and buried. And I love the memories that return each time I prepare it.