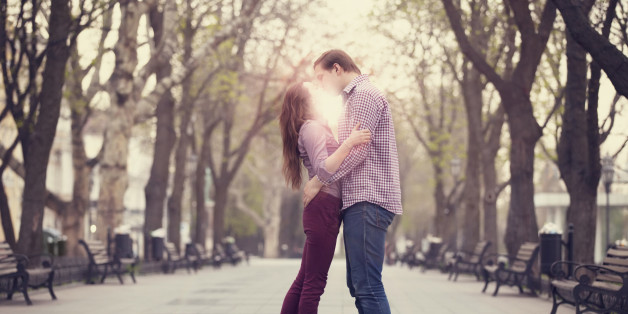 For many people around the world, New Year's Day is more than just another date on the calendar. The turning of the calendar year symbolizes a time of hope and new beginnings. Especially for those who are looking to find love. And what better place to find love these days then meeting a man online?
Unfortunately, many of us didn't exactly have the best experience with online dating last year. In fact, most of us are straight up exhausted from all of the bad dates we have been on. But that doesn't mean that online dating is a waste of time and can't work for you.
The road to finding a successful relationship online isn't always pretty, but it happens all over the world each and every day. There is no reason you can't join the success stories. If you haven't found the success you were looking for last year, odds are there is nothing wrong with you, but there may be something that needs work with the approach you are taking. Let's take a look at five ways you can help make this the year you find love online.
1. You need to start being the aggressor
Forget the outdated mindset of never reaching out to a man first. Times have changed and if you don't initiate the first email, you will likely miss out on the best men.
Quality men can be hard to find online. So when other women spot one, they tend to pounce on him quickly. Because quality men are receiving so many emails each week, they don't initiate conversations nearly as much as the less desirable men. From their perspective, there is no need to. They are already getting more emails than they could handle without doing any work.
Instead of waiting for great guys to find you this year, take charge of your destiny and do the initiating yourself. Your odds of meeting a great guy will astronomically improve.
2. Don't be mistaken: You are in a no-holds-barred competition

If you think for a second that the next 10 women aren't in a fight over the men you are interested in, you are greatly mistaken. It may not be an overt attack, but you are just another woman that stands in the way of someone else's happiness.
For this reason, your profile needs to be a full out marketing blitz as to why a guy should choose you over every other woman. The best profiles are fun, conversational, engaging, slightly flirtatious and demonstrate a strong passion for living life to the fullest. A profile that is a long and boring soliloquy, or one that is filled with three sentences of cliches, will not get the job done.
Your profile is one giant advertisement as to why a man should pick you. The question is, are you going to be Dolce Cabana of the online dating world or nothing more than a cheap imitation?
3. Think like a man

As Steve Harvey has famously branded, if a woman wants to attract a man, then she needs to learn to think like a man. You don't need to change who you are to impress a man. But you do need to highlight what you are working with in ways that make men take notice.
So talk to other men. The more you train yourself to understand what men want from a psychological, scientific and social perspective, the more you will be able to successfully market yourself online.
4. Don't keep blaming online dating
No matter how hard you try to avoid it, bad dates will happen. But you cannot afford to let these experiences deter you from your goals or bring down your optimism. All you can do is move on and enter your next date with the same positive mindset.
Positive vibes attract positive attention. I can't stress this enough. If you have been stuck in a repetitive cycle of no success this past year, then go back to the drawing board, self-evaluate, and figure out what improvements you can make towards optimizing the results of your online dating life.
5. Make smarter choices
The best way to avoid bad dates this year is to set your goals and stick to them. For example, if you know you will only be happy with men who are of the same religious faith as you, don't stray from this goal because you are frustrated and willing to meet anyone at this point.
Dating men who don't meet your criteria will only set you back. The key is to date smart. Just make sure your preferences are reasonable and make sense. Ruling men out who are not 6'0 tall when you are 5'6 is not smart dating, it's superficial dating.
Want more advice from online dating expert Joshua Pompey? For more free information, including some critical rules of online dating you should follow, click here now. Or visit this page to learn more about Joshua Pompey's world famous profile writing service, helping women at a success rate of over 99% since 2009.