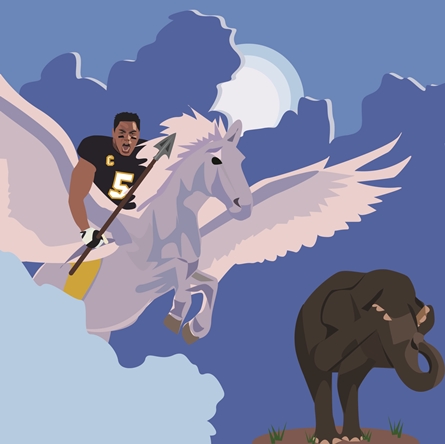 Image by Kelly Bloor (@PhillyKelly)
The improbable dream continues for the Fighting Irish of Notre Dame. The current number one ranked team in the country has been an underdog for most of the season, even if they were favored by Vegas in most of those games. No, the underdog status for the Irish stemmed mostly from a ridiculous question before the season began; is Notre Dame Football relevant?
It was that question that helped move the Irish up in the rankings as they kept winning. However, once it got time to start really talking about Notre Dame being a contender for the national title, the Irish were almost laughed right off the stage and page. In fact, the talk for quite some time was that if there were 3 undefeated teams and one of those teams was ND, the Irish would be left out of the title game.
Then something happened along this journey. A twist of destiny for a team that seemingly now has become the team of destiny. Everyone lost, but the Irish kept winning.
So here we are. Notre Dame vs. Alabama for the whole damn thing. Once again, the Irish are an underdog according to both public opinion and Vegas oddsmakers -- and that's exactly how this particular team likes it.
While Notre Dame has faced challenge after challenge and conquered them each time, I can't say the same for Alabama who played Western Kentucky, Western Carolina and Florida Atlantic in out of conference games, while in conference, they played four teams with losing records in Auburn, Missouri, Tennessee and Arkansas.
As for the game itself, these are both teams with great defenses and offenses that feature the running game. To say that this will be a game that is "won in the trenches" is both cliché and correct.
It's no secret that Alabama will want to do what it has done all season. They want to run the ball, run the ball, run the ball, run the ball, play-action over the top. Seriously, this is a power running team with Lacy and Yeldon that is efficient in the pass game with quarterback AJ McCarron because of their ability to suck in linebackers and safeties with the fake. It's brilliant in its simplicity, but also because it plays to their strength, which is a massive offensive line that wants to hurt you.
I really don't think Alabama will deviate too much from that type of game plan.
It will be up to the Irish defensive front to put Alabama in third and long situations by slowing down the ground game. Irish nose guard Louis Nix will be a huge factor in all of this as he takes on All-Galaxy center Barrett Jones. Jones is coming off if an ankle injury, so regardless of how healthy he may say he is, he still has to take on perhaps the best defensive lineman he has seen all year. It could become a problem for him, and a crack in that wall for the Irish to smash into pieces with Prince Shembo and Stephon Tuitt.
Just as important to all of this is the play by Notre Dame's safeties. They will need to balance out their responsibilities helping against the run, while making sure a guy like Amari Cooper isn't running past them through the seam.
All of that, and I didn't even mention Manti Te'o. Manti has played his best games this season on the brightest stages. There is no reason to think that will change in this game. He has literally only had two missed tackles this season and with his seven interceptions, he has become the nations best linebacker against both the pass and the run. However, it will be his leadership ability and emotional play that helps fuel this defense and the entire team for that matter.
While Alabama is a classic power running team, Notre Dame likes to run the ball in a variety of ways with up to three running backs (Theo Riddick, Cierre Wood, & George Atkinson III) and also with quarterback Everett Golson. Although Theo Riddick runs with power, to call him a "power back" would be incorrect.
Basically, Brian Kelly is going to attack the Alabama defense by trying to create the best mismatches as possible within the passing game. This is done by using multiple formations to get Tyler Eifert and Theo Riddick one on one against the linebackers.
Notre Dame may use some of the blueprints set forth by Texas A&M in the game, and we may see a coming out party for Everett Golson, who has already had one or two this year. The Alabama defense is solid and it will no doubt be the best defense the Irish have played all season. Controlling the line of scrimmage and allowing Golson to create plays with his arm first and feet second will be the key to consistent success.
I also think we can look for some wrinkles in the normal ND gameplan. Kelly has said that he wants to be aggressive and play loose, so that may make things interesting -- if he's not just blowing smoke up our butts.
Prediction Time: Despite Brian Kelly stating that he doesn't believe in the "team of destiny" theory because it takes hard work to win and not luck... I believe in it. Destiny has nothing to do with luck and everything to do with choices. Notre Dame has made all the right choices this year, whether it be to play Tommy Rees to help win a game or play calling, or making the choice to just go out and play for themselves -- it's all working because, well... DESTINY.
Notre Dame controls the and Brian Kelly calls his best offensive game since Oklahoma while the defense continues to do what it has done all year in keeping plays in front if them and keeping teams out of the endzone.
IRISH WIN 23-19