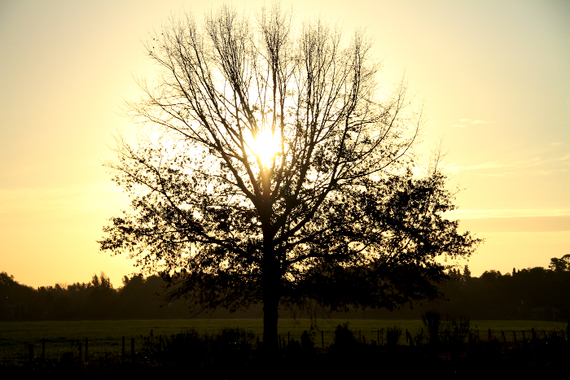 Thanksgiving is one of my favorite holidays. As a global citizen, and particularly as a scholar of the modern republic of Turkey, the number of comments and jokes I get on "Turkey Day" reinforce the importance of taking time to be thankful for the right reasons. The quintessentially American origins of early European pilgrims celebrating their first harvest with Native Americans has evolved into a time spent with family and reflecting on all the many things for which to be thankful in one's life.
Being mindfully thankful in a world that facilitates instant gratification and breeds entitlement is more difficult than you might think. The inclination to devour a meal that has taken weeks, days, and hours of careful preparation in a matter of minutes before focusing on football or the sport of Black Friday shopping that has come to define the official kick off of the Christmas season is intense. To many international guests Thanksgiving can represent all that is wrong with American society in terms of excess and gluttony. But if we make a special effort to focus on what truly matters this Turkey Day, everyone, regardless of nationality or religion, can appreciate this holiday as much as, if not more than, we do.
Every nation and people have moments of thanksgiving that are ingrained within the culture, history, or religion of its community. In America Veteran's Day, Fourth of July, and Memorial Day remind us of the sacrifices that are being made every day to achieve the more perfect union we all strive for. Watching the turmoil in the Middle East from Syria to Libya reminds us any nation's freedom is not free. The outbreak of Ebola makes us appreciate our health and just how interconnected the world has become. Images from Ferguson also warn us that America is far from noncombustible or perfect in a world in which justice is administered and felt disproportionality by different groups within the same country.
Regardless of religious creed or upbringing, acknowledging the blessing that is life in the present and taking the moment to appreciate this time in our life, not simply focusing on the future or the past is invaluable and important in and of itself. America indeed has much to be thankful for, but so does the rest of the world from whom we have much to learn as one of the newest nations and peoples on the globe. Therefore this Thanksgiving I'm grateful for an American holiday that is focused on acknowledging and giving thanks for all of the things that we often take for granted everyday including the world we are a part of.