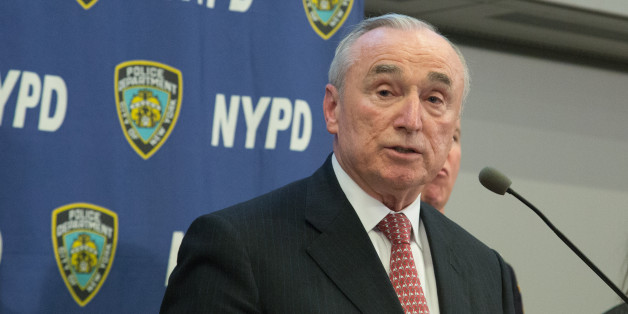 "Bullsh*t."
That was NYPD commissioner Bill Bratton's response to questions from reporters last month about the department utilizing an illegal, but often cited, quota system. A few weeks later, 10 active police officers went on television two nights in a row to speak out against the pressure they say they feel to write summonses and make arrests -- primarily in communities of color.
One of the cops described the department as a "mafia" that used intimidation to keep officers in line. An active NYPD lieutenant came forward the next day to confirm what many retired cops have long said. Fearing retribution, he hid his identity and his voice was altered during an interview.
The story had all the makings of an exposé of a shadowy criminal underworld. City officials naturally denied everything.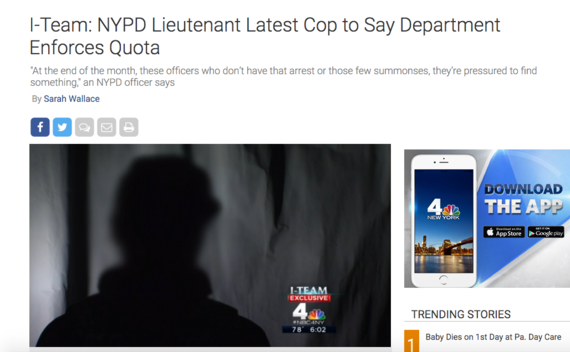 An active NYPD lieutenant had to conceal his identity to speak with NBC4
Then, a bombshell. Tabloids began to report news of federal investigation into members of the NYPD. Two high-ranking police officials were placed on modified duty and others were transferred after a front page story revealed that federal wiretaps had uncovered cops allegedly accepting gifts and trips from two prominent jewish supporters of Mayor Bill de Blasio in exchange for favors.
The ever-expanding story had it all: fancy dinners, tickets to the Super Bowl, trips to Vegas, Rome and Israel. One senior police official had reportedly even received diamonds in exchange for providing a police escort for one of the men. And these were well-known political donors. In a seeming evolution of police corruption, it was no longer patrol cops being paid off by drug dealers, but rather Chiefs and Borough Commanders hobnobbing with wealthy, real estate-oriented political operatives.
Bratton insisted that the investigation, while news to the public, was not news to him. The federal probe, he told reporters, preceded his appointment as commissioner, though he was made aware of it upon his appointment. That meant that Bratton had known since at least December of 2013. While he downplayed the swirl of media attention, lecturing reporters that "the first story is not the last", it was a parade of front pages that had forced Bratton to concede that corruption may have been happening on his watch, involving senior members of his department.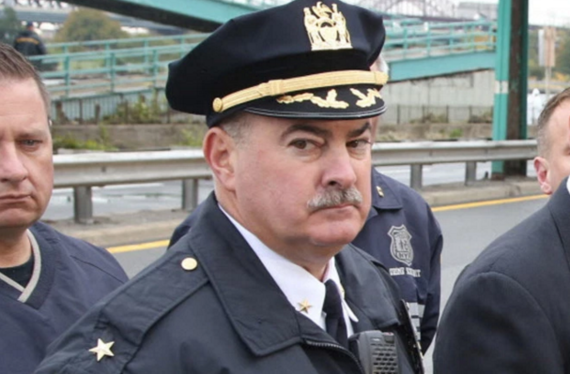 A 31-year veteran, Deputy Chief Andrew Capul, is the latest cop to get caught in the corruption scandal
It's not the first time Bratton has had to manage the public relations mess of a corruption scandal. In 1994, Bratton opposed allowing the Mollen Commission, the historic investigation into police misconduct and abuse of power stemming from news of drug-dealing cops, to conduct its own independent investigations. He and Rudy Giuliani would ultimately opposed the Mollen Commission's findings.
The next year, Bratton forced out the head of Internal Affairs, Walter Mack, who was pushing hard to root out corruption at the department. Too hard, perhaps, for Bratton.
Most telling during that time was Bratton's analysis of the previous high-level commission created to unearth police corruption in the 1970's: the Knapp Commission. That commission's work, Bratton said, had "handcuffed cops" and led to "the fall of civilized behavior" by making police officers hesitant, allowing criminality to flourish. In other words, discipline and accountability of the NYPD would lead to mayhem. That seems to be a consistent theme as Bratton and others have made similar claims about police brutality protests.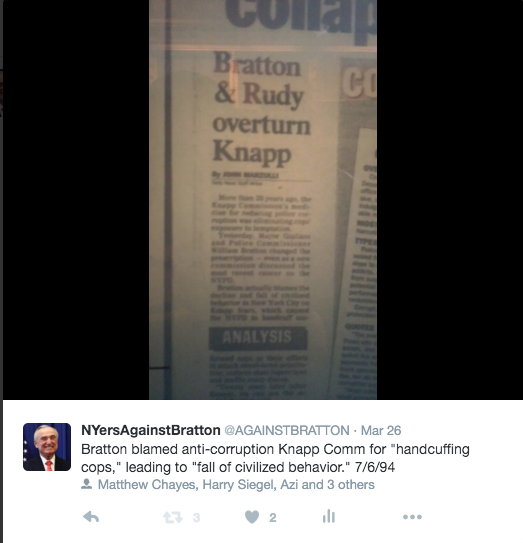 In his latest stint as commissioner under de Blasio, Bratton had vowed to root out "the brutal, the corrupt, the racist, the incompetent" cops who are "poisoning the well", as he put it. And yet he has dragged his feet. Perhaps he simply meant he would transfer the brutal, the corrupt, the racist, the incompetent.
Or maybe even promote them?
Deputy Inspector Michael Grant, on modified desk duty because of the scandal, had previously headed up the 72nd precinct in Sunset Park where numerous incidents of police brutality led to a tense town hall with outraged residents. And yet Bratton moved Grant, the enterprising cop who got diamonds for a police escort, according to authorities, to Manhattan's 19th precinct, in what has been described as a "climbing the ladder." This was even at the time that Bratton would have known about the federal investigation. There are now questions over whether Bratton promoted others who he knew were under investigation.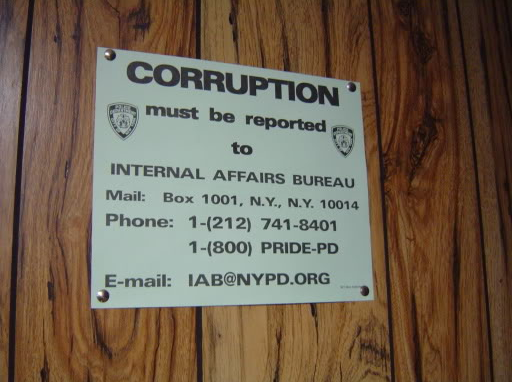 Internal Affairs apparently doesn't investigate anyone above the rank of Captain
But, as Bratton suggests, perhaps these things just take time. Years, maybe. The next commissioner may find him or herself with some of these same brutal and corrupt cops (like Richard Haste and Daniel Pantaleo) still on the payroll. And of course the office of the commissioner has raised its own eyebrows in recent years by using a private nonprofit favored by the city's wealthy, the Police Foundation, as its own "piggy bank." Bratton has been accused of getting jobs for friends.
The key point here is that this isn't just a few bad apples or a lapse in judgement. It's systemic. It's also highly political not only because donors to the Mayor are involved, but because the NYPD has grown so powerful that no oversight agency or city or state officials will touch it. If beat cops are above the law, then it goes without saying that top brass are too. The feds just happened to have stumbled onto this scandal while they were investigating Norman Seabrook, the correction officer's union boss.
If the NYPD has nothing to hide then a deeper and more transparent gaze into what makes the department tick shouldn't be a problem. A federal investigation alone does little in this regard, playing out behind the scenes and scrutinizing only a handful of cops. Most frustrating is that the investigation creates an excuse for silence from police officials who are relieved to say they can't comment because of an ongoing investigation.
And while some have chosen to suggest that the corruption is foremost a product of the Mayor (who certainly is implicated not only here but also a luxury condo controversy in the Lower East Side) or retired Chief of Department Philip Banks (an easy scapegoat no longer with the department), Bratton and the rest of the department must not be allowed to sweet talk their way out of this one. These allegations are likely the tip of the iceberg and another Mollen-like investigation is warranted.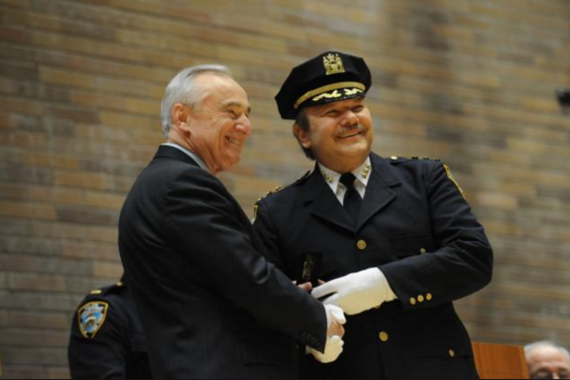 Bratton promoted Joe Reznick to head Internal Affairs even as Reznick has reportedly called a whistleblowing cop a "rat"
Standing at the podium of Police Plaza last week as Bratton answered questions about the corruption scandal was current NYPD Internal Affairs chief Joe Reznick. Reznick was named in a lawsuit filed by a retired NYPD detective alleging that Reznick had called the whistleblowing cop a "rat" when he resisted helping other cops in the 83rd precinct "thwart an investigation."
That sure sounds like a mafia to me. So whether it's illegal quotas or illicit gifts for favors, it's time to find out what's really going on on behind a blue wall of silence that's still protecting gangster cops.