"Body cameras are a huge joke."
That was one of the responses of Jewel Miller, mother of Eric Garner's one year old baby daughter, Legacy, to the body camera 'reform' ideas that were now being further embraced around the country after the videotaped shooting death of Walter Scott in South Carolina earlier this month. NYPD Commissioner Bill Bratton welcomed body cameras last year. Former commissioner Ray Kelly now supports body cams, too. More importantly, they're a key part of the national reform conversation being spearheaded by President Barack Obama's policing task force.
"The system is designed for black and brown people's capture (jail) or murder," she added. "Eric's murder was on video and didn't bring about justice via the 'justice system.' The list of video's are stacking up and still they're protected by the code of Blue. Body cams would be waste of taxpayer dollars. The system is corrupt."
In the case of Scott, like Garner, it was video taken by a young community member that produced a national outcry. Scott's killer, former officer Michael Slager, was fired and arrested rather swiftly, while NYPD detective Daniel Pantaleo, Garner's killer, remains free and even employed by the department (note: local officials blame the feds for delays in the review process). The quick action by South Carolina officials, whose police department would have no doubt begun to cover up for Slager if not for the amateur video, was most likely done to head off an explosion of outrage and protest--and not for the sake of Scott or his family.
Thousands of people in New York and abroad had taken to the streets in response to Garner's killing and Pantaleo's non-indictment. Would Scott's killing put people back out into the streets?
This week Justice League NYC, a collection of activists pushing for police reforms, launched their "March 2 Justice", a march from Staten Island to Washington DC in the name of national police reforms. The group has been criticized for being closely associated with Al Sharpton's National Action Network and for notably enjoying the support of politicians and celebrities. A local DC activist recently called out the group for steamrolling into town and not including the voices of the Black Trans community.
"This 'Justice League' has compromised the movement by allowing celebrities to come in and get photo ops", says Brooklyn activist and hip hop artist Ty Black. Black has been working with Miller and Kim Ballinger, the mother of Akai Gurley's young daughter, Akaila. Gurley was shot by a New York cop late last year in a public housing staircase.
Black is organizing a march this Friday in Staten Island, long after the Justice League march departs from the island, to commemorate the 9-month mark from when Garner was choked to death in broad daylight on a Tompkinsville sidewalk. The march will be looking to bring organizers and activist back out into the local community where so much of the protesting began late last year. It will call attention to the role (or better yet, non-role) of the EMS in responding to Garner's desperate pleas that he couldn't breathe. It will also include the city-wide push against the addition of 1,000 extra cops to the NYPD headcount. Black explains:
"We will be highlighting the fact that EMS didn't even attempt to revive Eric when they arrived--gave him no air. The whole damn system is guilty as hell! We are also going to bring the proper messaging to Staten Island. That hasn't been present do the heavy involvement of National Action Network (NAN). NAN has absolutely nothing to do with [our] march. We will be educating the people on the broken windows policy and adding them to the fight of #NoNewNYPD."
It should be noted that Friday's march comes during a month that has seen some interesting developments, even as mainstream media has largely moved on past the protest movements:
Hundreds of us rallied and blocked intersections on April 3rd to protest against the city council's proposal to add the thousand cops to city streets. We also confronted the speaker of the council, Melissa Mark-Viverito last Friday both inside and outside of a "food sculpture" exhbit (read: gentrification) in the South Bronx.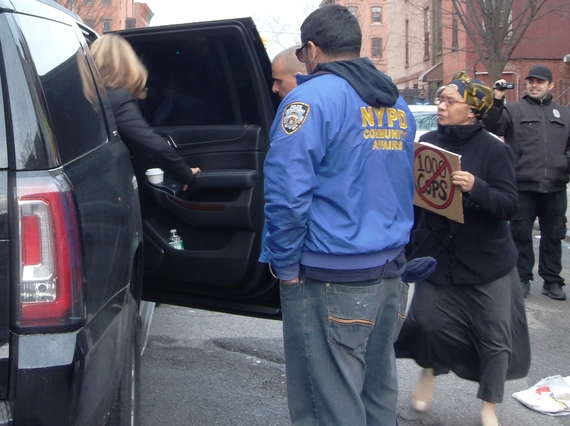 Viverito is leading the city council, virtually all Democrarts, to push for the increase to the NYPD headcount. Some of those councilmembers, like Brooklyn's Jumaane Williams and Staten Island's Debi Rose, want to give more resources and manpower to the NYPD and yet could also be found out in front rallying with Justice League organizers at Monday's "March 2 Justice" launch.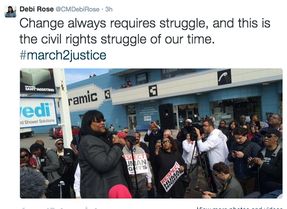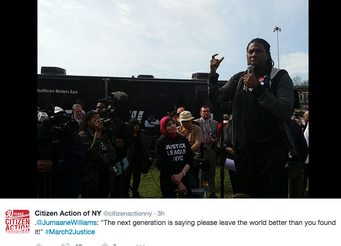 Elsewhere, Sharpton, whose organization seemingly has little to no support from young grassroots organizers these days, was told to stay away from Walter Scott's funeral by Scott's family. Sharpton, of course, found his way to South Carolina anyway, plugged the body camera reforms and heaped praise on the local white city officials there.
Miller, for her part, shares the Scott family's trepidations:
"I truly don't support anything they [NAN] do... I'm happy I played the background for a while--I really learned who was out for justice and who was looking for the next best story of police brutality. It saddens me to know our own people have lost their identity."
She also explained how difficult the last 9 months have been for her and Garner's daughter amid all the political hoopla:
"We have been treated as if we were not a part of Eric Garner's life for the last 5 years. Every time I look at our Legacy it's bittersweet. It's as if he left his imprint on her. Legacy was only 3 months when he died, and she spent 2 of the 3 in the hospital, born 2 pounds 1 oz. They only had 37 days together. As for my other children, they're still trying to understand the division between the family."
Lastly, in a story that was vastly underreported, the young man who filmed Garner chokehold death, Ramsey Orta, came home after activists and supporters crowdfunded his bail. Orta, who was arrested on a dubious gun charge (a young woman who was with him at the time of the arrest is, locals say, the daughter of a cop) before, was re-arrested on a drug charge and ended up in Rikers Island--where he had refused to eat meals for fear of poison in his food. Most of the mainstream policing movement, including NAN, who deserted him after the first arrest, had largely ignored Orta's circumstances.
While Orta overcame a last ditch attempt to Staten Island District Attorney Dan Donovan to delay his release, even after he posted bail, Miller says she is still concerned for his safety.
"I'm happy he's out, but my concern is him returning to the same environment. Staten island is very controlled. They will be out for him and his family. Personally, my house was broken into, and I received threatening phone calls."
Donovan, of course, is the DA that didn't indict detective Pantaleo despite the fact that half the planet saw a slaying on videotape. That probably speaks best to the lawlessness of law enforcement in that borough. Everyone, therefore, should keep a renewed focus on Staten Island, not simply as a political launching pad, but as a place for community building as a response and, ultimately, replacement for police aggression.
Far from a responsibility politics ethos that blames the Black community or a liberal doctrine that strives to make nice with cops and/or white America, demands that resources be diverted away from law enforcement and into the hands of those most affected by both police and poverty is something no mainstream groups are calling for--and no politician is backing. Black, who was organized fundraisers and birthday parties for the families as well as Black business tours in Brooklyn, is connecting the struggle of two Black mothers fighting for justice around these types of demands.
"The movement has to focus on community building", she says. "Community building gives all of the power back to the people."