On Wednesday, March 24th, 2010, my life changed and it will never be the same again. On this day, I learned of my stalker; something that would truly follow me around like a shadow for the rest of my days.

My stalker's name was Non-Hodgkins Follicular Lymphoma Cancer. We found out later it was stage four with involvement in a major organ (my kidneys) and in my bone marrow. There was nothing any law enforcement agency could do to protect me from it either.

Fortunately, after six intense chemotherapy treatments, each spaced three weeks apart, I achieved remission. Great news! But the ordeal was far from "over," for I began a course of maintenance chemo. that would span another two years while I received another 12 treatments! I received one medicine through my port, which is implanted in my upper left chest between the breast and clavicle, every eight weeks.
Additional good actually came from this devastating diagnosis. I really believe good can come from any obstacle life throws at us but we do have to make the choice about how we're going to respond to the obstacle. As a non-smoker who is relatively healthy (I have my sweet tooth and love ice cream!), my diagnosis came as a total surprise. I'm not going to tell you I didn't get mad or sad and shed tears over my diagnosis! But I chose not to stay there and as I moved into acceptance, I decided my response to this would be to fight with all I could using the power of positivity, a positive attitude and humor.

As I achieved remission, I was overpowered with the idea of "Cancer with Joy." This was doubly interesting to me because of the double meaning. I'm Joy, I was diagnosed with stage four cancer as a young adult, so it's helping people face "Cancer with Joy," literally with me. It's also introducing to people this simple but profound concept of "Cancer with Joy." It's never been said quite that way before! What's unique about it is my story and the unique ways I faced "Cancer with Joy" and what I can contribute to the dialogue.

I wrote a book called Cancer With Joy: How to Transform Fear into Happiness and Find the Bright Side Effects. But I didn't explore the topic of how cancer impacts your body and self-image in-depth in the book. So let's have that conversation here. Cancer impacts all of us; from my experience of talking with many and introducing this new idea of "Cancer with Joy," I have found every single person can tell me of someone they know currently in treatment or who had cancer.

In the book, I wrote the most emotionally painful moment for me was the complete loss of my shoulder-length hair due to one of the medicines they were giving me in treatment that killed all rapidly growing cells. My medical team tried to remind me the "good news" was when my hair was coming out, it meant the medicine was getting hair cells but likely also killing cancer cells.

All of a sudden waking up and going into the bathroom to reach for my toothbrush, since I must brush my teeth immediately upon waking, I didn't recognize the woman in the mirror. I was painfully aware and reminded of constantly by this image in the mirror all that cancer HAD been able to take from me while I was battling.

Ironically, I was getting back together with an old boyfriend (We met in 1997!) right when I was diagnosed and starting treatment. Our "first date back together" was not too long after I had my head shaved. I wanted to look "like me" as much as possible, so that night I opted to wear a halo (elastic ring of hair with hair that hangs down in the front for bangs, on the sides and in the back, with the bulk of your head being bald, and you cover the bald part with a fun hat! This is very cool in the hot Summer, trust me, since my first six chemo's were from April-August!). My "hair" was close to my former color, length and style, so I felt good.

As our relationship progressed, I agonized about the first night I was to stay over at his house. What would I do when the sun streamed in in the morning, lighting up my bald head and potentially horrifying him? He has always known me with chin-length hair at the shortest. See cancerwithjoy.com for a pre-cancer recent hairstyle (of me lying in the hospital bed at the first chemo.) and you can visit my contact page to contact me to learn about my "Cancer with Joy" live event! I went so far as to ask him if he had a guest bedroom I could sleep in!

I learned how to handle even complete hair loss from "Cancer with Joy" and now I'm helping many others thrive, from diagnosis through treatment. Remembering it is how you choose to respond, I chose to make fun out of this obstacle being thrown my way as a young adult! I had always wanted to see how I'd look as a "saucy redhead!" After ordering many different halos, wigs and hats from the Tender Loving Care catalog, I decided to have an "Online Fashion Show" and involved all my friends in the process to show them this unique way I was choosing to respond to the complete loss of my hair! My dear mom, my caregiver, took pictures of me modeling many different looks. I tried a variety of colors, lengths and styles! We uploaded the pictures to Facebook and invited my friends to "like" and comment to help me select my look(s) for the Summer of 2010! That's taking hair loss, the most emotionally painful moment for me during my cancer experience and truly facing "Cancer with Joy!"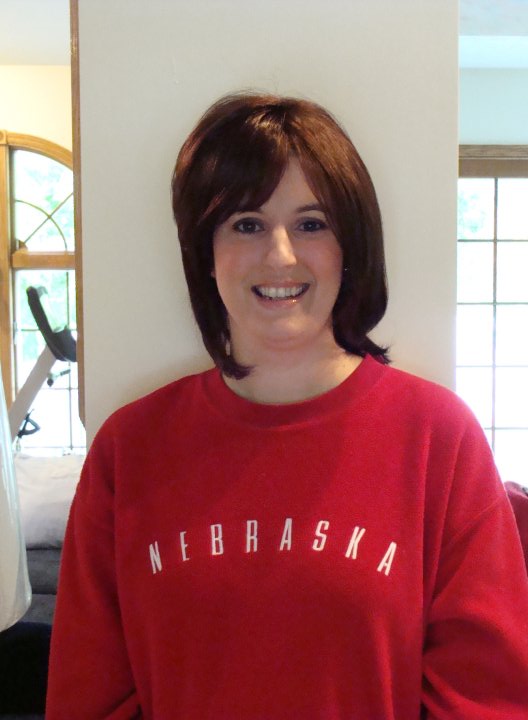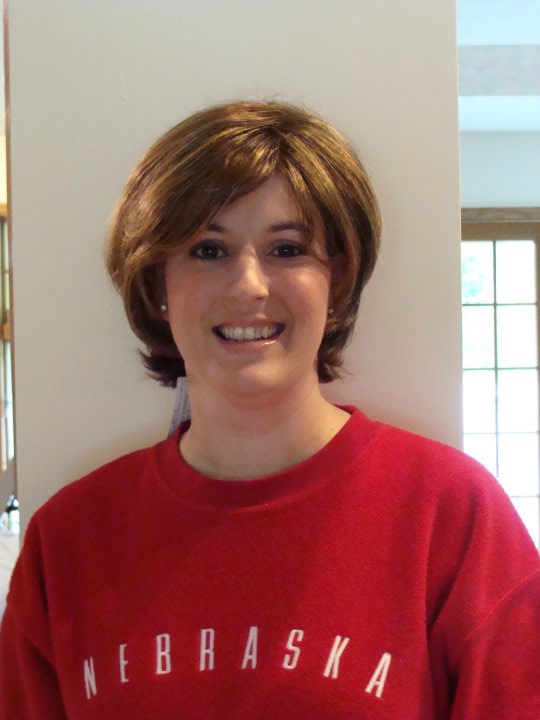 You see, what I was reminded of throughout my journey that I want to share with you is that your self-image should not be wholly defined by how you look. My cancer treatment definitely changed things about my body and how I looked, and I know many women who have had a mastectomy, which changes their body. Men's bodies change during cancer treatment and we all change anyway through the natural aging process. But, if this doesn't sound too crazy, my cancer experience probably improved my self-image. How you ask? Because I realized that self-image is about who you are as a person, not wholly how you look!!

Through the founding of my brand "Cancer with Joy" and the many good things that have come from my experience, I feel better about myself as a person because of what I'm able to contribute and how many I'm able to help just by giving. It's my sincere hope reading this simple story inspired you to think about how you're responding to obstacles and also helped you in some way as you consider your body and self-image. When how you feel about yourself comes from the kind of person you are, which you are free to choose and change, it gives you confidence of the staying kind that surpasses the messages media and others may try to impose on us.

If your "stalker" is a culmination of those messages from the media and those mean things we all say to ourselves, focus on improving your self-image through feeling good about who you are and what you give to others vs. how you look!

This post originally appeared on bodyandselfimage.com.