It's time to spend quality time (just as you are) with others who "get it!"
With Memorial Day just around the bend, the kick-off to summer is here! While summer doesn't "officially" begin until June 21st, fun gatherings with friends including BBQs will not wait. I personally have a high school class reunion this weekend; social media is good for keeping caught up, but there's nothing like sitting and talking in person!
If you or someone you know is facing cancer, or even has been through cancer treatment in the past, there are gatherings and retreats for you to also make plans to attend!
When I was diagnosed with cancer -- stage four -- at 33, one of the really difficult parts was that few around me truly knew what I felt and was going through. It's simple... as a young adult (thankfully) few in my social circle had personal experience with cancer. I could think of one guy friend a bit younger than me who had just survived a battle. I really wanted to spend time around others who had "been there," which is "DO" #9 featured on page 70 of my book, Cancer With JOY (My name is Joy, so there's a unique double meaning to that title! "No one's happy they have cancer! But you can have cancer and still be happy!").
"DO talk to someone who has 'been there.'"
During my cancer journey, I was lucky to see a group on CNN talking about "First Descents." Intrigued at the opportunity to go somewhere (retreat), do something different, and spend time with other young adults who had been through cancer and "understood," I quickly looked up this organization. I was lucky to get to attend a retreat with them in September 2010, right after I achieved remission. Here are pictures from my camp; we went rock-climbing (something I had never done before)!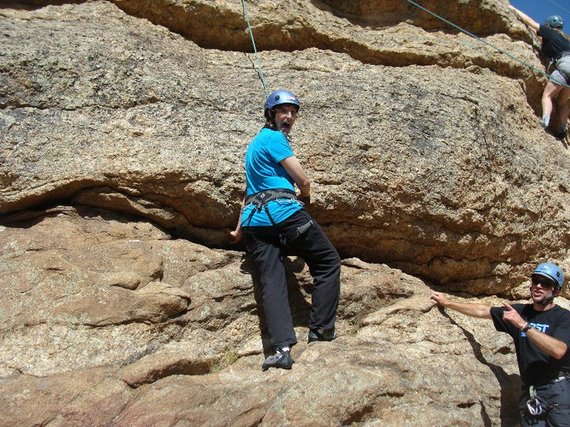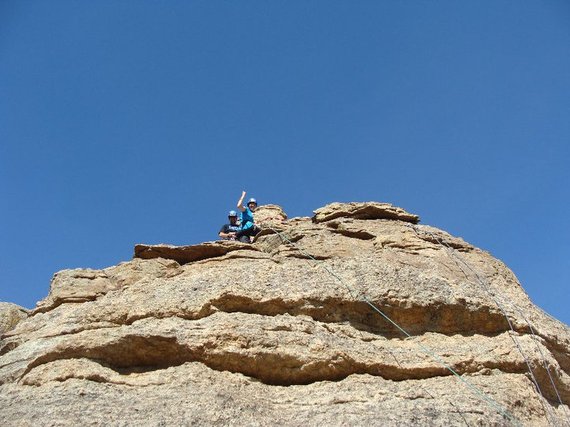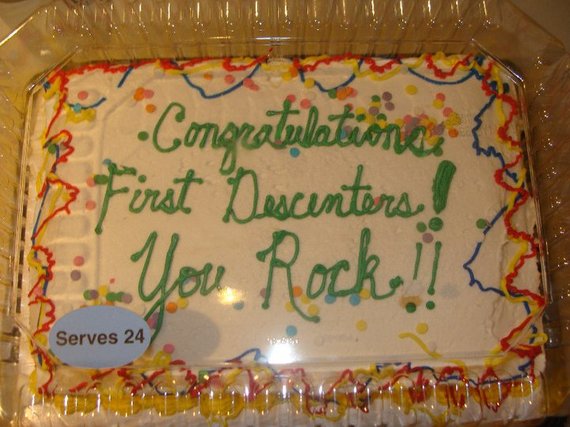 I was still completely bald from my six hard-hitting cycles of chemotherapy, and was the one at camp with the least amount of hair. I was used to wearing wigs, etc. to cover up and try and "fit in" so as to not invite those stares people can't seem to help when you're a bald young adult woman! One of the biggest cheers let out by the group was when I "took off my hair" and was just me! What a terrific feeling of support!
Chapter nine of Cancer With JOY is 25+ pages of helpful resources you need to know about if you or someone you know is facing cancer. I devote a section of this chapter to listing "Cancer Retreats." Here are a few others; I don't have personal experience with them but came across them when doing research for my book to save you time and energy looking for resources.
1. www.campkesem.org -- for kids with a parent who has (or has had) cancer
2. www.cocai.org -- The Children's Oncology Camping Association International (COCA-I) includes over 113 member camps from within the United States. There are also several member camps from Canadian provinces and several camps located on faraway continents such as New Zealand and Europe.
3. www.castingforrecovery.org -- We provide an opportunity for women whose lives have been profoundly affected by the disease to gather in a natural setting and learn the sport of fly fishing. Just as importantly, the retreats offer an opportunity to meet new friends, network, exchange information, and have fun.
4. www.reelrecovery.org -- The mission of Reel Recovery is to help men in the cancer recovery process by introducing them to the healing powers of the sport of fly fishing, while providing a safe, supportive environment to explore their personal experiences of cancer with others who share their stories.
5. www.bcrecovery.org -- All programs are designed and conducted by survivors for survivors. Breast Cancer Recovery offers wellness retreats- Infinite Boundaries- for women in all stages of breast cancer -- newly diagnosed, in treatment and many years finished with treatment. Women ages 21-80 have attended retreats.
Get more helpful resources on: cancer information, cancer support, communicating with others, cancer services, financial resources, government websites, nutrition, shops with cancer items, cancer retreats, young adults, caregivers, family, and friends when you pick up a copy of Cancer with JOY: How to Transform Fear into Happiness and Find the Bright Side Effects.