With Mother's Day just around the bend, I want to tell you the story of a remarkable mom I know!
Meet Cristy Norwood of Arkansas: This 36-year-old mom of four was pregnant with her fifth child when she received some extremely devastating news. Her courage is truly inspiring, and her faith and appreciation are wonderful!
Cristy's story is titled "You're the Strongest Person I Know; You Aren't Going Anywhere." It appears in its entirety on pages 42 to 45 of Cancer with JOY!.
Excerpted from the book Cancer with Joy with permission:
I remember the night my doctor called me and gave me the news... "I don't know how to tell you this, Cristy, but your biopsy came back showing malignancy. I'm so sorry."

Stunned, shocked, and scared to death (no pun intended!), I remember hanging up the phone and feeling all these emotions raging over me. Breast cancer, me?! I was thirty-six-years-old, newly married, and pregnant with my fifth child--this was not happening to me. My kids needed me, who would make sure they said their prayers at night? Who would love them "to the moon and back"? Who would help them with homework, and cheer them on at their ballgames? I'm the mother, they needed me, the baby I was carrying needed me to bring her into this world, it's my job. I had lost my mother when I was twenty-one-years-old to bone and lung cancer and I still needed her everyday. God would not take me from my babies. Would He?

Cristy, courageously facing breast cancer as a pregnant mom, is wearing a wig in this touching image with her husband Scott.

Six days after the dreaded phone call, I had a PET scan done. I remember lying in the room after they injected me with the dye for my scan, praying to God for His strength and guidance. Asking Him, pleading that the cancer would not have spread anywhere. That He gives me the faith to handle this journey He was about to put me on, with dignity and grace. That He would use me to help others and show them, through me, how cancer can be a blessing. I lay on the scan table and the most calming feeling came over my body, and I just knew it hadn't spread. 

My wonderful husband and I went upstairs to the chemo room so I could get fluids to flush out my system, and hopefully keep all the radiation fluid away from my baby girl that I was carrying, and my oncologist called us and said the cancer was no where other than my breast and lymph node area! Praise God! I called my daddy and could hear the relief and tears of happiness in his voice.

Two days later I had a double mastectomy and twenty-eight lymph nodes removed (six out of the twenty-eight were malignant), spent four days in the hospital, and came home pregnant and boobless. Something about that sounds odd, huh? Ha! 

I told myself from day one that I was going to be open and honest with my children throughout this journey. I wanted to share all my emotions, all my procedures, show them my scars, and even let them all (including my then one-year-old) shave my head when that time came. My oldest son Clay and I were talking one day when I had gotten home from the hospital, and he asked me if I was scared (he was twelve-years-old at the time). 

"Yes babe, I'm scared. Very scared. Are you?"

To which he replied, "No, I'm not. You are going to be okay, Mom. You're the strongest person I know; you aren't going anywhere."

Wow! Okay, if my twelve-year-old son had that much faith in me and in God, then I needed to as well. So that's what I did, just as I had asked God to do that day I had my PET scan...dignity and grace. 
Finish reading Cristy's inspiring story in Cancer with JOY by downloading it to your Kindle or Nook.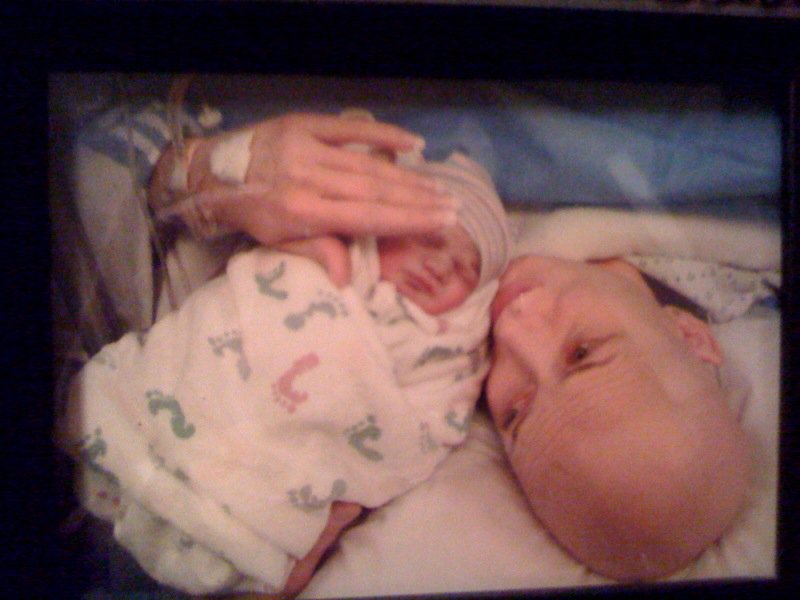 Cristy, bald from treatment at her daughter's birth, holds her precious new baby in the delivery room.
Cristy was honored alongside Good Morning America's Robin Roberts at the Triple Negative Breast Cancer Foundation's "Peace, Love & a Cure" event less than a year ago, receiving the Courage Award, and while Robin received the Champion Award as you'll see here.
It is time the world knew this incredible woman and her amazing story, and what better time for an introduction than the time when we celebrate all the phenomenal moms out there on their special day Mother's Day!
This picture brings tears to my eyes every time; Cristy's beautiful little girl Taige modeling "You think you're tough? I went through CHEMO with My Mommy!":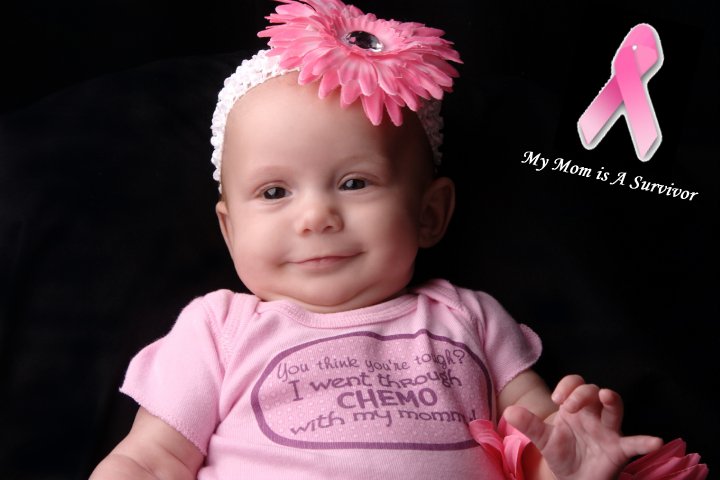 To learn more about Cristy, watch this video from the Triple Negative Breast Cancer Foundation.
This is a story with a very happy ending; my dear friend Cristy just shared with me a current photo of her family including all five healthy kids! They love to model their "Cancer with JOY" apparel, including T-shirts and wristbands!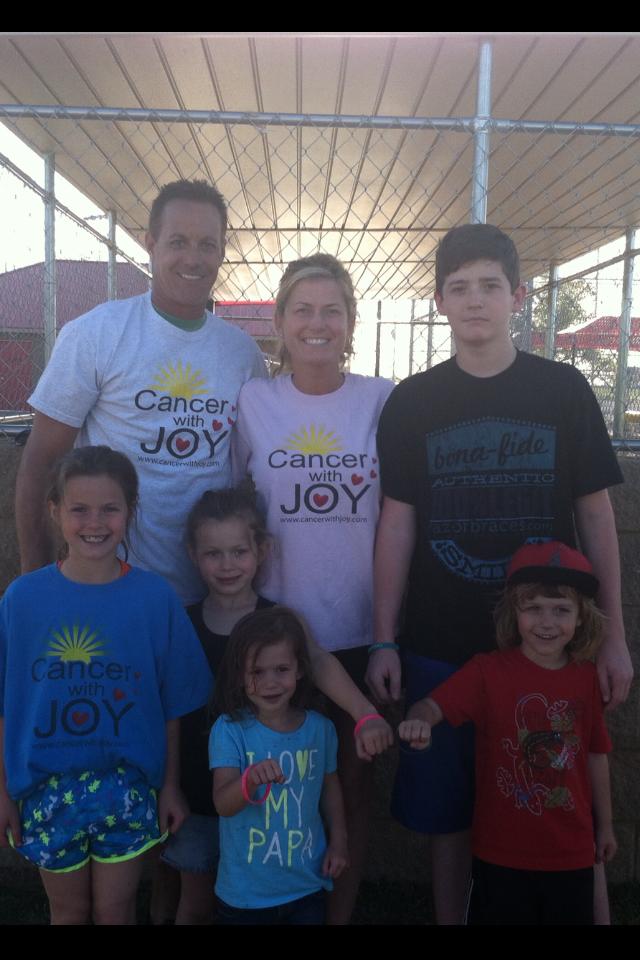 This Mother's Day, we wish all the moms a special and memorable day with their children!
If you're pregnant and facing cancer, check out this resource on pages 118-119 from the "Cancer Support" section of the chapter completely devoted to helpful resources in Cancer with JOY.