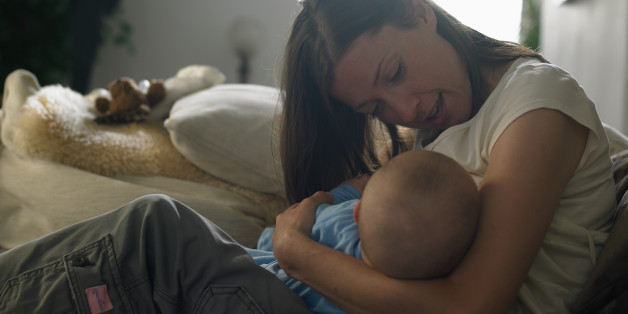 Breastfeeding can be tricky this time of year. Between minimal downtime, extra social engagements and close quarters with extended family, you may find yourself wondering when and how you're going to nurse or pump. With a few tips and tricks, you can make everything flow more smoothly.
Establish a personal bubble: Whether you're hosting an event or attending Christmas dinner at the in-laws', establish boundaries about when and where you'll pump. By setting the expectation that your "bubble" will be respected during a set period of time, you can guarantee yourself the chance to nurse or pump.
Get comfortable: If you want to nurse without leaving the room but are nervous around family or friends this holiday season, a nursing cover can be a great solution. The Munchkin Swaddle Angel Blanket is a convenient option because it doubles as a nursing cover via corner loops, meaning less baby goods to tote on-the-go.
Be prepared for questions: Nursing can seem foreign to family or friends without children or those who now have older kids. Whether you want to get into a deep discussion over feeding your baby is up to you, but whatever you decide, be prepared in advance so you aren't caught off-guard. It can be helpful to involve your partner in helping you navigate the potential Q&A.
Dress the part: Wear something that affords easy access for a smooth transition when nursing. Gap has a nice collection of nursing tops that come in festive colors, perfect for most holiday gatherings.
Make it easy on you: If you are planning to pump, try Simple Wishes hands-free pumping bra you can multitask on-the-go.
Stock up: In case you run into a situation where you can't nurse, come equipped with extra breast milk. This can be safely stored at room temperature for up to six hours or in an insulated cooler with ice packs for up to one day. Additionally, you can keep it in the fridge (not the door) for five to eight days or freeze it for six to 12 months. Honeysuckle Milk Storage Bags are strong and durable, designed to meet the highest standards of breast milk storage.
Regardless of the obstacles you may face during the holiday rush, whether its personal difficulties with nursing, time and space challenges or questions from family, remember that you are doing the best possible thing for you and your baby. While not everything goes smoothly during the holidays, practicing before you hit the road and being as prepared as possible will make for easier, less-fuss breastfeeding, no matter where you're headed this holiday season.