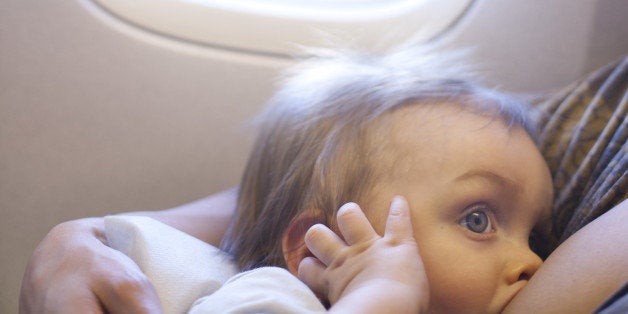 The beginning of summer means more family road trips and extended vacations. Though vacations are a great way to rest and recharge, traveling while breastfeeding can be tricky. Here are some tips to ensure that mom can enjoy her vacation while caring for baby:
When it comes to traveling on planes, breastfeeding moms have more to worry about than packing the right shoes. With bottles, brushes, breast pumps and more, it's important to know what products are allowed on board. Thankfully, the TSA relaxes its policies when it comes to products for little ones. Typically, passengers cannot carry more than 3.4 ounces of liquid in a carry-on aboard a flight. However, according to the TSA, a passenger can take more than 3.4 ounces of breastmilk on a flight as long as she lets the TSA agent know before the X-ray screening process. TSA also allows baby food and formula in excess of 3.4 ounces. For more information, check out http://www.tsa.gov/traveling-formula-breast-milk-and-juice.
Because schedules can change at a moment's notice, it's always good to be prepared with a snack. For those with a bit of a sweet tooth, lactation cookies are the perfect treat. MilkMakers are delicious cookies with oats and brewer's yeast that actually help moms provide more milk for baby. Carrots and nuts are other great snacks that are easy to stash in a carry-on or small purse and provide health benefits for nursing moms.
Nursing and pumping on the road or during a flight can be difficult and time-consuming. However, with the right products, any mom can feed with ease. The Simple Wishes B3 All-in-One is a multi-functional bra designed to maximize skin-to-skin contact, and is strong enough to support flanges during hands-free pumping. This innovative bra allows moms to relax while using their breast pump, and gives moms the valuable gift of time by freeing up their hands for other tasks. Nursing pads like Bamboobies are also great for travel because they discretely soak up any leakage that may occur between feedings.

4. Provide consistency for baby.
Because traveling schedules are often unpredictable, moms may find times when breastfeeding is not an option. Nipple confusion can occur when baby transfers from breast to bottle and back, so a bottle that imitates mom's nipple is essential. Munchkin's LATCH bottles aid in the transition from breast to bottle and back with key features: the accordion-style nipple flexes and stretches like the breast to provide a continuous latch and the bottle pumps like the breast by releasing more breast milk as baby pushes against the nipple's base.
5. Be prepared to explain your situation and answer questions.
Because not everyone understands the in and outs of breastfeeding, moms may need to explain their various gadgets. Bringing breast pump instructions to security check points will make life easier for both harried moms and TSA agents. Oftentimes, family members or friends will ask questions about breastfeeding. Though breastfeeding is a personal choice that not everyone will feel comfortable discussing, these discussions can educate others and help moms discover new tips.
Traveling while breastfeeding can be challenging, but it doesn't have to put a halt to all vacation plans. By bringing the right equipment and planning ahead, moms will be able to enjoy their trip with baby in tow.