A few years ago in Nairobi, Kenya, I met Helene Gayle, President and CEO of CARE. She invited me to see firsthand the work that CARE was leading in Kibera, the largest slum in Nairobi -- and even the largest in Africa. Helene's vision and passion for improving the lives of women and girls were evident. Each woman that we encountered told a personal story of creating a better life for her family as a result of CARE's work. It was clear that Helene is leading the charge of "Defending Dignity. Fighting Poverty."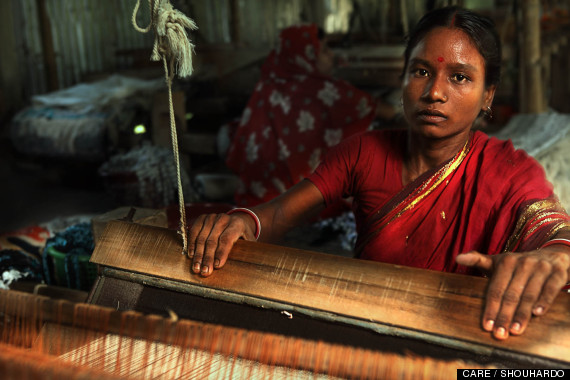 During the 2013 United Nations General Assembly in September, leaders from around the world will also turn their attention to the progress made on the Millennium Development Goals. Particular focus will be on the health and empowerment of women, mothers and children as outlined in the Every Woman Every Child initiative. I took this moment as an opportunity to learn more from Helene about CARE's work.
Why has CARE's work evolved to focus so much on women's empowerment?
As our understanding of poverty and its underlying causes has evolved, so has our approach to fighting it. Our experience has shown us that girls and women are disproportionately affected by poverty. In other words, if you're fighting poverty in the world's poorest communities, you have to focus on girls on women to see results. But it goes beyond that. Empowering girls and women yields lasting benefits for everyone, including boys and men.
Tell us a little about SHOUHARDO.
SHOUHARDO is a USAID-funded nutrition and poverty-fighting program in Bangladesh administered by CARE. It's a well-known program, at least in development and humanitarian circles, because independent scientific analysis showed it to be nearly twice as effective at reducing childhood malnutrition as the typical USAID nutrition program. Women's empowerment was at the heart of that success.
How has SHOUHARDO benefited women and children, and how can these benefits be measured?
The benefits of SHOUHARDO can literally be measured with a yard stick. Under SHOUHARDO, stunting -- or the measure of a child's growth shortfall due to malnutrition -- dropped at twice the rate of typical USAID programs. SHOUHARDO included several interventions, including things like medical care and the distribution of food. But the single factor that had the greatest impact on child nutrition was women's empowerment. In other words, empowered women had healthier, better-fed, taller kids.
What are the barriers that come up as you do this work?
One of the biggest barriers is one of understanding. People don't always understand at first that women's empowerment is not a zero-sum game. Helping girls and women doesn't mean excluding or hurting boys and men. In fact, boys and men benefit immensely when their mothers, wives and sisters have the opportunity to fulfill their potential. Empowered women invest in their families and communities. The kids who grew taller because of the women's empowerment component of SHOUHARDO were boys as well as girls.
I've learned that experts are surprised by the impact SHOUHARDO has had in Bangladesh. What caused the dramatic drop in stunting?
They were very surprised. Child malnutrition rates in Bangladesh have remained stubbornly high for so long that the experts studying the data worried there was an error in their data or that they were just calculating it wrong. But when they went over all the data again and again, they found it was indeed correct. They also clearly found that women's empowerment was the most important factor in improving nutrition.
What have been the most surprising ways in which families have changed when women are empowered?
The tangible benefits of empowering girls and women aren't surprising at this point. Maybe I should put it this way -- they shouldn't be surprising. When a woman has access to health care, is it a surprise that she's healthier and more productive? When a girl is able to get an education, should it surprise anyone that she's more likely to earn more money throughout her life? When a woman is able to walk freely and safely to and from the town market, is it surprising that she's far more likely to be able to start a small business there? It's mostly common sense.
How can ordinary people support the work you are doing to empower women, not just through SHOUHARDO but all over the world?
Donating to CARE is the best way to support the work we do, in Bangladesh and around the world. But it's also very important that people talk about the importance of this work with their friends and family. Go to www.CARE.org, visit our Facebook page or our Twitter account and start sharing the information that matters to you with the people you know.
CARE is also a part of Johnson & Johnson's latest free app called Donate a Photo. Donate a Photo takes an action people do every day and turns it into a way to do good. For every photo uploaded through the Donate a Photo app, Johnson & Johnson donates a dollar to one of the nonprofit partners. For every photo donated to CARE, a woman in Bangladesh can help feed her family.
Another way to support our work is to engage in advocacy. When ordinary citizens raise their voices in our nation's capital, our leaders listen. It's an incredibly powerful experience to sit down with your member of Congress in Washington and tell them that fighting global poverty is a priority for you, so you want it to be a priority for them. We've seen tremendous progress over the last few years in advocacy, and none of it would have happened without the help of CARE volunteers from all over the country. Go to our website and sign up for the CARE Action Network.
This blog is part of a month-long series in partnership with Johnson & Johnson to highlight the successes and remaining opportunities in the Every Woman Every Child movement. With the aim of improving the lives of women and child around the world, EWEC was launched by UN Secretary General Ban Ki-moon in 2010 to accelerate progress against the Millennium Development Goals (MDGs). To learn more, click here.