Converse and Missoni continue to dig deep with their partnership. And for their sixth season, it's into the archives...
The highly and hotly anticipated Converse Missoni Archive Project set to launch at Colette this Friday, will feature 20 one-of-a-kind pairs of Converse (10 pairs of Auckland Racer and 10 pairs of Pro Leather) crafted from unique archival Missoni fabrics from 1994 to present day.
According to Converse designer Matt Sleep, "We decided that it would be great to do a project that really celebrated the vast archive of Missoni's textiles, as well as showcasing the breadth of their craftsmanship both past and present. We chatted, selected a variety and then made some killer one-off pieces of art!"
Just how rare are these shoes? Though Missoni is known for its multitude of textiles, Sleep states that, "what narrowed our search was making sure there was enough yardage of each for us to be able to make the specific pair of shoes needed. We identified a shortlist of 30 and narrowed it down to 20 from there."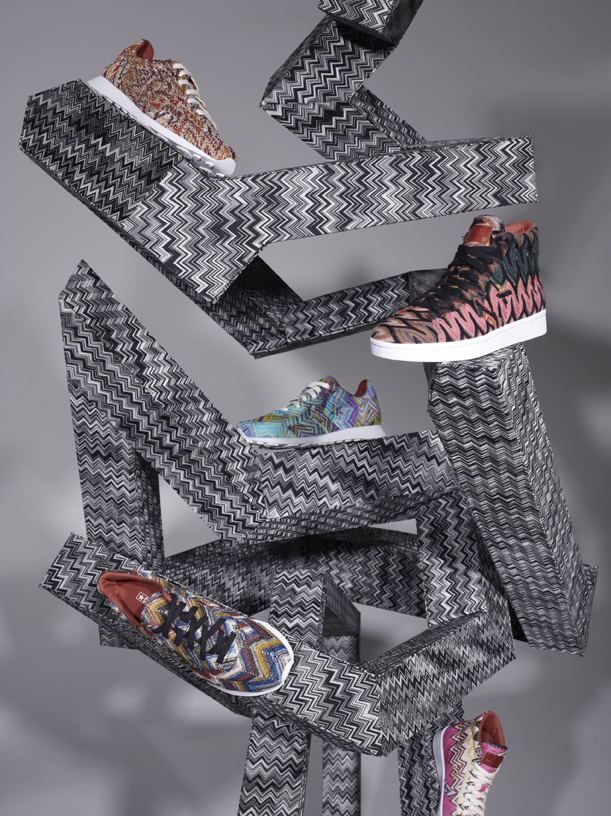 The limited edition shoes will be presented on a specially designed sculptural installation created by artist Gary Card , that not only compliments the Converse "Star Chevron," but also the iconic Missoni monochromatic zig-zag knit fabric.
This project also features a hand-numbered hardback book produced in limited quantities, each bond in the same terracotta canvas that lines every pair in the collection.
Available to purchase when the doors open this Friday at Colette in Paris, the launch of the Archive Project is definitely a breath of fresh air from the typical party launch. After all, fashion week is just party after party and with no discernibility, but if you're a well-heeled fashion editor who wants these extremely limited edition shoes made of fabrics you'll most likely never see again, you'll be dragging yourself out of bed before noon to get your hands on a pair.
Converse Missoni Archives shoes are €400.
PHOTO GALLERY
Converse Missoni Archive Project