This blog is part of a series organized by The Huffington Post and the NGO alliance InterAction around the London 2012 Olympics.
For adults, sports can be a pleasant diversion or intensely competitive. They can help us turn off our minds for a few minutes, or stimulate them through deep focus. Sports can be about working up a sweat, or relaxing with friends.
Sports mean different things to different people. To me, they're a fun way to stay healthy and fit. And while those of us who aren't Olympic or professional athletes think of sports as recreation, one thing I've learned over the past few years is that, for young people -- girls in particular -- sports are a lot more than just a game.
To understand what I mean, look at Neema Masolwa. She's a poised, energetic young woman living in western Tanzania. Just three years ago, though, she was nothing of the sort. A self-described wallflower and pushover, she says she had no direction, no ambition and no self-confidence.
"I was such a 'yes' girl," she says. "I couldn't even speak in public."
In 2009, she enrolled in a girls' leadership and mentorship program offered by CARE in her village. By helping girls learn how to express themselves articulately, be decisive, develop and pursue personal goals and share these skills with others, our leadership programs help girls take action and exert positive influence on the people around them.
Among the most effective tools in the girls' leadership tool box, believe it or not, is a ball. Put a girl who has never played soccer or volleyball before -- or never been allowed to play before -- onto a field or court, and she'll exercise more than just her arms and legs. She'll exercise basic life skills like how to lead others, how to listen actively and how to develop and execute strategy. These skills, once uncovered, serve her well in other areas of her life.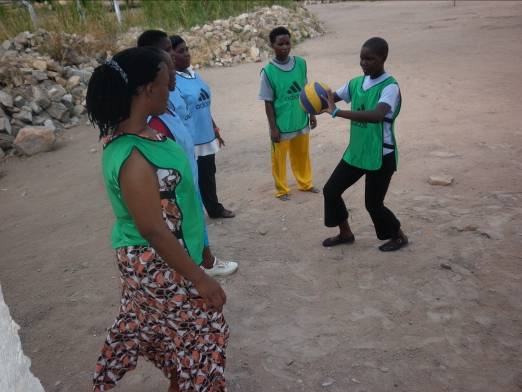 A growing pool of evidence backs me up on this. In the 40 years since Title IX opened the door for girls to play sports in American schools, researchers in this country have found a clear link between participation in sports and better academic performance, improved self-confidence and lower rates of teen pregnancy.
Neema doesn't need research to explain to her what sports have done for her. She credits learning to play volleyball with opening her mind and with showing her personal skills she didn't know existed. She doesn't want to be professional athlete though. She wants to be a lawyer. And she's already a mentor to other girls and women in her village.
"I'm young but I lead a group of 40 adult women in our village sports group," she says. "Some of these women are my mother's age, but they respect me."
I picked Neema's story to share not because she's exceptional, but because she's typical. I could have told you about Neema's classmate Jacqueline.
"Before I played sports, I was too shy to even ask questions of teachers," Jacqueline says.
She credits the girls' leadership program that included sports with improving her overall academic performance.
Across the Indian Ocean in Bangladesh, our girls' leadership programs are finding the same results with soccer. Young girls who've never before had a chance to play organized sports with each other or with boys are discovering new physical and intellectual skills, and overturning long-held stereotypes about what girls can and should do.
Keep Neema, Jacqueline and millions of girls just like them in mind when you're watching the Olympics, or just watching the children in your neighborhood kick or throw a ball around. Yes, they're having fun. But remember, what they're doing is a lot more than just a game.