How many of you can claim that within a month your YouTube music video garnered over 16,000 views? Not me, that's for sure. However, Lewis D is a different story.
Lewis Doner is an up-and-coming high school rapper from Marlton, New Jersey. A senior at Cherokee High School, Lewis somehow manages to balance his time between teaching swimming lessons, maintaining his grades in school, and pursuing his dream: rapping. Already with one mixtape released online and another coming soon, Lewis D is making a name for himself in the underground rap industry.
Lewis D recorded the tracks for his most recent mixtape, The Young & The Reckless, at Polygon Music Studio in Cherry Hill, New Jersey. It was here that Lewis was able to record music that he claims "everyone would like." With over a 150 songs written, Lewis D recorded his favorites for his previous and forthcoming mixtapes.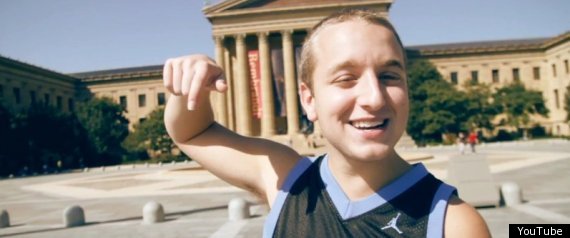 Lewis draws inspiration from Eminem for being the first truly successful white rapper (GQ's Will Welch describes Eminem as "the whiteboy who twisted rap into his own image, thereby offering a lifeline to kids just like him"); Lupe Fiasco for recording The Cool, an album that, uncharacteristically for rap, did not glorify violence but rather promoted political activism; Kanye West for being a visionary in meaningful, soulful rap; Jay-Z for being a businessman with a brand spawned from rapping; and Mac Miller for laying the path for white Jewish boys to follow to becoming an international rapping sensation with over a million followers on Twitter and a public endorsement from Donald Trump.
From My Roots is Lewis D's second mixtape to be released, and you can expect to find it for free download on datpiff.com on November 28. Lewis describes From My Roots as a medley of classic rock and modern pop songs with his own rapping element on top. The tracks on this mixtape are inspired by the music Lewis D grew up with. The songs are infused tracks with the influence of diverse musicians, like Colbie Caillat, Coldplay, Foster the People, Katy Perry, and Gordon Lightfoot. He strives to make music that he would like and would listen to over and over again.
Lewis D's rap version of Coldplay's "Fix You" was made into a music video by Jon Kilmer Studios, the same company that produced Collin McLoughlin's music videos, which have collectively received over 2.5 million YouTube views. Shot in New York City and Philadelphia, Lewis D's "Fix You" is initially a sad, down song but turns around into a song of intense optimism and elation during the guitar solo (which he summons in his lyrics). Lewis D's goal with "Fix You" was to highlight the effect that nay-sayers have on him and his channeling of their negativity into the drive to prove them wrong.
Other songs on From My Roots include "Peter Parker," a track about being happy in whichever ways you choose. Its instrumentals are Caribbean-themed and upbeat, and the whole song gives off positive vibes. "Peter Parker" is meant to celebrate life in the moment. Another song from the mixtape is "TGIF," a remix of Katy Perry's number-one single. Perry's vocals are sped-up into a chipmunk-esque backdrop for Lewis' rapping. In this way, the track is contagious.
The truly revolutionary part of Lewis' story is that it isn't revolutionary at all. In today's day and age, although it takes immeasurable amounts of motivation, independent artists can make it big in the music industry. Between the availability of Apple's Logic Studio, iMovie's standard inclusion in all Macintosh computers, and our generation's computer-literate world, people can record their own music, make music videos to showcase it, and distribute it for free on the internet. Lewis D has demonstrated the perseverance to do what it takes to succeed in the music industry.
"[I put] my career first, over everything," he said. "This is my dream, and I'm going to see it out to the end."
Lewis D's music can be found on YouTube.com/LewisDMusic and on datpiff.com.