In New York's Greenwich Village, Sam Lassner attends his classes at New York University's Steinhardt Music Technology program. His roommates join him for jam sessions, which consist of the guys sitting on guitar amps, beds, and the floor, all while playing their guitars and synths.
Sam's extensive musical repertoire had begun with blues, rock, an pop guitar-playing, similar to John Mayer, but his recent obsession has been with EDM (or electronic dance music). Electronic dance music has recently taken the United States and much of Europe by storm. An instrumental figure in making dubstep more popular, Skrillex (or Sonny Moore) was a nominee for Best New Artist at this year's Grammy Awards. Although he did not win that Grammy, he did take home awards for Best Dance/Electronica Album, Best Dance Recording, and Best Remixed Recording.
Sam Lassner's three-song EP entitled The Introduction was released on February 29, 2012 on Soundcloud. An independent and self-produced project for the past few months, The Introduction consists of original tracks that make you, although cliché, want to lose control. By importing his own music into music-editing software, Lassner has been able to distort his original music and friends' vocals into a another whole animal. The introduction of buildup, drops, echoes, and things I've never even heard of, help to totally reinvent the concept of self-produced musical material.
Sam's inspirations for his EP are Daft Punk, Deadmau5, Skrillex, and Zedd. His music-writing is "kind of haphazard at times, and more calculated at others, but all in all, it truly stems from emotion and the desire to move people."
When listening to Sam Lassner's tracks, you know that they were painstakingly edited and refined. They could readily be DJed into a dance club or techno festival, like Las Vegas's Electric Daisy Carnival. Because EDM is nototrious for featuring barely any vocals, the music itself speaks for the producer's talent, and tracks "Brooks," "Lovechild," and "Thank You" speak wonders for the control Sam Lassner has over his music.
The tracks on The Introduction utilize a miriad of composition techniques, from eight-bit, minor key interludes with huge buildups and epic drops, and if you turn your subwoofers way up, crazy bass. Electronic dance music is all about truly losing yourself in the music. With EDM song structure, the head-banging usually reserved for heavy metal rockers is made accessible -- mandatory, even -- for the listener. Your head begins to sway, hairs on your arms begin to stand up, and your eyelids instinctively close to focus exclusively on the music.
When we are graced with voices like no other -- Whitney Houston, Adele, Josh Groban -- it's not too hard to make them sound great. Many of them sing with minimal musical accompaniment because they can. Music producers and mixers focus mainly on refining the recorded voice. When it comes to EDM, the tracks are entirely created through the music. Lassner tackles the conceptual process when "a little tune or idea pops into my head, and I try to jam it into my computer as fast as I can."
"My music, first and foremost, is an outlet for me to express what I am feeling at the time. Secondly, my dream is to be able to move people through music, and the EDM scene/family seems to be doing just that. This is my effort to become a part of it."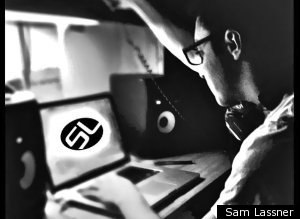 "The Introduction" is available for free streaming and download here.
Follow Sam Lassner on Twitter! @SamLassner