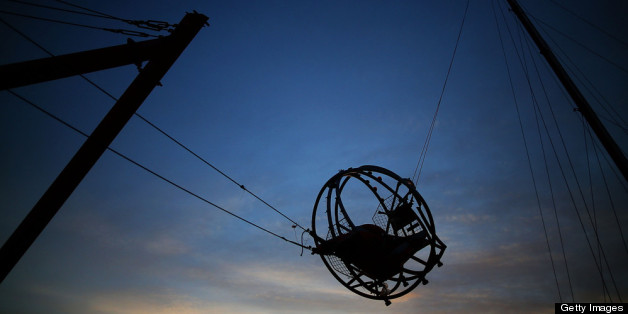 One hundred years ago today, on May 14, 1913, when the Rockefeller Foundation was granted its charter with the mission to promote the well-being of humanity throughout the world, only 10 percent of people lived in cities. The population of Mumbai, now approaching 20 million, was just about to hit 1 million.
In contrast, today's world is hyper-connected and rapidly urbanizing. More than half of the world's people reside in cities, a number expected to grow to 75 percent by 2050. Many of those cities are along coastlines or in fragile ecosystems, putting hundreds of millions of people in the line of catastrophic shocks -- natural, climate-driven, and man-made. For example, in the United States alone, of the 23 of the 25 most densely populated counties are located along a coast.

Compounding these problems, our world is a place of increasing volatility, where once-in-100 year storms now strike with alarming regularity. And disasters in urban areas have global repercussions: the 2011 floods in Bangkok shut down entire economic systems and supply chains.

We can't know for sure when or where the next crisis will hit -- only that it will, and that our poorest and most vulnerable will bear its greatest impacts. But despite these certainties, most cities are woefully unprepared to manage these shocks. Now is the time to develop and strengthen our cities' responses to this new level of instability, and ensure urban areas are able to bounce back stronger when they are inevitably hit.

In other words, now is the time to help cities build resilience -- the ability of a system, entity, community or person to withstand shocks while still maintaining its essential functions. Resilience is not an innate human strength that emerges in the aftermath of tragedy, such as the characterization of the city of Boston after the recent bombings, nor is it simply disaster response. Rather it is a property that must be learned, built and reinforced over time.

Building resilience in cities will require three actions.
First, every city must have a resilience plan in place to manage the risks we can predict, and mitigate the impacts of those we cannot. Fortunately, we know what characteristics resilient systems -- and cities -- share in good times and in times of stress: flexibility to change and evolve in the face of disaster; diversity and redundancy which enables the system to function even when individual parts fail; options for safe failure that limits shocks rippling across systems; the ability for rapid rebound to re-establish function quickly; and robust feedback loops that sense and allow new options to be introduced quickly as conditions change.

In Surat, India, for instance, water levels behind the nearby dam are closely monitored and as the time for release approaches, citizens are put on alert through text messages and other early warning mechanisms. We can build on this kind of technological solutions through other innovations that use Big Data and social media to create opportunities to engage communities and respond in real-time.
Second, once a plan is in place, cities must ensure resilience strategies have dedicated attention at the top levels of government. While some cities may already have city managers or officials tasked with responsibilities that include resilience, currently no city has a Chief Resilience Officer to advocate for resilience needs at the highest levels within local government, engage all critical actors to in resilience planning and to ensure best practices are adopted.
Third, cities must do more to make building resilient infrastructure more attractive for private investment -- from absorbent road surfaces that minimize storm run-off to broadband networks that ensure business continuity,. Yes, building resilient infrastructure requires investment, but sufficient financing is available to meet the world's infrastructure needs. More work is needed, however, to attract that capital into building, maintaining and improving infrastructure. Such strategies should include more strategic prioritization and integrated design of projects. For example, infrastructure banks with a broad mandate to coordinate financing and directly finance construction, rehabilitation, replacement and expansion of infrastructure have been effective in mobilizing private capital and forcing integrated planning and strategic infrastructure decisions. California, Oregon, Washington, and British Columbia have combined to form the West Coast Infrastructure Exchange, designed to develop innovative new methods to finance and facilitate development of the $1 trillion in estimated West Coast infrastructure needs over the next thirty years.
As well as engaging private finance to fund infrastructure investments, cities should also be passing risk to the private sector. The NYS2100 Commission, established by New York Governor Cuomo after Superstorm Sandy, made recommendations on insurance that included promoting state-level risk management and transferring catastrophic risk to the insurance and capital markets through the purchase of sovereign insurance instruments to prefund disaster recovery and protect the state from large losses. A new generation of sovereign insurance or macro-insurance instruments are already being used in other countries. For example in 2006 the Mexican government began buying reinsurance protection in the capital markets, providing Mexico with nearly $1 billion of rapid disbursing insurance coverage in the case of a natural disaster.
To help more cities access and apply these three elements, the Rockefeller Foundation is today launching 100 Resilient Cities, a $100 million commitment to building urban resilience around the world. The Foundation's 100 Resilient Cities Centennial Challenge will select 100 cities through an application process to begin this summer. We will provide support for the winning cities to analyze the risks that will inform development of a city-wide resilient strategy, hire their first Chief Resilience Officer to drive its implementation and advice to leverage billions of additional dollars in infrastructure financing. Additionally, cities will gain membership to the 100 Resilient Cities Network to share what works.
Without exception, the success of our cities will depend on their ability to manage the shocks and mitigate the impacts of a changing climate and an urbanizing world. We cannot prevent all future disasters from occurring, but we can prevent failing catastrophically by embracing, practicing, and improving comprehensive resilience strategies, ensuring our cities remain places of opportunity for the next 100 years.
Visit 100 Resilient Cities
Follow the Rockefeller Foundation on Twitter