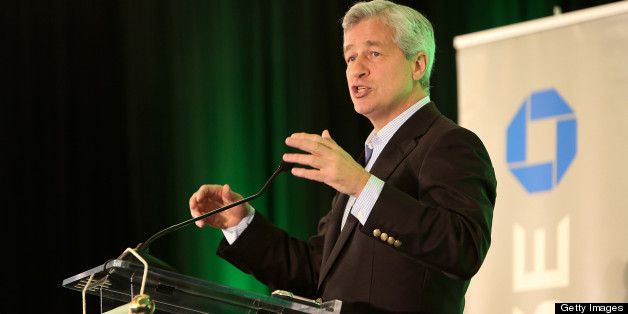 Dear Mr. Dimon,
Congratulations on prevailing in the vote to separate the chairman and chief executive roles at JPMorgan -- and on remaining the key steward of that institution.
It's a big victory -- and one that broadcasts the esteem with which you are held by your shareholders. You've earned their trust by managing the complexity that is JPMorgan Chase through extraordinary times and circumstances. You know as well as anyone the difficulties of the market, outsized risks, and the regulatory environment, but you've managed that while bringing record profits back to shareholders. Anyone who's been watching knows that it has been a tough row to hoe.
And it brings me to my point. How will you spend your hard won political capital?
You are one of the most trusted leaders in business. The public likes your strong defense of your company and colleagues and admires your scrappy performances in front of Congress; investors appreciate consistent returns and growth; you are among the most sought-after executives on both Wall Street and Main Street.
But I would suggest that a leader in your situation understands not just the privileges of this position, but also its profound responsibilities.
Let me put this simply: we, the American (and arguably worldwide) public need a powerful leader -- one with vision, tenacity, brilliance -- who can get some very difficult things done.
I volunteer three problems that are so entrenched, so urgent, and so endemic that only a leader with your capabilities could hope to wrest them into shape for resolution.
• First, get a price on carbon. While JPMorgan stockholders were weighing the pros and cons of splitting your job, the level of heat-trapping gas in the earth's atmosphere was clocked at over 400 parts per million -- for the first time in human history and at levels not seen for millions of years. Science has warned us of a widely acknowledged transition at 350 ppm; we are now beyond that.
The United States has its massive footprint all over this problem, but we are starting to put our foot on the brake. Time is up. This is a business problem.
You have the right partner on your board -- Lee Raymond -- to help with this and he stood by you in defense of your job. Between the two of you, you represent the two industries with something to gain by ignoring the problem but much to gain by seizing this moment. It's a Nixon in China moment. You and Mr. Raymond can turn this around. We need you. And we need you now.
The next two problems are dwarfs next to global warming. But they are critical linchpins in the way business and our society work:
• Problem number two: The way business and Wall Street work with our public processes needs to be fixed.
You are an individual who appeals to both sides of the aisle and can help rebuild a deliberative process inside organizations like the Business Roundtable. It is possible in business trade groups like this one to put the common good first and business self-interest second. Sometimes the two go hand-in-hand, but not always, and in the U.S. we depend on our business leaders to be that moderating influence who know the difference. It's not possible to take on the big issues -- job-creating infrastructure, skill building, and of course a price on carbon -- without business leading the parade.
• Finally, help fix executive compensation. The rules of the game as it is played today will only continue to fuel inequality and breed hostility towards business. Yes, it's about the incentives built into pay, but it should also be about principles of equity that only the business can design for itself. Please lead the way. Others will follow.
I find the words I keep using are "lead" and "leadership". You are using your leadership to restore confidence in the sector you've given so much of your energy and talent over a long and productive career. You just hit the ball out of the park to continue to lead your organization. But there are bigger fish to fry. How will you spend your victory lap?