 Mayor Vincent Gray began this week by putting one stepping stone in place to pave the way to success for D.C.'s children. Monday, he signed into law an extension of the grandparent caregiver program, which keeps children out of foster care by providing financial support to low-income grandparents who step forward to raise their grandchildren.
Being raised in extended families rather than in foster care is, without question, what's best for children. Matias, for example, was able to stay with his grandmother, Ms. Vonhoupe, when his father died, thanks to the financial support provided by the grandparent caregiver program and help from Children's Law Center. The new law, which was introduced by D.C. Councilman Jim Graham, eliminates the mandatory six-month waiting period, allowing more children to avoid foster care.
The program is also less expensive than foster care. At the bill signing, Brenda Donald, director of the District's Child and Family Services Agency, said it costs the District about $50,000 a year -- more than $4,000 a month -- to care for a child in foster care, while the grandparent caregiver program costs about $600 a month, the average stipend to a low-income grandparent.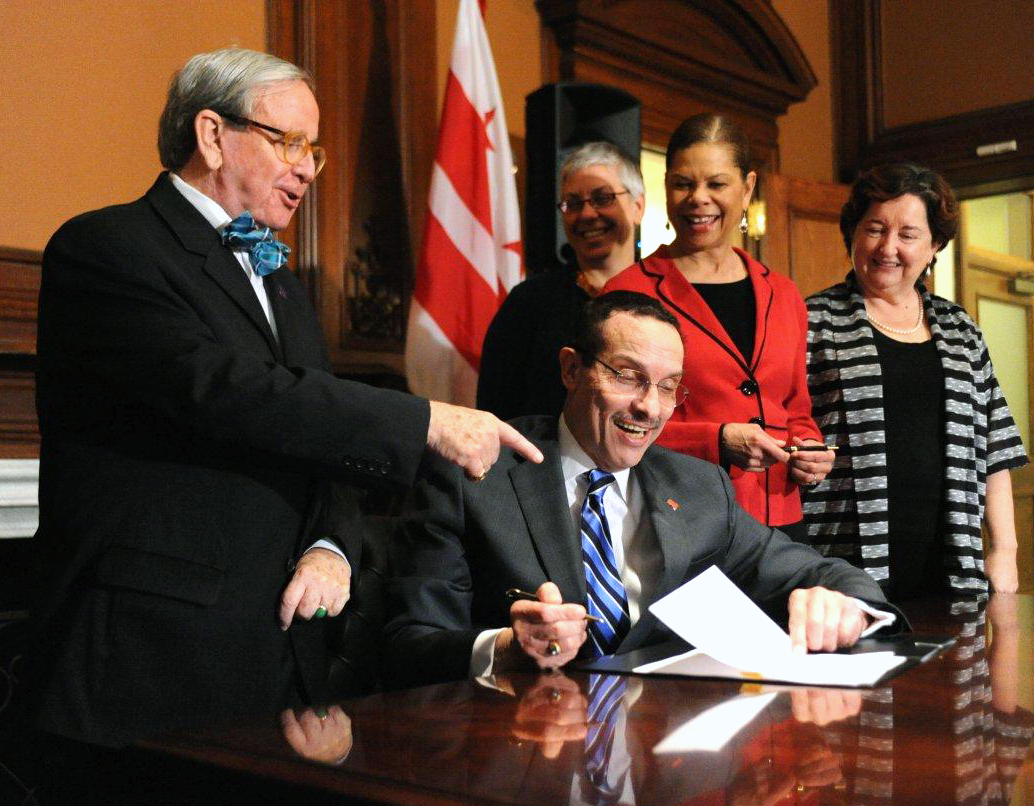 Councilmember Jim Graham, Mayor Vincent Gray, Children's Law Center Executive Director Judith Sandalow, Child and Family Services Agency Director Brenda Donald, and Deputy Mayor BB Otero at Monday's bill signing.
Mayor Gray and Deputy Mayor for Health and Human Services BB Otero both spoke of the importance of reinvesting the savings in children. As Mayor Gray so eloquently stated, "the money saved shouldn't be used to pave roads -- instead it should pave the way for children to succeed."
Those are wise words. This extension of the grandparent caregiver program should be the first of many steps taken by the District in 2013 to strengthen our families. Last year, the District made impressive strides in reducing the number of children in foster care. To make sure these children are safe and on the path to success, some of the savings must be invested in programs to protect children and strengthen and support families.
When the mayor proposes his fiscal year 2014 budget, I look forward to seeing this reinvestment strategy in black and white. In fact, Paving the Way for the District and its Children would make a terrific name for the FY14 budget!