The children were singing as they passed by the pool at their community summer camp. This happy scene swiftly turned frightening as gunfire erupted this past Monday in a Southeast D.C. neighborhood. Police don't think the shooter was aiming for the children, but two young boys and a chaperon were literally caught in the crossfire.
While horrifying, this incident unfortunately isn't outside the norm of D.C. children's experiences. Growing up in the District of Columbia can be like growing up in a war zone. Every day, battles rage between adults within homes and on city streets, and far too often children bear witness to this violence. As with the pool shooting, sometimes it's young people who are physically wounded. In addition there are less visible but no less extreme traumas in the District: concentrated poverty, homelessness, hunger, abuse and neglect. Many children need help to cope.
Last month, on Children's Mental Health Awareness Day, I presented Children's Law Center's plan to improve DC's children's mental health to a standing-room-only crowd gathered at Children's National Medical Center. As I told the crowd, there is bad news and good news about children's mental health.
Bad news first: Based on comparisons to national statistics, there are at least 5,000 children in D.C. who do not receive the mental health treatment they need. The results for these children and the community can be devastating. At Children's Law Center, our experience representing 2,000 children a year mirrors what the research shows: that children who do not receive mental health services end up needing costlier and more intensive services down the line -- like special education, foster care and even juvenile justice. By not treating their needs early, we put these children on a path to experience more trauma.
D.C.'s overly complicated and fragmented system is difficult to access and unable to meet the need. And the need grows more and more acute with each violent incident in our community -- from Monday's shooting to a household argument that turns physical.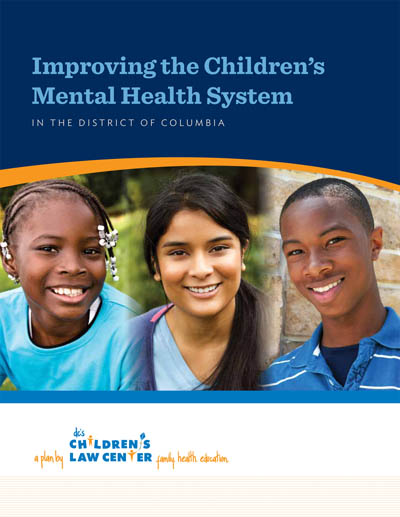 The good news is that this problem is solvable. Our plan includes 32 purposefully practical recommendations, recognizing the District's limited financial resources. By and large, our recommendations require a political investment, not a monetary one.
Now is the time to take action. The District has good leadership at the relevant agencies, and there is momentum from recent successes. Earlier this year, through the leadership of Department of Mental Health Director Steve Baron, the District government succeeded in making reforms that led to the settlement of the Dixon class-action lawsuit, bringing to an end 37 years of court supervision. The D.C. Council recently passed Councilmember David Catania's South Capitol Street Memorial Act, focused on screening and data collection. And the federal government has awarded the District an important planning grant.
The city has been distracted and disappointed by scandal. For the sake of our community, our leaders must move forward. For the sake of our children -- those who witnessed Monday's shooting and the thousands of others who have been traumatized in one way or another -- our leaders should come together around our recommendations and take what The Washington Post called "logical next steps" to improve children's mental health.