In over 30 years as an educator, including over 20 years at LAUSD, I thought I had seen it all. I'm, unfortunately, used to politicians playing politics with kids. I have watched California plummet to 48th in education funding per pupil in the nation. I have seen deals made, protests waged, books written, and programs implemented that had everything to do with adult agendas and little to do with making sure kids got a better education.
But I have never seen anything like this.
First, let's take a step back. I was a career educator at LAUSD, eventually becoming superintendent for a local district that would have been one of the 25 largest districts in the nation on its own. But, after a long career in the system, I became intrigued by the possibilities offered by the charter school movement. Charter schools are free, public schools that aren't constrained by the same often outdated rules and restrictions of district schools.
So, I became CEO of Alliance College Ready Public Schools. In eight short years, the Alliance has grown to 20 schools, serving over 8,500 students. And, I'm proud to say, we've been very successful -- while our schools are in South and East Los Angeles, serving high poverty, high need students, our graduation rate is 93 percent, and 95 percent of our graduates go on to college. We are proving that we can achieve success at scale -- as we frequently say, "Every student has the ability. We give them the opportunity."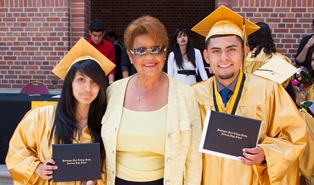 Photo courtesy of German Oliva
But apparently, results like that don't matter to the Legislature. You may have heard that the Legislature passed a budget on time, prompted by voter-approved legislation that docks their pay if they don't. But just passing a budget on time doesn't mean it's a GOOD budget. Here's why.
Every year, there is a budget item called the Charter School Categorical Block Grant -- essentially, this is the basic, public funding that goes to charter school students. Because the number of charter school students is growing, the block grant grows, just like the state's basic education funding grows as the number of students in district schools grows.
The governor recommended the usual annual increase in this fund as part of his budget -- just basic stuff. The budget subcommittees in the Legislature left that increase intact, even while recommending against almost all the other governor's charter school proposals (the California Teachers Association doesn't like charter schools because our teachers are not members of their organization, and they typically have great sway over the Legislature as their largest special interest donors). But the Legislature, in a last minute move hatched out behind closed doors, removed this funding. It was a breathtakingly capricious move.
This $50 million cut would have reduced funding for charter school students -- who are public school students just like everyone else -- by $100 per student. And this is on top of the fact that charter school students receive, on average, $395 per student less than traditional public schools according to the nonpartisan Legislative Analyst's Office.
Let me be redundantly clear: we, along with many of our charter school colleagues, are achieving phenomenal educational success with impoverished, high need students. In our schools in South and East L.A., over 93 percent of our students qualify for free and reduced price lunches, a common measure for poverty. They are over 90 percent Latino. Yet, we graduate 93 percent of our kids, with 95 percent of those graduates going on to college. And yet, the Legislature suggested an arbitrary, capricious cut to our budget based on nothing more than adult, political agendas. I challenge anyone to provide a sound, rational policy-based reason to punish one set of public school children and not another.
I can understand across the board budget cuts, unpleasant as they are. We are all living through the ramifications of a down economy. But this cuts a fund that the governor recommended in his budget, and that the budget subcommittees in the Legislature left intact -- subcommittees that are no friend of charters. But the leaders in the Legislature simply stripped out the funding behind closed doors, with no public hearing, and with no announcement.
Whatever your feelings on charter schools, simple fairness should cause all of us to worry. When the Legislature can use kids as political pawns to further their narrow political interests, you have to wonder where it will stop.
As this piece was about to go to press, Governor Brown thankfully restored this funding after an outpouring of outrage from teachers, parents, and students. But this was a ridiculous exercise. We should be spending our time, money, and energy educating kids. Not fighting legislators who want to play politics with them.