When the Supreme Court, in a 5-4 vote, ruled Section 3 of the Defense of Marriage Act (DOMA) unconstitutional, Edie Windsor got her money back, but thousands of us got our lives back -- literally. It's not possible to say how many same-sex binational couples, many with children, are affected by the ruling. Some figures say there are 28,500 such families. Others say there are 36,000. It doesn't really matter; it only helps show how widespread this discrimination has been since DOMA was signed into law in 1996.
For us, it's the end of a long, long journey. Well, it's not really the end until Karin gets her green card. But it's the last hurdle for us. And it's the green light that so many have waited for to get married and established together in America.
Congratulations, all of us! We celebrate now, and many of you begin the tasks needed to get married, get interviewed by USCIS and get that green card that will allow you to be together in America with your American-citizen husband or wife.
For all of you kids in same-sex binational families, your moms and dads will be safer now, and you won't have to watch one of them go away on an airplane so often anymore.
For me, I have achieved what I have been wanting for a long time: to be out of business in the fight for the end of this DOMA discrimination. My next task is to check in with each of the couples and families I interviewed for my book, Torn Apart: United by Love, Divided by Law (2011, Findhorn Press). I am so thankful that these couples and families shared their stories so that we could get people to see the hurt and damage that was being done by DOMA. I know the stories helped. I am so honored that you shared yourselves, and that Findhorn Press recognized the importance of getting this book published so that it could be a tool, a handbook, a political weapon in our fight.
Now I will go through my post-DOMA list and do the things I told you all I would do. I still am being asked for interviews, and that's nice. I still will share the story and help as I can, but as David W. Ross said of his wonderful film I Do, I can stop fighting for this issue and see my book and my work as history, stepping stones to tomorrow, work that helped us get where we are today, the post-DOMA universe.
It feels good! I can feel the victory more each day. I am not as numb as I have been for years. I like that!
My wife and I can do things we have been delaying for years. We can do things to the house. We can travel where we want. We can see our family everywhere. We can be normal again! Just normal. That's all we ever wanted.
We celebrated in San Jose with hundreds of others the night the decision came down. Here we are sharing the news and sharing our story: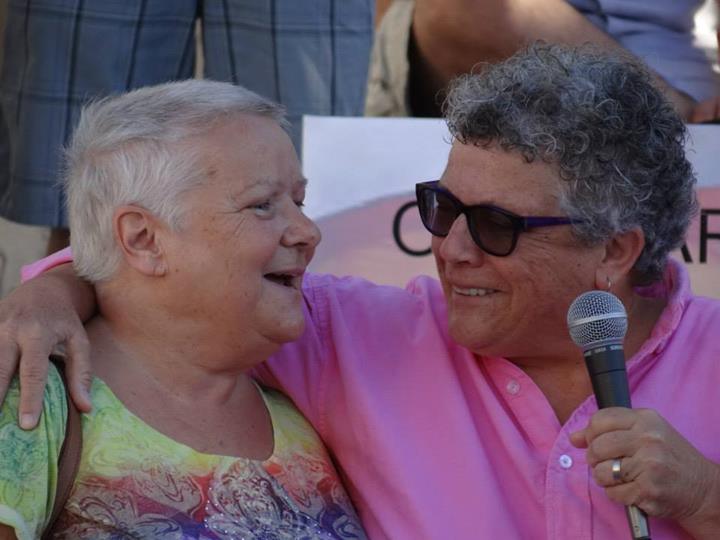 Photo courtesy of Ray Mueller