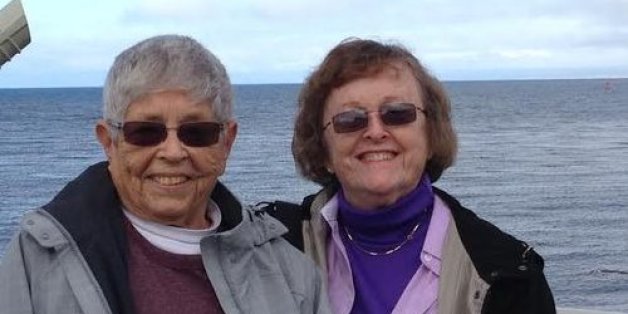 Neither of them can remember much detail, other than it was "that kiss" that first sealed it. It was in 1992, in the hallway at Arlene's house, either after dropping off or before picking up her then teen-aged daughter from basketball practice or something.
Everyone's story is different, and yet all stories have the same basics. You meet someone, you have feelings for someone, you make that known, it works out or not. In this case, a long-term committed relationship was capped off with a wedding in a local rose garden when Arlene Rusche, 73, and Clara Brock, 86, said "I do" in front of their daughter, a couple of close friends and Santa Clara County Supervisor Ken Yeager, who married them in 2013.
Arlene and Clara, married by Santa Clara County Supervisor Ken Yeager at San Jose's Guadelupe Heritage Rose Garden.
There's lots of opinions and hype and social mores about weddings. For many years, weddings were about young men and women starting off life together. The scripts were always the same -- or very similar. But things are different today. Men marry men. Women marry women. And straight or not, wedding participants can be all ages and bring all sorts of backgrounds to the altar.
My wife Karin and I were not young and fresh when we eloped to Vermont in 2011. Many of the same-sex marriages we know about and hear about today also feature seniors. I thought it would be a good idea to seek out those, like us, who made life commitments on the older end of the scale, with more life lived than left and more experiences to bring to each other than so-called traditional newlyweds would have.
I also want to remind folks that the same-sex marriage struggle is not just for same-sex binational couples. It's about anyone who has been or is in the military, has been or is a federal employee. That's what the DOMA, Defense of Marriage, win was about, too. And, ultimately, it's not about same-sex marriage. It's about love. And commitment. And federal government recognition.
Whether we want to think about it or not, marriage is a government contract that trumps all romantic and religious considerations. Along with the responsibilities of the marriage contract comes benefits -- and the government grants them to us.
Clara and Arlene, in a committed relationship since early 1992, still spent time deciding whether to marry or not -- a big change. They did not get married in California in 2008 when they had the chance. And they did not rush into it after the June 2013 Supreme Court decision striking down DOMA, the Defense of Marriage Act.
"I had trouble getting my head around the idea of getting married," smiled Clara. "For so many years it was not an option."
This retired Navy and Lockheed electrical engineer had a 29-year relationship with her first partner, who had died. Dating again was a big change for her. So Clara put the word out, at age 64, that she was interested in learning golf, and friends rose to the challenge. Arlene volunteered to loan Clara her daughter's clubs. That led to many years of golf outings all over the world.
That was in the day of the lesbian potluck circuit, which I remember, too. Before online dating, many lesbians met to share a meal and meet new friends without going to the bars. An engineer friend took Clara around and she met Arlene, then age 51. They started hanging out, dating, becoming a committed twosome.
Former school teacher Arlene was married and had a daughter before coming out later in life.
"I know what that special love is," she smiled. "I know what having the companionship and benefits of marriage include."
"Now society sees us as legally married," Arlene said. "I think it is better for younger people to see more people like us get married ," she added. Her family is very supportive of the relationship. Daughter Allison refers to her two Moms.
Marrying is just another part of their long-term relationship.
"It's not a religious thing," said Arlene. "It's a civil rights thing."
Their marriage was not a romantic move, they said, after being together so long.
"It celebrates the idea that we could get married -- that's a good thing," said Clara.
"The idea of being married hasn't really changed our lives much," Arlene said.
"It hasn't really changed anything," Clara added.
That's in terms of how they feel about each other and themselves as a couple. But the changes their marriage brings are dramatic and life-changing in certain ways.
"We weren't sure tax-wise whether to marry or not at first," shared Arlene.
"We wanted to wait for the federal government to recognize our marriage," said Clara, "and the military position."
Now Clara can assure federal benefits to Arlene including health care, federal military benefits, vacation sites available to military personnel and more.
"And when Arlene turns 75 next year, she will get a permanent ID card from the military," Clara said, satisfied.
"It made it all legal," said Clara.
"And equality just feels good," Arlene said.
They enjoy the civil rights they earned, they enjoy being recognized as a legally-married couple, and they like their new position in society.
But don't call them wives!
"We are partners and neither one of us wants to be called 'wife,'" said Arlene. And that's just the way it is for them.
The two have an active life -- many friends and lots of family, frequent travel, golf, Stanford women's basketball and more.
"One, if not both of us, is out of the house every day," said Clara. "The car never stays in the garage long."
"We meet two of our golf friends for walks three times a week at the nearby mall and then have coffee and a visit after," said Arlene. "We go to the senior lunches each Wednesday at the LGBT center when we are in town."
Travel includes "big trips and little trips," Stanford women's basketball games out of town and out of state are included, as well as Olivia cruises, Hawaiian trips, family gatherings and more.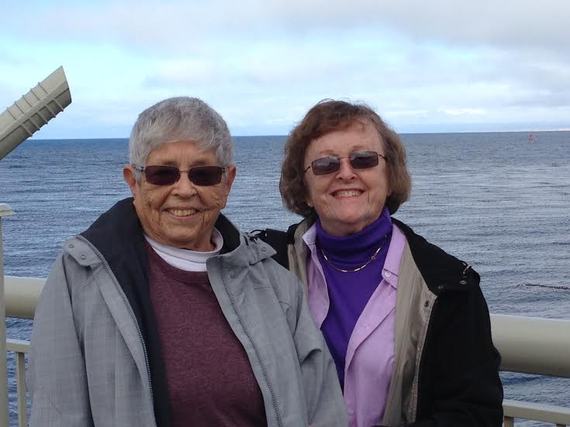 Clara and Arlene on one of their journeys.
But in spite of all they have done and the trails they have blazed, they still hold back a bit in public.
"We don't walk down the street holding hands," Arlene shared. That's just the way it is for them. And that is just the way it should be. For them.