In the last few weeks we saw three separate incidences where teenagers committed unfathomable acts of violence killing family and strangers with equal brutality. The motives are murky but if we look deeper we see a single thread links most incidences -- these kids are exposed to violence at home when they were younger.
Despite what we may want to believe, family violence is so much more pervasive in our society than you would think: 6 out of 10 kids are directly exposed to violence according to the Department of Justice Attorney General's National Task Force on Children Exposed to Violence. This epidemic of violence has major consequences because it traumatizes for a lifetime and is passed on from one generation to the next in a cycle of violence that is hard to break.
It can seem hopeless if not for brave champions who take up the battle to break the cycles of violence. One such champion is Joe Torre, the legendary baseball player and manager, himself a victim of family violence who, along with his wife Ali, was motivated to start the Safe at Home Foundation. They dedicated themselves to making a difference in kids' lives by giving them that one break that can put a kid on a path to a productive life breaking the otherwise hopeless cycle of violence.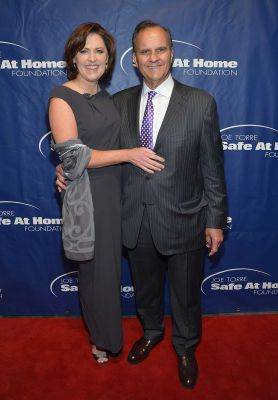 That's why Mayor Bloomberg declared January 24 "Joe Torre Day" to recognize the Safe at Home 10th Anniversary Event honoring Joe and Ali's decade long commitment in founding the organization. The celebration included prominent glitterati like Katie Couric as the event's host, Bob Costas as an honoree and a league of sports superstars who all came out in force for Joe. But everyone there understood it was really all about the kids.
Melodee Hanes, Acting Administrator, and Office of Juvenile Justice & Delinquency Prevention, Department of Justice spoke about the kids passionately: "Kids exposed to violence do less well as adults... They are more likely to have anger management issues, less likely to finish school and are at risk for drug abuse... Addressing family violence is not just the right thing to do, it has direct costs to our society in terms of health and safety." Tragically, without intervention, the outlook for these kids looks bleak.
Joe's own difficult childhood exposure to family violence made him acutely sensitive of the fact that if kids at risk can find a safe place of support, it would be enough to break the cycle. Joe's insight was backed up by research because studies show that kids who receive intervention can escape the otherwise inescapable cycle.
That provided all the motivation Joe and Ali needed to expand the Safe at Home work to launch the "Margaret's Place" initiative (named after Joe's Mom). It was created specifically to install dedicated resource rooms within schools where kids can have direct access to counselors. In just a few years, Margaret's Place program has grown to 12 locations helping over 36,000 students with these encouraging results based on an independent study:
90 percent felt happier after receiving services from Margaret's Place and its counselors
94 percent reported feeling safer after receiving services
89 percent reported getting along better with people at school; and
85 percent found it easier to talk to someone when they needed help, instead of keeping things to themselves.
Students also responded to the question, "What is the best thing that Margaret's Place has done for you?"
"It helped me with my attitude, behavior and improved my grades."
"Gave me a place to feel safe and secure as well as give me a large amount of moral/emotional support."
"SAVED MY LIFE!"
So January 24 became known as Joe Torre Day as a way to celebrate these kids that with a helping hand and love can triumph over adversity.
It was all about the kids when during the evening two Margaret's Place alumni (a 15-year-old and a 19-year-old) expressed their gratitude to the Foundation for making a significant change in their lives.
It was all about the kids when, as a surprise to Joe and Ali Torre, kids who had been touched by the work of the Safe at Home Foundation, presented the couple with a hand-made quilt (with support from the amazingly talented Victoria Findlay Wolfe.)
And it was certainly only about the kids when Joe said: "We are responsible for our children -- all our children."
Indeed we are Joe.
For more information: Joe Torre Safe At Home Foundation.