 It's 6:30 a.m. and I've already had my first drink. I wait until the end of the day or early morning to put my daily empties in the recycling bin. If colleagues see me, I casually say that I'm just cleaning up my office, as if my collection of bottles had accumulated over a broader span of time. I get anxious if I don't have a drink next to me when I am driving or if I don't have a bottle in the house. Glancing in the back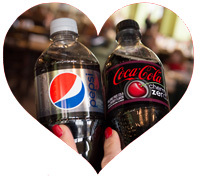 seat of my car, it tugs at my conscience to see my kid in the car seat, with my empty plastic bottles on the floor. It's time to do something about this addiction, and the time is now. But the road is going to be tough, because I've been drinking the stuff for almost 40 years.
I've been drinking diet sodas since I was a young teen and obsessed with my weight. At age 14, I started drinking TAB, a diet drink of my era, to try to keep the pounds off. By college and law school, I had a can of soda (Diet Coke, Diet Pepsi or TAB) with me at each class, along with my pen and paper notebooks. Now I always have a bottle of diet soda in my art studio and by my computer.
I've noticed that the amount of soda I have been drinking over time has gotten bigger as the size of the bottles has grown. In college and law school I went to each class with a can of diet soda. But then it was 12-ounce cans. Then the size of the drinks had gotten bigger. Cans disappeared, replaced first by 16-ounce bottles, then 20-ounce, then 24-ounce. To me, all of them were a single serving.
In 2007, I was at an art workshop at "outsider" artist Susan Shie's home in Wooster, Ohio, and I laughingly suggested using My Diet Soda Addiction as a subject for one of our daily fabric paintings. I went on to paint a series of quilt paintings discussing my stories with different types of diet sodas and how I would claim that I had a diet soda addiction so people would not need to look any deeper to find some fault or character flaw.
Since then, I have found myself more concerned about my diet soda consumption and seriously wondering about any health side effects. I have gone through cavities, crowns, root canals, bridges,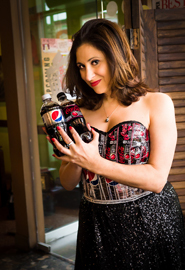 dental implants and an osteopenia diagnosis. I am not a doctor or scientist, so I can't make positive connections, but I do wonder about potential connections. It could just be age? And after all, the drinks are FDA approved. And I did Internet research to make sure that the amount I drink is not problematic for lab rats.
So I created a video to encourage public discussion of this question. It features me in my first performance piece, in a gown I made from diet soda labels and fabric. I had fun using the detritus of my diet soda addiction to make this art piece. It was a nice surprise that the dress had such a flattering fit since I'm more of a painter than a seamstress. Then, with the help of Jessica Wallach of Portrait Playtime, we crafted this video to get a dialogue going.
I have learned that diet soda does not make me skinny. I seem to just crave it all of the time.
After working with my addiction through my artwork, I have decided to make a healthy choice myself and drastically reduce my diet soda consumption to 0-2 drinks a day. I'd love your suggestions on how to do this.
Do you find yourself or someone you love to have a "diet soda addiction"?
Has diet soda had good or bad results for you?