I'm 28 weeks pregnant and like many moms-to-be, I'm riddled with questions and inevitable mommy guilt. Am I doing this right? How will this affect the baby? Can I eat that? However, I've noticed that my list of worries goes beyond eating a piece of sushi or unpasteurized cheese -- they are deeply rooted in holding onto my pre-pregnancy self. That includes twerking, ratchet music, a stretch mark-free belly and high heels, amongst other things.
Overall, I'm a silly and fun-loving gal that would like to stay that way once I become a mother. While I know my life will drastically change in a few months -- which I completely welcome and I'm excited for -- I also know that I'd like to maintain some essence of "Julee."
In an effort to do that, I've been offering up some of my maternity musings via Instagram for both posterity and to crowdsource my friends and followers for the level of ridiculousness or sanity I'm serving up. I think folks would agree that I've always been slightly inappropriate at times in a good/funny way, so by and large, my prenatal antics aren't too surprising.
Nevertheless, below you'll find a few of the riveting topics I've broached since finding out I was pregnant. Let me know what you think and if you've experienced any unconventional and/or humorous mommy-to-be moments.
1. Is it unacceptable to shake my booty in public or private while pregnant?
I don't know what it is, but all I want to do these days is twerk (Note: Not the Miley Cyrus version, the real thing). I've been known to cut a rug in my pre-pregnancy days, so this is nothing new. However, now that my womb is occupied, I'm feeling an even stronger urge to shake what my mama gave me. A few weeks ago I actually contemplated attending a Grits and Biscuits shindig (read: arguably the most ratchet, sweat-inducing dance party known to man). Thanks to my colleagues, I was talked off that ledge and instead went to a more civilized, albeit still crunk, gathering where I could move my hips in the comfort of a V.I.P area. And while I ponder whether provocative dances should be shunned while knocked up, I can't help but make the connection between some of the moves I do in my prenatal yoga class and the ones I yearn to do out with my girls. Case in point: The only real difference between the "hip rolls" and "body rolls" I'm doing in my yoga class and good ol' fashion twerking is I'm doing one to Enya and the other to Juicy J. Furthermore, the fundamental act of twerking is technically helping to move the baby into the perfect position within the womb. #justsaying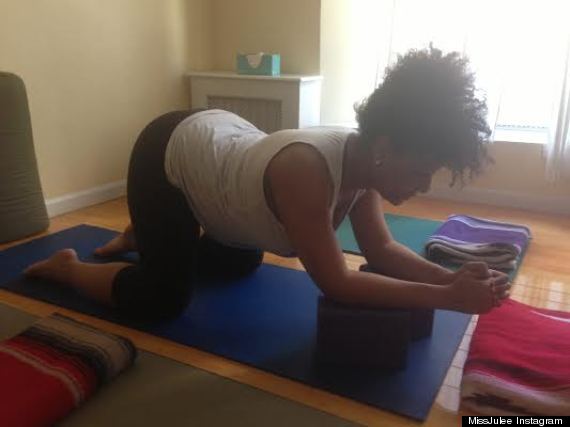 2. My baby can't understand the ratchet music I'm listening to, right?
I've got a pretty extensive taste in music. Think: Ray LaMontagne to Three 6 Mafia. But it's that latter genre of jams that have me feeling all sorts of mommy guilt. As I mentioned before, I have a strong urge to twerk and that act isn't truly complete without a good ratchet soundtrack. With that said, I know it's irrational of me to think that my unborn child can understand the foul language coursing through the atmosphere or my earbuds, but it still gives me pause. I just don't need him unconsciously becoming some womanizing fool who likes to "make it rain on them hoes." Thus, I've decided that for every two ratchet songs I listen to, I will immediately play something more modest -- Bebe and Cece Winans, Stevie Wonder, The Boys Choir of Harlem, etc. That should even things out, right? If not, I do feel like I'm at least imparting a valuable life lesson to my son: It's certainly OK to get turnt up -- as long as you know how to properly turn down.
3. How do I make sure this belly never sees a stretch mark?
I've been told countless times that there is nothing you can do about stretch marks because they are hereditary. That's all well and good, but I refuse to sit around idly and just allow them to happen. So, I've been rubbing down this belly with anything I can get my hands on -- coconut oil, cocoa butter, monoi oil, vitamin E -- any product that even comes close to claiming they can prevent stretch marks and lots and lots of prayer. Don't get me wrong; if they eventually pop up, I'm not going to die. Afterall, they are the evidence of the amazing life I just created. But, it would be nice to maintain some physical resemblance of my pre-pregnancy body. Sigh.
(The photo is of some fun I had with my bump and temporary tattoos)
4. Yes, I still wear high heels on occasion, and I don't feel like I need to apologize for it.
I still don't understand why people have a problem with breastfeeding in public. It's honestly the most natural and non-sexual thing I mother can do (sans this situation). If you don't want to see it, stop looking. I obviously haven't had to deal with someone shaming me for public breastfeeding yet, but I did experience a different type of discrimination: Shoe shaming! That's right, I was literally lectured by a woman on the street about how unhealthy, dangerous and vain it was for me to be wearing high heels. Gasp! I honestly don't wear heels everyday -- my belly, aching back and slightly swollen feet won't allow it. However, whenever I'm feeling particularly sassy I'll throw on a pair of stilettos and cautiously strut around. Clearly, that's not OK with everyone, but I won't let it kill my vibe.