Venture is a rich and readable collection of true microfinance stories. It is written for anyone who would like to better understand the realities faced by the the aspiring middle class in the world's least developed countries, the range of factors that affect their prospects for working their way out of poverty, and how microfinance can impact their lives.
The entrepreneurs featured in this book are all members of Zidisha Microfinance, a web-based crowdfunding platform that allows low-income, computer-savvy entrepreneurs in developing countries to share their stories and negotiate microloans directly with individual lenders. As the world's first person-to-person lending service to eliminate intermediaries and connect individual web users and entrepreneurs across the international wealth divide, Zidisha is uniquely positioned to offer an undistorted depiction of the variety of individual stories and circumstances that come to play each time a microfinance loan is disbursed.

Each story paints an unforgettable picture: A 70-year-old goat farmer who relocates his home to better care for his ailing father, carrying the sticks and metal sheeting it was made from across the mountains on his back. A plump, beaming detergent saleslady who lives in a home no larger than an ordinary bathroom but has adopted five orphans. A cancer survivor who supports herself and two children by pounding millet for $1.58 per day. An irrepressible lady who supplies half of her neighborhood with much-needed IVs and other medical supplies by day, and by night checks into the local cybercafe to chat with Facebook friends on the other side of the world. A young man who has no arms but insists on working to support his able-bodied parents out of filial duty. An accounting student who pays for his university tuition by purchasing a taxi and splitting proceeds with a hired driver. A bright young lady who renounces college to care for her orphaned siblings and overcomes gender stereotypes to launch a thriving construction business.
At its heart, "Venture" is a tribute to the remarkable community of Zidisha Microfinance entrepreneurs and countless others like them -- a tribute to their grit, ambition and indomitable spirit in the face of overwhelming obstacles. We hope this book will help translate the statistics about poverty and the opportunities afforded by microfinance into human terms, and inspire readers to reach out and connect with their counterparts on the other side of the international wealth divide.
Story 23: Building Our Future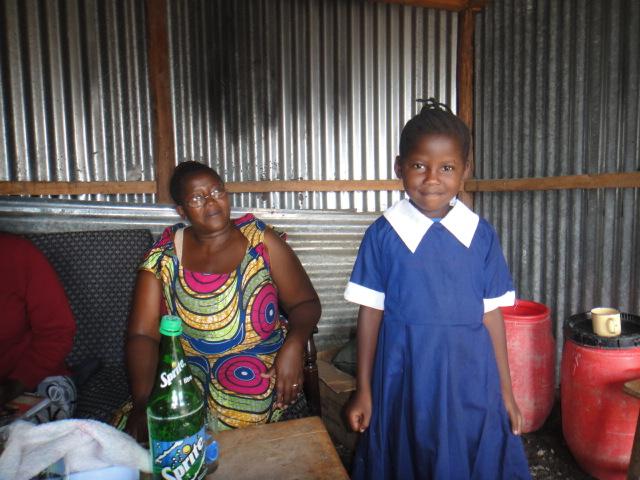 The laughter of children is the first sound I hear as I enter the grounds of Terrian Academy. A smile is brought to my face as I see a group of forty students singing songs and playing games with their teacher on the open field in front of their classroom. The walls of each class are decorated with brightly colored homemade posters and pictures, while the desks are filled with children deep in concentration as their teacher passionately provides instruction. After months of renovation, Terrian Academy is now in session!
Skeptics of microfinance claim there is no evidence of poverty alleviation beyond the anecdotal, and that although individual lives may benefit, alleviation on a larger scale is left to be proven. Founder, principal, and teacher of Terrian Academy, Theresia Kabiti, provides a sound argument to the contrary, for through her first Zidisha loan of just $996, she has been able to provide educational opportunities to an entire community in the slums of Nairobi, Kenya. The long-term effects of such access are bound to be endless, as education is one of the most powerful tools for economic growth. Offering lower costs and comparable education than that of private schools in Kenya, Theresia Kabiti provides a learning environment for those with otherwise little means.
Earlier, Theresia used to teach in a private school. She found that in her own community, many people were not sending their children to school at all because they could not afford the fees. Most of these people worked as laborers on daily wages. Theresia decided to start a school to facilitate education among the poor.
She told me that when she started she had to go door to door to tell people about her school. Her first class had just five students. Today her school has about 80 students and every time she adds a grade level, this number goes up by 15 or 20. While the other schools in the area charge about $25 per month, she charges just $6 per month.
I visited Theresia as her school was still being constructed. Due to heavy rains in Githunguri, the classrooms of Terrian Academy flooded and students were moved to a nearby abandoned building. With her Zidisha loan, she was able to renovate the school to avoid damage from future flooding.
The best thing about Theresia's school is that they have Physical Education class every day. This is when the children are allowed to run free. If I were a parent doing hard physical labor the whole day, even I'd insist on the school tiring my kids before sending them home.
I also saw the whole class of nursery students sleeping, not because the subject was boring but because it was their nap class. I tried to be quiet while taking a picture, but some smart ones did manage to sneak a peek at the camera.
Theresia recently purchased an additional plot of her own where construction of semi-permanent classrooms has already begun. She wants to use the next Zidisha loan to construct a permanent building on the new plot, and hopes to provide her students with a feeding program as well.
Theresia's two older children study in boarding schools and the youngest daughter studies in her school. When I asked her if her daughter gets any preferential treatment by being the Principal's daughter, she laughed and said no. The little daughter wants to be a pilot and Theresia hopes to be able, with the help of revenue earned from investments in the school's growth that will be made possible through Zidisha loans, to afford the high aviation college fees.
Theresia's Words:
I am a Kenyan citizen, married with a boy and two girls. I have government training in early childhood development (ECD). I am currently pursuing my national diploma in ECD. I have worked in several private education institutions (Private School) since 1993 when I completed my formal education. My bitter realization was that many of our children cannot get quality early childhood education because the fees charged by these institutions are out of reach for our poor children. This has led to many of our children seeking refuge in other backstreet informal schools set up by insincere business people whose objectives are to exploit the situation. These schools end up either not even paying its teachers in time or at all leading to very high rate of teacher turn over, there by denying the children the much needed continuity and consistency. This made me quit employment from a private school situated in my current residential place. My main objective was to provide this much needed early childhood education to our poor children who were always being sent out of these schools for lack of school fees. I, in collaboration with other well wishers, set up a kindergarten named "The Terrian School". We ask parents to pay a small fee (KSH 500 or $5.50 per month) to help sustain teachers, who are more of volunteers. We, however, do not send any child away for lack of fees. Our children mostly come from poor parents who are either house helps or working as laborers around the estate...

Since the Kenya Government is currently not funding early childhood education, we saw it an obligation to work to assist the majority of our society whose children could not get better education. It with this background that the idea to start The Terrian School was conceived. The school is situated in Utawala - Githunguri estate. Our children mostly come from poor parents who are either house helps or working as laborers around the estate. Since inception of The Terrian School in January 2005, we dispatch an average of 30 pupils to standard one in public primary schools every year. The parents suggested that we incorporate lower primary school levels and in January 2009 we introduced standard one. Currently we have Baby Class, Nursery, Pre-Unit, Standards One, Two and Three, a pupil population of about 70, and four teachers. Our teachers are working as volunteers, being given a token of KSH 3,500 to 4,000 [$40 to $50] a month, and are motivated by the fact that they give hope to those who were otherwise hopeless. We have tried our best and our former children are doing very well in whichever schools they join.
You may view more comments and photos of Theresia's school at her Zidisha Microfinance profile page.
From Chapter 23 of Venture: A Collection of True Microfinance Stories by Zidisha Microfinance.
Next time:A man born without arms and legs realizes a dream to start a business and support his aging parents...