Venture is a rich and readable collection of true microfinance stories. It is written for anyone who would like to better understand the realities faced by the the aspiring middle class in the world's least developed countries, the range of factors that affect their prospects for working their way out of poverty, and how microfinance can impact their lives.
The entrepreneurs featured in this book are all members of Zidisha Microfinance, a web-based crowdfunding platform that allows low-income, computer-savvy entrepreneurs in developing countries to share their stories and negotiate microloans directly with individual lenders. As the world's first person-to-person lending service to eliminate intermediaries and connect individual web users and entrepreneurs across the international wealth divide, Zidisha is uniquely positioned to offer an undistorted depiction of the variety of individual stories and circumstances that come to play each time a microfinance loan is disbursed.

Each story paints an unforgettable picture: A 70-year-old goat farmer who relocates his home to better care for his ailing father, carrying the sticks and metal sheeting it was made from across the mountains on his back. A plump, beaming detergent saleslady who lives in a home no larger than an ordinary bathroom but has adopted five orphans. A cancer survivor who supports herself and two children by pounding millet for $1.58 per day. An irrepressible lady who supplies half of her neighborhood with much-needed IVs and other medical supplies by day, and by night checks into the local cybercafe to chat with Facebook friends on the other side of the world. A young man who has no arms but insists on working to support his able-bodied parents out of filial duty. An accounting student who pays for his university tuition by purchasing a taxi and splitting proceeds with a hired driver. A bright young lady who renounces college to care for her orphaned siblings and overcomes gender stereotypes to launch a thriving construction business.
At its heart, "Venture" is a tribute to the remarkable community of Zidisha Microfinance entrepreneurs and countless others like them -- a tribute to their grit, ambition and indomitable spirit in the face of overwhelming obstacles. We hope this book will help translate the statistics about poverty and the opportunities afforded by microfinance into human terms, and inspire readers to reach out and connect with their counterparts on the other side of the international wealth divide.
Story 30: What It Takes to Survive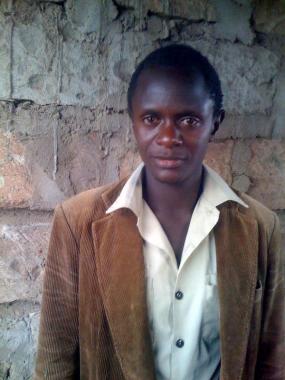 From barber, to shoe salesman, to water delivery boy, to the selling of eggs and sausages; often times this is the path one must take to survive in Kenya. Though he is only 23, John Mwathi has tried his hand at all of these jobs and more.
As we walk through the muddy unpaved streets of John's Nairobi neighborhood, he points out his competition, a young man carting fifteen twenty-liter jugs of water. Water transport being a common business in this community, I ask John how he manages to get any customers. "Speed," he replies. With a universal price of $0.12 per twenty-liter container of water, agility is what stands between you and the next guy.
By 4:00 PM, John retires from transporting goods and begins to set up his food stall in the market center. Customers are plentiful during the evening hours, for work has finished and appetites are high. On a good day, John is able to make as much as $6.30 from snack sales, though most of his income goes towards basic necessities and supporting his younger sister, who lives with John's parents in their hometown in western Kenya, with school fees, food, and clothing.
He took a Zidisha loan of $204 to purchase a motorbike, which he intended to use as a taxi - a common business venture with the potential to offer a substantial step up in income for those who manage to acquire a vehicle. However the bike was of poor quality and needed frequent repair, and so did not give him the returns he expected. John finally sold the motorbike, and used the proceeds to relocate to Nairobi, where he hoped business opportunities would be more abundant.
In Nairobi he first tried opening a small barbershop. He used the front of his shop to sell shoes and also kept a small kiosk to sell steamed sausages and boiled eggs. The revenue from the haircutting and shoe sales being insufficient to cover the cost of renting the premises, John closed the shop after just a few months. John is now transporting water during the day with the help of his donkey and cart, and continues to sell boiled eggs and sausages in the evening.
I found John to be a very pleasant person. And even though he seemed a little shy in my presence, he was constantly smiling. He explained the economics of the sausage and eggs business to me in great detail. John's future plan is to open a snack shop where he can sell hamburgers, cakes, biscuits and chips.
After hearing John talk about hamburgers and cakes I was obviously hungry so I decided to buy a sausage. John asked his friend, who was manning the cart at that moment, to move and prepared the sausage for me himself by slitting it and filing it with a salsa like preparation called kachumbari and sprinkling it with salt. It was delicious.
The inconsistency of income and the responsibility of supporting his family have made the repayment of his loan difficult. Having recently moved his egg and sausage business to a new neighborhood where nightlife proves better than in his first location, John is confident he will be able to repay his loan and would appreciate the opportunity to take out a second. He intends to use a second loan to open a snack shop, for acquiring stock is affordable and unlike the shoe or salon business, customers come on a daily basis.
The inevitable world of adulthood has its ups and downs, and as a young entrepreneur, John is still learning the tricks of his trade. Although unforeseen challenges have stifled his plans, John's enthusiasm and good-natured spirit push him forward.
John's Words:
"This was my first loan and I overestimated my paying capacity. Also I moved from Nakuru to Nairobi and started a new business here... Also I have to support my little sister who is at my rural area with school fees, and also with pocket money for food [and] clothing.
You may view more comments and photos at John's Zidisha Microfinance profile page.
From Chapter 30 of Venture: A Collection of True Microfinance Stories by Zidisha Microfinance.
Next time:How handmade furniture craftsmanship is kept alive with a small loan...