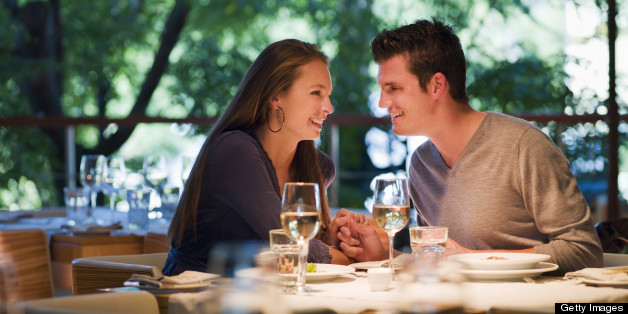 My grandparents met on the subway. My parents met at a bar. Maybe I will meet someone through social media?
That was the idea for my 30th birthday. I harnessed all the chutzpah I had to make a bold public request via Facebook and Twitter: Set me up on 30 dates for my 30th! I dedicated my pursuit in honor of my Grandma Betty, who always wanted me to apply for "The Bachelorette." This was my compromise. At 15 dates, I am reflecting back and looking ahead.
What Grandma Betty wanted more than anything was for me to meet a young man worthy of a rose. This fall, she regrettably passed away. When I read through her diary, I stumbled upon a passage which resonated deeply as I approached my 30th: "I wish my granddaughter would hurry up and pick a nice fellow."
So, I took decisive action in a way only Grandma Betty would, had she been on Facebook: I changed my cover photo and updated my status. The response to my request was incredibly supportive. Suddenly, hundreds of people (including strangers) became my matchmakers. From college friends to colleagues, my personal Yentas sent text introductions and stopped old friends on the street in order to connect me with suitors. In the flurry of date invitations, I even managed to ask out an old crush and JDate's social media team stepped up -- contributing with one free month!
When asked what I was seeking in a set-up, I kept the qualities purposely vague. After all, what had attracted me to past partners had not led to the right fit. So, as the introductions rolled in, I populated my calendar with very different dates -- men with wildly different personalities, appearances and careers.
The majority of my first dates consisted of drinks. Spoiler alert: I'm actually a fan of activity dates instead. This is mostly because I love exploring NYC -- watching a pillow fight in Washington Square Park on a first date is much more exciting than a glass of wine to me -- and also because if someone isn't the right fit, at least I had a fun time. My schedule became so busy I actually contemplated suggesting going on runs with dates (I was literally running out of time to squeeze everything into a day). But, I decided it might be hard to get to know someone while jogging.
So, I actually grew to appreciate the "Power Date" -- a short conversation with a set start and end time. Frequently, there were weeks when I had a date every night. And once, I actually booked a double header -- two back-to-back dates -- a few blocks apart. It was exhausting and extremely confusing. By the end of the evening, I was unsure what I had said to which guy.
Despite the different men, many of the conversations were disappointingly cookie cutter, almost eerily the same, as if I was on a rerun of "The Twilight Zone" where even though the characters appeared unique, they were actually all the same. But, among these many conversations, there was one magical one. The type of evening when you don't want to stop talking to someone, even if it's past midnight in the middle of the week -- the date when you wake up the next day knowing you want to see someone again.
In general, I wondered what the protocol should be after each of my dates. Should I wait to hear from the guy or should I reach out to him? Some knew about my project and joked, "Am I being filmed? I wondered: Would someone be intimidated to reach out to me for a second date because, in theory, I was moving on so quickly to the next guy? Or would he try to win me over? Yet, for better or worse, the Southern Belle in me waited (often impatiently) to hear from someone. I was taught that if he likes you, he pursues you. I did manage to bend those rules slightly with 30 for 30.
When I finally heard from someone who intrigued me, I knew I actually cared because my heart fluttered like a giddy 16-year-old's. I felt myself traveling back in time to the opening scene of Adventures in Babysitting where Elisabeth Shue lip syncs while dancing around her bedroom to "And Then He Kissed Me." Except in my case, the lyrics were "And Then He Texted Me." (On a side note, I could likely write an entirely separate post about how texting is probably the worst and best invention to impact dating today.)
When I did not feel a connection with someone, I felt it was important to be honest. Yes, it can sting, because I have totally been on the other side, but I would rather know someone is not going to be more than a friend than be strung along. Perhaps I discounted some guys too soon, but I passed them on to friends who I thought would be a better fit -- playing matchmaker for others was equally as fun.
So, as I move forward, despite my eagerness to see someone again who I like, I recognize patience is important, because the best dating experiences I have had developed from friendships. Yet, in this strange world of dating, I feel as if I'm on a rugged path, battling the pre-conceived notions of waiting for him to ask me to meet again or throwing all conventions out the window and asking him out.
What I have learned is that while dating is often a numbers game, it's about the quality, not the quantity, of dates. I would gladly go on more than 30 dates with one guy than keep going to meet all 30 dates. I have several offers to be my last (and, so the guys have claimed, "best" date of number 30). However, I'm hopeful to give out a rose sooner. I can only imagine what Grandma Betty would say to me, "Did you pick your nice fellow yet? No? Hurry up already! Maybe you should start looking on the subway!"