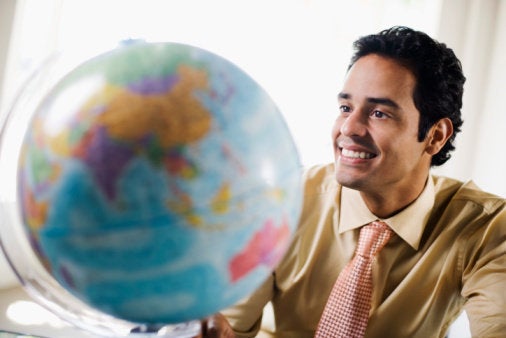 Thwack, thwack. Two newspapers hit my stoop before dawn. I'm always eager to read the news of the day (or, as HuffPost readers know full well, the news of yesterday...). This morning, as I ploughed through pages staggering under the weight of reports on war and corruption, scandal and politics, I savoured the wee gems of good news: stories about people who are finding ways to make the world a better place.
Despite their scarcity in the media, these good news stories aren't unusual in our communities - there is no shortage of creative approaches to the world's greatest problems (see archived articles about the New Radicals for a start). But, too often, these good works remain local -- and, therefore, limited - because there is no process to spread the word or to help these innovations go global.
Bill Drayton has found a way.
I've written about Bill and his brainchild - Ashoka - before (and Arianna nominated him as a HuffPost Game Changer). Ashoka is a global association of the world's leading social entrepreneurs (what's a social entrepreneur? Ashoka defines the term: "Men and women with system changing solutions for the world's most urgent problems.") In just a couple of decades, Ashoka has defined and developed the practice of social entrepreneurship around the world. Today, there are more than 2,500 Ashoka fellows in 70 plus countries.
Ashoka has just taken a giant step forward. They've introduced their Globalizer Program - designed to help 25 of the world's leading social entrepreneurs go global. Under this new program, these pioneering folks will get the intellectual and financial support they need to take their ideas to the next level and to more people. Globalizer Panels - held in Vienna this April, and featuring leading social entrepreneurs such as Jonathan Soros, president of Soros Fund Management and co-founder of the Fair Trial Initiative and Anousheh Ansari, the first woman to explore space as a paying guest, and sponsor of the $10 million Ansari X-prize - will help this select group of fellows develop strategies for growth (some sessions will be streamed at the Ashoka Globalizer site). And the first Ashoka Globalizer group will pay it forward. They'll help other social entrepreneurs learn how to scale their ideas.
Two very different examples of the first 25.
Ireland's Caroline Casey is changing how businesses think about people with disabilities. Her organization, Kanchi, has identified the best practices in employment, product and service design, customer service, and accessibility. Companies are catching on; they're eager to recruit from this community, and hungry for ways to tap into the spending power of this under-serviced part of every country's population. Caroline and her cohorts are already working with Europe's leading organizations - and now they're about to go global. (Regular readers will know that I'm writing about New Radical Innovators this year - that is, people who stay inside their field or organization and drive change from within. Caroline's clients are great examples of this growing trend.)
Back at home, Gary Slutkin's innovation has captured attention in Washington. Gary, a prominent epidemiologist in the fight against HIV/AIDS and cholera, is using his understanding of infectious disease to help shift approaches to violence prevention (yes, really). Gary describes violence as "an infectious disease" and says that the way to treat it (note: not "fight it") is to identify the most infected individuals in communities and stop the disease from spreading. CeaseFire, his organization, hires former offenders, trains them in conflict mediation and negotiation, and sends them into the thick of things. CeaseFire has been tested in all kinds of communities from Chicago to Iraq with great results (read more about it on CeaseFire's site). The White House has endorsed Gary's idea as part of the national violence-prevention strategy. And now other countries and communities will have a chance to try this innovative prevention model for themselves.
The Ashoka Globalizer program was made possible by the Essl Social Prize, the largest prize in the world for social entrepreneurs, at one million Euros.
How can people like us get involved? Visit the Ashoka Globalizer site to learn more, watch the videos from Vienna in April, and follow what's going on. Volunteer with any of the 25 organizations launched by these Ashoka fellows. Visit the Ashoka and Changemakers sites. And get your organization involved. Make your company into a hub for Innovators by partnering with one of these social entrepreneurs.
Now it's over to you. Please share your own good news stories - and your thoughts about the Ashoka Globalizer program - by commenting below. And tell us what your company is doing to make a difference in the world. As always, I invite you to email me directly: Julia (that familiar symbol) wearethenewradicals (punctuation) (traditional suffix).