When Sister Karen died, Self Help Graphics lost some support from the diocese, including eventually the use of their building. One of the changes was a move to a former sea urchin packing plant on East First Street, across the from a Metro stop.
This year marks the 40th Dia De Los Muertos (Day of the Dead) event, made an integral part of the organization in the early 1970s by Sister Karen.
Day of the Dead is an indigenous Mexican and Central American holiday celebrated on November 1 and 2, when it is believed that the spirits of departed loved ones come back to visit. Families prepare for these joyful visits by decorating cemeteries and preparing altars with the favorite foods of their dead in their homes.
SHG and Galeria de la Raza in San Francisco began celebrating in the 1970s as part of Chicano civic and cultural pride movements. SHG holds no-cost workshops for families and communities each year in the traditional crafts of paper cutting (papel picado), and making papier mache masks and calacas (skeletons) to prepare for the holiday parade and events.
Master printer Joe Alpuche, from the Yucatan, has been there 23 years and runs the Atelier, which is by invitation. Ten artists per year have a residency and produce editions of prints and bought by UCSB, LACMA, and galleries around the country and world. SHG offers community workshops for introduction to printmaking, taught by Dewey Tafoya. Traveling workshops go to schools.
We visited workshops in progress, and had the opportunity to speak with a few of the artists and staff members about their perspective on SHG.
Joel Garcia, program director:
Kids see that they can be on the level with any artist - not an "I'm your teacher" thing. People here learn from each other. Nothing gets done around here without community help - our Board of Directors, the volunteers who set up tables and take out trash, the teachers. Sister Karen saw the need for a printmaking center as part of the Chicano social justice movement of the early 1970's. SHG came from the social justice movement, and members have always been interested in identity, immigration, equality, and the fabric of Los Angeles. Now we are particularly interested in issues of land use and gentrification.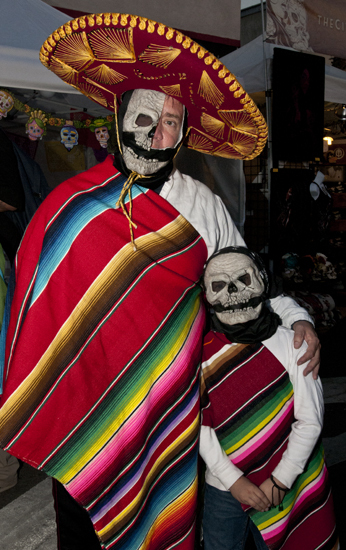 Photo: Ariell Brown, arielbphoto.com
William Acedo, printmaker:
The community is trying to get SHG back to where it was in the 80's. Sister Karen, a radical nun helped start SHG; she had studied art in Italy and was well-educated. She grew up in Boyle Heights. The first building belonged to her order. She had gone to parties in that building as a teenager. She rented the building to them for $1 per year. Now the Andy Warhol Foundation, among others, helps fund. Diane Gamboa helped start the organization in a garage, and they took a van around the city to teach silkscreen workshops and cultural heritage to students.

SHG provides a space for the incredible talent of our community. Prints make real art accessible to people for their homes without needing lots of money. Sister Karen believed that everyone has an artist inside. The workshops help people become artists without having to pay for expensive 'real' art classes or colleges.

When children come to workshops or to an event and make something cool and ask, "How much do I have to pay," and they hear that "it's free!" they are so happy because now everything costs money. So many artists have come from SHG who never went to art school; it's an alternative where they can learn a craft or trade and exhibit here, and the shows travel all over the world. Art helps break down young peoples' attitudes - they can do things that are beautiful, everything doesn't have to be about violence. SHG has evolved some entry-level print techniques and graffiti classes so that someone can go from their sketchbook to a beautiful print or aerosol art - it's transformative.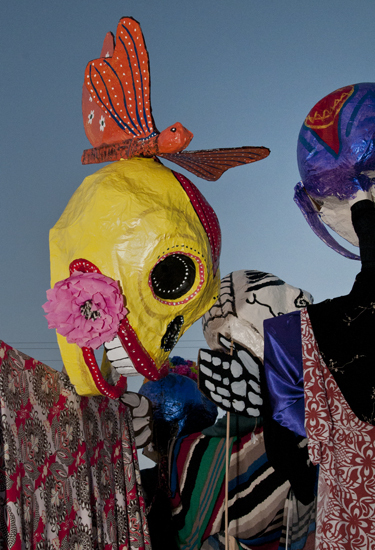 photo: Ariell Brown ariellbphoto.com
Poli Marichal, printmaker:
The S.O.Y. Artista program is a summer program for underserved youth in the community and gang members; also kids on probation can earn a point for taking the workshop. We turn kids' energy into the right direction; they do not have to be graffiti 'vandals.' They can make art or graffiti at SHG and it doesn't have to be illegal. Some of our students have used the portfolios they created here to apply for high schools and colleges. I led a program that paired students from elite private school Crossroads with students from east L.A. public school Roosevelt to get to know each other and work together.
Vyal Reyes, aerosol artist:
I use recycled materials; I let the kids use everything in my studio, but I don't let them take paint! Had a 65 year old man who didn't like graffiti, he decided instead of getting all pissed off, he would try to learn about it. He came to a class and questioned students and talked to them about it and tried it out and realized how hard it was. "It's hard!" Tagging along freeways and so forth is too hard for people with jobs and responsibilities. We try to nurture our young people, to bump them up and encourage. They can take a class from me and see my studio. It's a different perspective, to see what they can do with their work. We had a program putting layers of tagging and words at Dockweiler. I've had guys in their 40's say they've got to be in this class. We accept everybody from 12 years up, kids who teachers are always trying to push in other directions - to be 'constructive,' but we accept them where they are.
Come see for yourself! The celebration is Saturday, November 2.
For information on the artist-made altars currently on display, preparations, workshops, and Dia de los Muertos events: http://www.selfhelpgraphics.com/