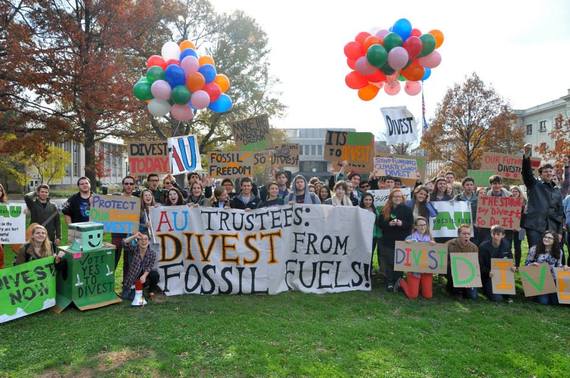 On Monday, Nov. 17 at 1 pm, hundreds of students, faculty, alumni, and community members will gather at American University for the largest action ever organized by Fossil Free American University, a student group that has been organizing for divestment for two years.
Just four days later, AU's Board of Trustees will vote on whether to divest the school's $500 million endowment from the fossil fuel industry. With nearly 500 people RSVP'd to the rally on facebook as of this writing, the pressure has never been greater on the members of the Board.
Every day this month, Fossil Free AU has sent each Board member a handwritten letter from a different student sharing their personal reason for urging them to vote yes to divest. I sent my own letter last week. The place I call my home, Miami, Florida, is set to be one of the major casualties of climate change in the coming years. The infrastructure of Miami and South Florida at large was not built to handle the rise in sea levels that have occurred in the last 50 years, and certainly not was is to come if we do not halt climate destruction. Seawater intrusion is rendering our drinking water unusable and ocean acidification has already largely destroyed our coral reefs and thus the marine life population. In my letter I told the members of the Board that I am passionate about climate justice because it is far more than a plea to save the environment, climate change is also devastating to communities, the economy, and life as we know it.
Most of us as individuals often feel we do not hold much power to create real change when it comes to the colossal challenge that is climate destruction, but the members of the Board of Trustees at American University, as well as hundreds of other schools around the country, hold the power to make an immense statement to the fossil fuel industry: we will not support you, because you are literally destroying our planet and our way of life. The divestment movement is about being on the right side of history and taking power away from fossil fuel giants. Executives and politicians will not pay attention unless we all rise for climate justice and force them to listen.
The fossil fuel industry will fall, but first we must rise. This Monday I will be joining hundreds of others in asking the American University Board of Trustees to rise with us and vote YES to DIVEST on November 21st.