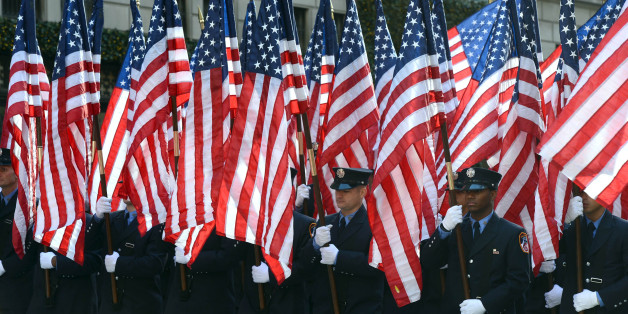 Today we honor American veterans for their service during wars throughout our nation's history. But if your idea of an American veteran doesn't include those who fought for freedom under different flags, you may be overlooking some of the hardest-fighting soldiers of all.
On Veterans Day, we should never forget the naturalized American citizens who so bravely fought in World War II in the Allied Forces of Poland, France, Norway, Belgium, The Netherlands, Czechoslovakia, Great Britain and Russia. We owe a similar debt of gratitude to soldiers who served in later wars, such as in the armies of South Korea and South Vietnam, who demonstrated their resolve alongside our troops during the conflicts in those countries.
Consider Daniel Nevot, 94, formerly of France and now a U.S. citizen living in Utah. Nevot, according to The Salt Lake Tribune, is believed to be one of the last living members of the Free French forces. "The Free French were so fired up at being able to take part in driving the German forces out of France that they fought recklessly and relentlessly," Nevot told the Tribune. For five years he fought the Axis forces across two continents. During that time, the American soldiers he fought alongside earned his respect, and that respect, in large part, was what motivated him to move here in the '60s.
Or an acquaintance of mine, Al LeQuang, who was a military intelligence officer in the Army of the Republic of Vietnam (ARVN) before he came to America. He believes his military intelligence unit was the only one with joint U.S./Vietnamese commands and the only Vietnamese unit whose operations were directly funded by the United States. His family was flown out by the Americans before Saigon fell to the communists. One of his colleagues in the ARVN also immigrated to the U.S. -- his son, Brigadier General Viet Xuan Luong, has continued the tradition of serving his country, becoming the first Vietnamese-born general officer in the U.S. military.
From wherever they hailed, these veterans, who immigrated to the United States and became American citizens, have had the good fortune to share in the fruits of freedom's victory. I am proud to include myself in their ranks.
During World War II, the German army occupied my native Poland. As a young boy of 10, I resisted with small acts of sabotage. Two years later, I became a full-fledged soldier in Poland's Underground Army and fought in the Warsaw Uprising. And when the war finally ended, I was a 16-year-old prisoner of war in Stalag XI-A in Germany.
Like my fellow immigrants, I was lucky enough to make my way to the States, where hard work, a can-do attitude, and the open society granted many of us a fighting chance to live the American dream. I worked my way through Yale University, receiving my Bachelor's and Master's degrees in Architecture. During those years I married, had a family and settled into a life made possible by the freedoms I and millions of others like me fought so vigorously to defend.
I saw firsthand what happens when freedom is squelched. The Nazi Germans went to barbaric extremes to wipe out the religious freedom and the very existence of the Jews. They also systematically dissolved freedom of speech, freedom of movement, freedom of the media, and demanded complete obedience to a tyrant, Adolf Hitler. After the war, I saw many of those same freedoms squelched again in my birthplace, this time not by fascists, but by communists.
My fellow immigrant veterans are probably even more finely attuned to threats to freedom than our American-born counterparts. That's a good thing, I think. Our heightened threat-o-meters make us a valuable ingredient in this melting pot. That metaphor may be a clichéd description of the United States, but I would argue it's an apt one. And it applies equally to our population of veterans. Just like our country is all the stronger for having a mixture of races, religions, ethnicities and political views, so too are we a stronger force for good in the world by being able to draw on this rainbow of Americans whenever we must go toe-to-toe with those who would harm our citizens and threaten our most valuable asset -- freedom.
So enjoy this Veterans Day by opening your minds and your hearts to this wide swath of brave men and women who now call themselves Americans. We may have fought for her values under many different flags, clad in many different uniforms, but beneath the exotic-looking emblems and insignia beat the hearts of like-minded souls.