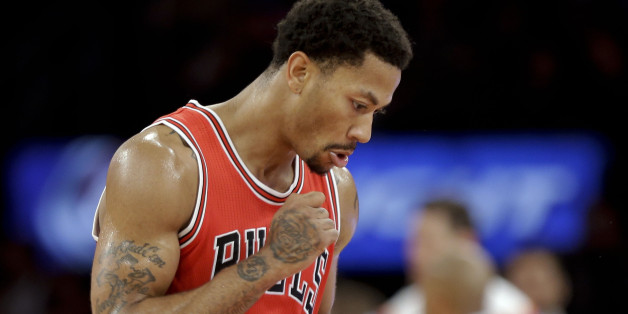 The matchup a couple of weeks ago between the Chicago Bulls and Cleveland Cavaliers featured a number of storylines. For one, it presented two of best teams in the Eastern Conference.
And two, it was the Bulls' home opener with their superstar Derrick Rose returning to the hardwood in what has been a nightmarish two seasons because of injury.
Rose finished the game with 20 points on 8-16 shooting, sometimes leaving defensive liability Kyrie Irving looking like a human turnstile. However, he left the game in the third quarter after coming down on Irving's right ankle on a put-back floater in the paint.
You could hear the eerie silence fall over the United Center -- even some fans were screaming "No! No!" For Bulls fans, those cries derived from the heartache injury-plagued Rose unfortunately provided them the past two seasons. But now, they have a greater reason to be disheartened and upset extending beyond the court.
In a recent report per ESPN, Derrick Rose stated that he is thinking about life beyond his foreseeable future with Chicago. "I'm thinking about long term. I'm thinking about after I'm done with basketball. Having graduations to go to, having meetings to go to," said Rose
"I don't want to be in my meetings all sore or be at my son's graduation all sore just because of something I did in the past. [I'm] just learning and being smart."
Are we talking about boxing and football, or is this basketball? Rose does the duty of painting a vivid picture of basketball as if it is barbaric competition. A sport that could one day produce dementia. One can easily become concerned for Derrick. Not merely for just his absence on the court but more so his mental toughness.
You never want to hear an athlete speak like that. Especially a 26-year-old with the physical capabilities Rose possesses. When healthy, Rose is the most athletically gifted point guard this game has ever seen matching his MVP credentials.
But statements like that prove to be insensitive to the Chicago Bulls and their front office who has invested in Rose's $95 million contract despite his absence on the court.
Rose is a humble kid, who often times brings up his Chicago roots as the catalyst for his success in the NBA. He also alludes to the exuberance he feels when playing in front of his hometown crowd.
I believe Rose should be given a pass on his remarks. He has said too much about his passion for the game and has fought tremendously hard to get back to the point where he is now.
Nonetheless, the city of Chicago has a legitimate reason to question Rose's future and his leadership qualities. After all who wants their superstar speaking as if basketball is "The Thirlla in Manilla"?
Don't worry D. Rose, 14 years from now you will be able to sit through your son's middle school Christmas recitals just fine.