The big trend in fiction, particularly, the young adult market is in dystopian and post-apocalyptic stories. Just look at the popularity of The Hunger Games and its upcoming movie release. If you're not familiar with them, dystopian and post-apocalyptic novels are filled with despair, political warnings, a controlling totalitarian government, and viruses... well, you get the idea. Yet through all the darkness which haunts these stories, there's light just beyond the horizon.
The most appealing aspect of these stories is that the creative characters and landscapes leap off the page and most importantly, how these stories make us think.
About her YA novel, Pure, Julianna Baggott says:
I think it's larger than YA, and it makes complete sense that both readers and writers would have an eye on the apocalyptic themes. The teen years are by definitions somewhat apocalyptic, and with the current economy, talk of nuclear weapons, environmental disaster... well, we're looking for stories where characters dig deep, who endure. Dystopian fiction is often about hope.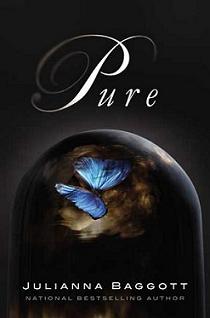 From the first page to the last I was hooked by Pure's vivid and visually stunning world. If you're a fan of books like The Hunger Games, The Handmaid's Tale and 1984, you'll get a kick out of Pure. Not only is it imaginative and clever, it's filled with frightening possibilities. Pure is science fiction at its finest.
Pure tells the story of two very different people, Pressia and Partridge, who live in a post-apocalyptic environment -- one ravaged by fire, disease, natural disasters, and war. It's a world where the remaining inhabitants, either live in the ruins or in a secure dome.
Prior to the opening, a nuclear war known as the Detonations has killed millions of people and severely maimed others. The extreme heat from the blast causes people to be fused with whatever object they were holding or near to at the time. For instance, Pressia was holding a doll. Her hand remains a baby doll. Her grandfather has a small fan fused to his throat.
If she lived in this world, Baggott describes what she would want or not want fused to her body. "I'd want to be my own person. Much of Pure came from motherhood in that you have offspring who, in those early years, do not spring off. They cling. Infants do seem particularly fused. How many times have I been pinned beneath a sweaty sleeping baby? As for objects to be fused with? Something useful -- a weapon maybe. Pure is a dangerous place to be."
Definitely an interesting concept and Baggott goes on to explain how she came up with the idea for her novel, "It's always the conversion of countless ideas and the finery of the subconscious. I was at work on a series of fabulist short stories populated by altered human beings -- one had a doll-head fused to her fist. She took root. The stories failed."
She continues:
But, at the same time, I had the desire to write something ambitious, otherworldly, and visually cinematic. The two things converged. I read a riff to my daughter, now 16, the age of the main character. She told me that it was the best thing I'd ever written; she's naturally a snarky reader so I was impressed by her reaction, and, in many ways, wrote it for her.
As for Pressia she is nearing her own sixteenth birthday, which means the government will either force her to join their ranks or make her a live target. Partridge is known as a Pure. He's grown up in the secure and peaceful Dome with his father, a powerful scientist. But Partridge is tired of being experimented on. When both Pressia and Partridge decide to escape their fates, their worlds collide, and will never be the same.
After reading Pure, I hope that we never experience a nuclear holocaust. Baggott does a fantastic job exploring this occurrence. The novel also features intriguing characters -- I never knew who to trust -- as well as gritty, violent scenes with heart retching emotion. I discovered that a theme woven throughout the novel is that love conquers all.
One thing Baggott says she would like readers to take away with them after reading Pure is this:
I'd like people to think about what endures, as well as what is lost. And I'd love for people to want to dig into the real history of atomic warfare -- in particular the bombs that the US dropped on Hiroshima and Nagasaki. As dark as the novel can be, it doesn't begin to express the effects of those weapons.
Pure leaves readers with a cliffhanger ending, but don't worry there's a sequel in the works. Fuse will be published next year. According to Baggott, there are new landscapes, more twists and turns within the Dome, and the relationships get much more complex. After discussing such bleakness, I asked her what one question she would like to be asked. "Well, I rarely get asked questions about my days as a first string All-Catholic field hockey player in high school, but, alas, that's how it goes."
Thank you, Julianna, for this interview.
"Pure" has been optioned by Fox 2000 and Karen Rosenfelt, the lead producer of "The Twilight Saga."
The official release date of "Pure" is Feb. 8th. Pick up a copy and enjoy!