At the end of the year, I usually make a top ten list of favorite books that I've read. These books consist of a mixture of adult and young adult fiction. One of the best and most entertaining books I've read this year, and frankly in a long time, is Something Strange and Deadly by Susan Dennard.
The debut novel is set in Victorian Philadelphia, during the World's Fair. The novel has everything I could have asked for in a thrilling and captivating story - adventure, mystery, romance, history and...zombies. This is the book I've been waiting for! And yes, I'm chomping at the bit to read the sequel, A Darkness Strange and Lovely, due out next year. Okay, so here's the age old question, what sparked Dennard's imagination to write her novel?
"I had a dream about a girl wanting to save her brother and the only people who could help her were this rag-tag team of losers. It haunted me for days. I finally sat down and wrote it down. And I thought, 'Wow! I wonder how that world would work in Victorian times. It seems like it would really fit well.'"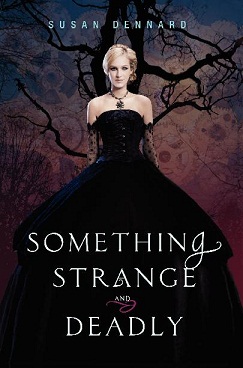 Why can't I ever have a cool dream like that? Dennard isn't the only writer who's had a dream which turned into a novel. Many writers suggest keeping a dream diary to write down ideas from our subconscious for stories. As for Dennard's dream, well, it truly works and fits perfectly in the Victorian era -- another time period in history I enjoy learning about.
With every turn of the page, Dennard's extensive research is showcased. I could easily picture the bustling Philadelphia street with rumblings hackneys, feel the confines of a pressing corset and heavy petticoats against my skin, and take in the wondrous sights of the innovation at the Centennial Exposition of 1876. Even the expansive and rugged land of Laurel Hill Cemetery along the Schuylkill River is featured. Dennard, who lived in Germany while writing the novel, conducted the majority of her research online, particularly through the amazing U.S. National Archives website. Dennard explains:
"Living in Germany made research a lot harder because I couldn't just go to the library. So, I had to find resources that were online. I was able to find on Archives.gov a lot of original guides, people's diaries from when they visited the exposition. I read guides to Philadelphia from 1876. Books on etiquette and fashion. I relied entirely on primary documents to get a feel for the world."
The protagonist is feisty and fiercely independent, Eleanor Fitt, an honorable young woman who will stop at nothing to find her missing brother. What or who is standing in the way? The undead which are rising from their graves, that's who! But these shambling creatures aren't the typical zombies you find in horror movies. Dennard's zombies are being controlled and manipulated by an unseen force that's killing prominent young men in Philly. Of her heroine, Dennard says:
"When the book first starts Eleanor is pretty naïve and innocent. She's always had her big brother to look out for her and take care of her. Yet, she's also clever and curious about the world. But as the novel progresses, she realizes the world isn't always a great place. There's a lot of darkness and betrayal. Her curiosity and impulsiveness start to shine, and also get her into trouble."
After receiving an ominous message, Eleanor is afraid that her brother might be next. With the help of the rag-tag team known as the Spirit-Hunters, Eleanor will find the answers she's seeking and much more, including an attraction to Daniel Sheridan, a member of the team. Daniel is cute, smart, cunning, a smart-ass and quick to put Eleanor in her place. But he wants to keep her safe at the same time. They have a love-hate relationship that builds. It's definitely not love at first sight for these two. Dennard explains:
"Daniel is someone who made some very large mistakes when he was younger and cannot seem to escape them. He feels this constant need to rectify what he did. But he also doesn't realize that his moodiness and anger stem from his guilt."
Dennard's characters are well-developed and rich in personality. Something Strange and Deadly also has equally fascinating secondary characters - from Eleanor's stodgy and snobby mother to Clarence, a wealthy young suitor whom Eleanor's mother is trying to set Eleanor up with.
I could not stop reading this delightful book. It's filled with exciting twists and turns and an ending that left me hungry for more. Dennard wanted to write a book that she would have enjoyed as a kid. Like many teens, growing up, books were her refuge. What she wants readers to take away with them after reading Something Strange and Deadly is this:
"I want, especially for girls, but for people in general, to feel empowered because Eleanor finds her own empowerment throughout the course of the book. She realizes we all have a choice. Despite what we might think, I want readers to finish the book and feel like they can do whatever they want with their lives. They're not trapped like they might think."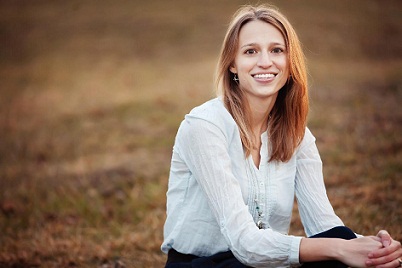 Early on, the Georgia native didn't plan on being a full-time writer. Dennard actually studied to be a marine biologist. But she's always loved to write. She met her husband in Canada and they moved to Germany in 2009. Since then, she's become a full-time writer. Aside from her books, Dennard keeps a blog which focuses on writing, the industry and book reviews. She's is a founding member of Publishing Crawl, which was originally Let the Words Flow. It is made up of aspiring and published YA authors and industry insiders who dole out writing and publishing advice. Dennard says:
"I love talking about writing and helping people with their writing. When I joined Let the Words Flow, which is now Pub Crawl, I really stretched my teaching fingers. This is part of the reason why I went into marine science because I loved to teach. Not to sound vain or arrogant, but I'm good at helping people fix things in their writing, better than I am at fixing my own things."
Dennard gives awesome advice on her blog. If you're an aspiring writer, or even an established one, I highly recommend checking it out, including Pub Crawl.
When not writing, Dennard says she relaxes by watching TV, traveling and spending time with her husband, and hiking with their dogs. Due to her husband's job, they moved permanently to the US in the summer. Dennard is currently at work on editing A Darkness Strange and Lovely and touring for her first novel.

Something Strange and Deadly was released July 24th. Pick up a copy and enjoy!