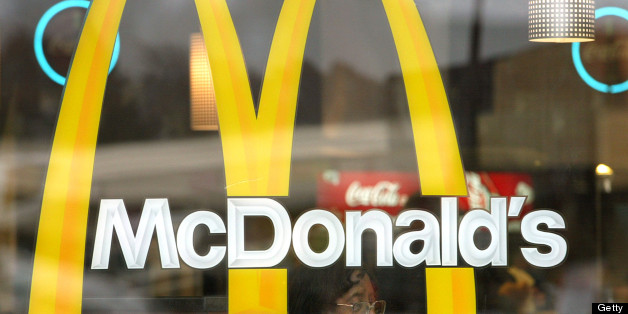 I first turned to McDonald's for comfort in 2004. I was studying in Rome and yes, the food was delicious. The pasta was toothsome, the olive oil spicy, the wine weighty and fragrant. It was so good, in fact, that Romans at the time wouldn't deign to recognize another cuisine as worthy of eating. When I wasn't in the mood to eat pasta for the 10th consecutive day, I'd find myself the only patron at 3 p.m. in a lonely Chinese restaurant near my Vatican-adjacent apartment, eating fried rice and almond chicken. It was the only restaurant I'd discovered that didn't serve Italian food.
I started going to McDonald's for breakfast on my way to school in the Trastevere district. I found Roman breakfasts unexciting (I'd now swoon over cured meat and crusty bread for a morning meal but my 20-year-old self wasn't so wise) and thought that one of those hot, handheld apple pies might just hit the spot. Then I'd venture in for the occasional Happy Meal when the desire for American fare struck. I know about pink slime and I eat at farm-to-table restaurants and I stop at the farmer's market on my walk home to fetch fresh eggs and asparagus for dinner. But I'm not going to tell you a Chicken McNugget doesn't taste good. It does. It tastes really, really good.
In my subsequent travels, the occasional trip to McDonald's while abroad has not only been a way to find some familiar flavors in a strange land. It's also served as the most surprising way to do just the opposite. These menus can reflect the local tastes in an even starker way than a night market or street vendor might. I remember eagerly entering one outpost in a remote part of Indonesia after three months of backpacking, salivating at the thought of Big Macs and fries and anything that wasn't nasi goreng, the fried rice dish I'd been subsisting on for weeks. Of course, there was a version of the Indonesian staple on the menu.
In Colombia, Egg McMuffins shared the breakfast menu with cheesy corn arepas. In Australia, biscuits came with vegemite as well as jam. Hong Kong peddled teriyaki bowls, sesame miso dipping sauce, kumquat green tea punch and a sandwich of boneless chicken thighs and five spice powder -- plus a breakfast platter of hot dog and baked egg over a pile of 'twisty pasta', an odd mealtime mash up that didn't seem American or Asian in provenance. Sometimes a visit to McDonald's reminds me of home and other times it reminds me of just how far away I am.
I haven't been back to Rome since college, but a glance at McDonald's online menu for the country shows that those stubborn Italian tastes have since infiltrated my little oasis of Americanism. Now on offer next to my beloved nuggets? Mortadella on focaccia, spinach and Parmesan croquettes, pasta with tuna and capers and, to finish it off, a pistachio McFlurry.