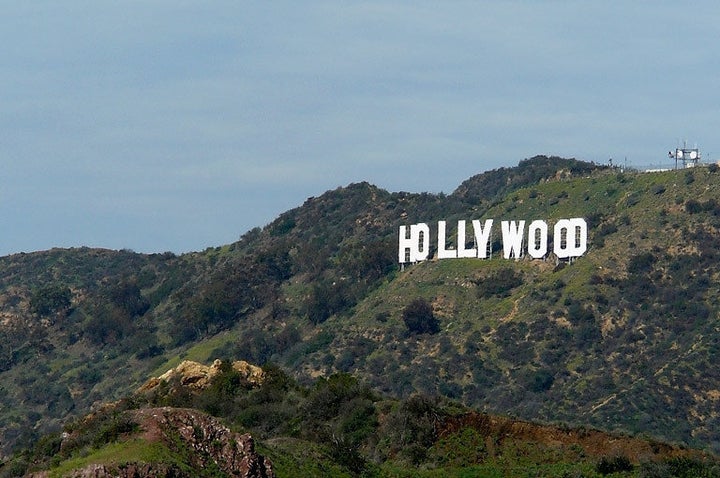 I was having a cup of herbal tea in Greenwich -- (a suburb just outside London) when I got the call from my agent. It should be mentioned that I was nine months and one week pregnant with Thomas at the time.
"Hi, I know you are about to give birth, but some agents are in town from L.A. and they want to meet you tomorrow."
I got in a cab the next day -- keeping fingers and legs crossed -- and headed into town. The cab driver got lost when we got to the centre of London, but he dropped me off anyway, saying (sheepishly), "The hotel is just over there." After fifteen minutes of waddling, it became clear that I was in entirely the wrong place, and I was now late. (I'm still mad at that guy.)
When I finally got to the hotel, the gist of what they were saying was that they had really enjoyed the BAFTA- and Golden Globe-nominated mini-series I just directed, and they wanted to rep me in the U.S. It seemed like a good idea so I said yes, went home, and gave birth.
Three months later the three of us came out to the L.A. -- my husband Rob, baby Thomas, and me. The purpose was to meet and greet people "in the industry." We stayed at the Hollywood Renaissance Hotel just as they were getting ready for the Oscars, which would be held the following week in the same complex as the hotel. In order to get out of the hotel, we had to wheel Thomas down the red carpet. The whole situation was completely bizarre, and -- I now realize -- very L.A.
On that first visit I would go to six meetings a day, being driven from studio to studio by a kid from the mailroom at the agency who had anger issues. He was disappointed when he found out how unimportant I was (he thought he was missing opportunities to be "given a desk" back at the office), so he would take his frustration out on the traffic, screaming at all cars that got in our way. I thought that he was just the way things were in the cutthroat world of L.A. I would feed Thomas in car parks between meetings, give him a cuddle, and then go on.
Soon after that initial round of meetings, I learned that the wonderful Shonda Rhimes had offered me a job directing a little-known mid-season show called Grey's Anatomy. The showrunner, Peter Horton looked at my face the first day I arrived on set to look around. I was used to working on location with a small crew. The stages went on and on, and the thought that I would soon be directing on them was... "Scary, huh?" said Peter. "You can be intimidated for one day, and then after that you are just going to deal with it." And he was right, so I did. The actors and crew were all very welcoming. They even put "lift scene" on the callsheet instead of "elevator scene" in deference to my heritage. I would spend weekends walking around the studios -- I remember Thomas stood in for a baby in an episode I directed. I used to put him down for a nap in the operating theatre.
One day, there was an accident on the set. A suspended ceiling fell down on my head and the heads of some of the crew in the MRI room. It must have looked shocking to the actors who saw the whole thing happen on a monitor. It all happened in slow motion; I thought about my kids... The person who forced the door open and pulled me out was Patrick Dempsey. It was like I was in the show, not directing it.
I honestly think being a mom has made me a better director. It has been said before, but all the skills you need to be a mom -- multi-tasking, dealing with challenging personalities, long hours, stamina, never giving up -- are all practiced to the point of refinement as a mom. It can be tough to keep both sides of my life going. But I wouldn't have it any other way.
Julie Anne Robinson's latest movie -- One For The Money by Janet Evanovich, starring Katherine Heigl -- opens Jan 27th.