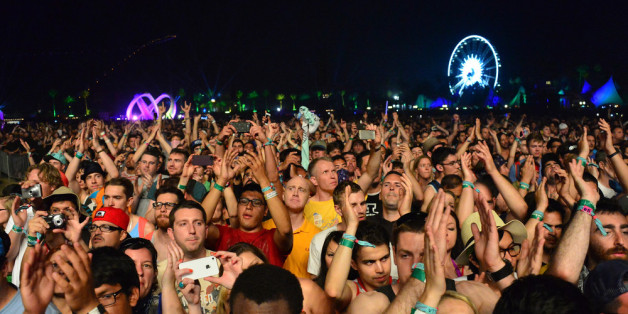 Remember when you were a teenager -- or even in your early 20s -- and you walked into a party or a concert feeling a little uncomfortable and kind of unsettled until you finally see a familiar face?
Well, it wasn't anything like that last Saturday as I made my way through the throngs at Coachella -- where my 16-year-old was completely age-appropriate and I was, well... definitely not. There was no moment when I sighed with relief at finding that familiar face. I walked into Coachella feeling like just a woman at a concert and very quickly awoke to the harsh reality that I had walked into a strange anthropological experiment. I didn't just feel invisible -- I was invisible.
As a 50-year-old -- okay 53 -- the sea of faces is the first thing telling you that you are deeply out of your element. As I was packing to go, I fooled myself into thinking that I was checking the weather to see just how hot it was going to be and what I needed to bring to brave the 100- degree desert sun. But that was a lie. I was actually perusing the Google images of Coachella fashion. I thought I'd see what it took to look Coachella-ish or Coachella -esque. It took me about two seconds to get that this was not going to happen. Without going into too much detail, the cut-off shorts and keyhole mini dress were both out of the question.
So now I'm there, in my white jeans (slightly distressed at the knees) and black tank top (the safe 50-plus mommy uniform) doing my self-appointed duty of making sure that I hadn't thrown 16 years of pretty respectable parenting out the window in one indulgent move by letting my daughter run around at a rave.
I was a mom on a mission, which somehow made this experiment a little more bearable. I accept that Coachella has become one of those rites of passage for millennials and far be it from me to deny my child that... but along the way I had my own rite of passage: the one where you realize that you are invisible when walking through a vast crowd of strangers under 25 in their own world with their music, their friends, their selfies and their Instagram.
I felt a little crappy for a second -- that pang of coming to terms with something for the first time. In that moment the reality of my age rather than the illusion of it came into focus. Then and there, in the middle of the Empire Polo Field I accepted that indeed there are some things that I am now just too old for. Even if I didn't feel my age, whatever that means, -- which I don't -- it didn't mean that I am not my age and that a rave in the 100-plus degree desert with 40 mile an hour winds whipping the sand around was kind of a stupid place for me to be.
So I left and went back to the hotel. I was satisfied that by and large my 16-year-old would be safe and would likely come back covered in sand and thirsty but in one piece.

As an aside I did consider how strange it was that Palm desert -- which is the west coasts' answer to retiring to Florida -- for six days a year becomes the coolest place to be for anyone under 25.
I wonder if that is the irony of the whole thing: The young come in and take over for a brief moment, while we as their parents are glimpsing the last gasps of knowing what our kids are doing as we look ahead to the hill we are about to be over.
So they have their rite of passage and we have ours.
But there is still overlap -- musical, emotional and historical. Unlike our parents, who mostly viewed their children's choice of music as noise, our ears are more attuned to handle and even enjoy some of what our kids are listening to. For instance, I listen to Vampire Weekend, 1975, Justin Timberlake, Jay-Z, Lorde, Ed Sheeran, Kid Cudi among others with my daughter a lot. And in the spirit of everything old is new again, scores of artists are sampling "old" songs all the time. So we can still feel secure in the fact that we are not invisible to our children's generation within the confines of our cars and living rooms as long as we remember that we are everywhere else...