As a host during the holiday season, you must provide alternatives for people who don't drink alcohol. There are countless reasons why people abstain, and having a non-alcoholic choice will allow the guest to feel included in your event.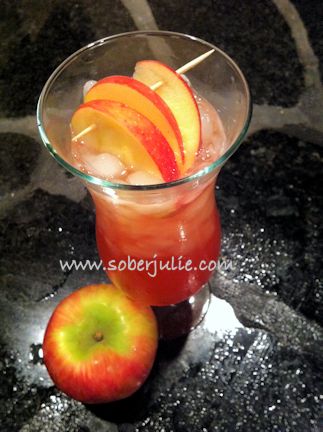 Red Apple Delight

Red Apple Delight is a refreshing drink to be enjoyed in lovely cocktail glasses. Dust off your best glasses and prepare for a treat! For a lighter recipe, blend your own juices or use sugar-free options.
Preparation Time: 15 mins
Makes 4 glasses
Ingredients
1 1/2 cups apple juice
3/4 cups sweet lime juice
4 teaspoons grenadine syrup
1/4 cup carbonated water
1 cup crushed ice
For The Garnish
Method
Combine the first three ingredients in a cocktail shaker and shake well.
Fill each cocktail glass with crushed ice and pour equal quantity of the juice, leaving a half an inch at the top of the glass.
Top each glass with carbonated water and stir.
Serve immediately garnished with apple fans.
To make apple fans:
Starting from one end of a quartered apple piece, make 4 to 5 slits at regular intervals till 1 centimeter away from the other end.
Gently open the slices to form a fan.
Pierce with a toothpick from the intact end to hold the slices and place on the glass.
To see more delicious recipes check out my book Mocktails & More.