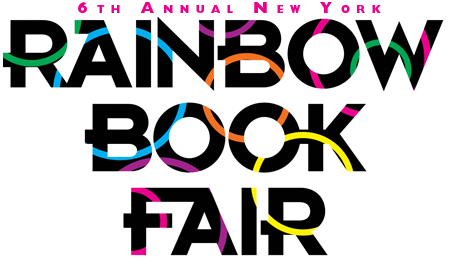 On Saturday, March 29, 2014, the sixth annual Rainbow Book Fair will be at the midtown Holiday Inn in Manhattan. Sinister Wisdom, the oldest, continuously publishing lesbian journal, will be there, sharing a table with A Midsummer Night's Press (AMSNP), our co-publisher of the Sapphic Classics Series.* The Rainbow Book Fair will feature over 50 exhibitors, small press publishers, LGBT periodicals, independent authors and other people concerned with LGBT literary culture.
Increasingly, book fairs like The Rainbow Book Fair are important to LGBT publishers like Sinister Wisdom and AMSNP. At book fairs, we meet readers and sell copies of our books and journal issues. Readers and sales of books to readers are vital for the survival of small presses; readers are also crucial for our literature to flourish.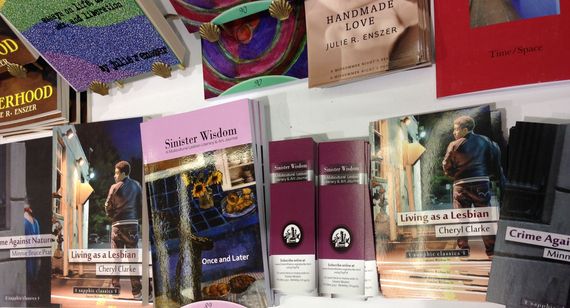 Sinister Wisdom and AMSNP are both literary publishers; Sinister Wisdom publishes a quarterly journal of fiction, poetry, creative non-fiction and art; AMSNP publishes poetry. The past 20 years have been difficult for small literary publishers. Independent LGBT bookstores, once a vibrant community with stores in most major U.S. urban areas, have diminished in numbers, size and reach over the past 20 years. Many long-standing community book institutions, like A Different Light in New York and San Francisco and Lambda Rising in Washington, D.C., closed as a part of overall consolidation in bookstores when Internet technologies disrupted book-selling. The demise of independent bookstores, fierce pricing competition for books and journals, initiated by chain bookstores and amplified by Amazon, combined with the proliferation of free, quality writing on the internet make the space we occupy difficult and competitive. It is no secret that reader contributions in addition to subscriptions subsidize journals like Sinister Wisdom. While some books publishers subsidize their own publishing activities, Lawrence Schimel, the publisher of AMSNP, subsidizes his publishing work with his income as a translator.
Of course, economic interest is not why we publish; we publish because we love queer literature. We publish because we know that small publishers have been the nurturers of queer writers for generations. From Walt Whitman to Dorothy Allison, from Audre Lorde to Essex Hemphill, from Gloria Anzaldúa to Alison Bechdel, our greatest writers have found their first homes with small LGBT journals and small LGBT presses. Ultimately, we publish to find and create audiences for queer work.
Thus, venues likeThe Rainbow Book Fair are important to us as publishers. Like the Women in Print conferences that feminists organized in 1976, 1981, and 1985, like the Out/Write Conferences held during the 1990s, which brought together lesbian and gay writers, activists, and readers, LGBT book fairs provide spaces for writers and publishers to profile their work to an eager audience of readers. Ultimately, meeting readers is vital work.
Readers, people who enjoy the stories of queer writers, people who are happy to spend a Saturday afternoon with a book, people who are transfixed by the magic of the page, by the unfolding of language across a printed page, are an essential part of the queer literary world. Without readers willing to travel with writers through their imagination, willing to see the images and invest in the stories that writers tell with their hearts and their minds, writers have no audience to imagine as they sit alone in their rooms writing, and without readers publishers have no reason to invest the time and money into producing books as beautiful objects for readers to hold. Once readers could be found through our LGBT bookstores and at conferences, today, publishers often find readers online, but there is nothing more wonderful than the face-to-face interactions among readers, writers and publishers. The Rainbow Book Fair will be filled with these interactions. If you are in or around New York on March 29th come to be a part of the magic.
While I may bemoan, at times, the loss of some institutions of LGBT arts and letters over the past twenty years, queer activists are starting new literary institutions, and they are growing and thriving. The Rainbow Book Fair celebrates six year; OutWrite DC, another book festival and a program of the DC LGBT Community Center, will happen from August 1st through 3rd for the fourth consecutive year. New journals like Assaracus, Adrienne, Gertrude, and Wilde are starting, and new publishing ventures like Sibling Rivalry Press, Magnus Books, and Bold Strokes Books begin while more established publishers persevere and grow. In fact, we may be in the midst of another renaissance in queer letters.
One thing is clear: if you are a reader, we need you to be a part of the queer literary community. Readers need books; writers need readers; publishers need readers and writers. Together, we all create a vibrant LGBT literary community.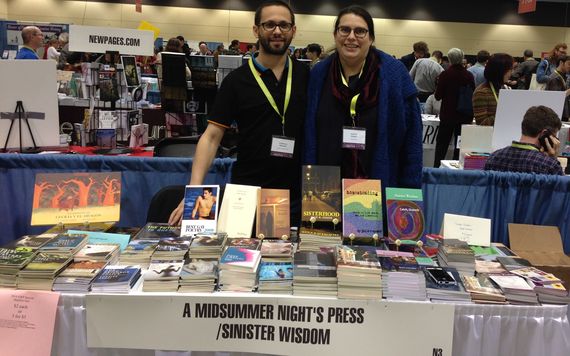 Lawrence Schimel (L), publisher of A Midsummer Night's Press, and Julie R. Enszer, editor of Sinister Wisdom, at AWP 2014 in Seattle, WA.
*I will not be at the Book Fair. I will be at a conference on the Women's Liberation Movement in Boston, MA. The Sinister Wisdom table will be staffed ably by volunteers, Nikki, Jeri, and Michael. Do stop by and say hi to them.