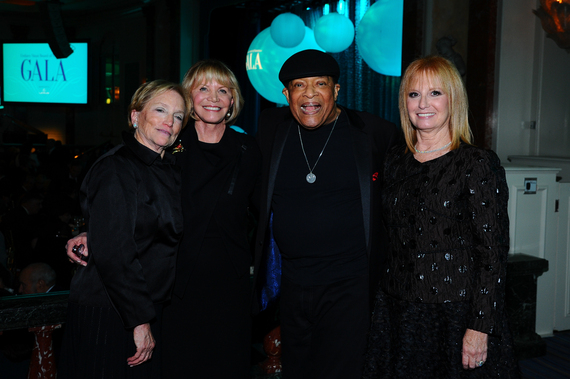 Harriet Nichols, Gala Chair, Ruth Dunn, Chair, Board of Governors, Al Jarreau and Gala Chair Sally Magaram. Photo credit: Vince Bucci
There was a time that conversations about stem cell research seemed as far into the future as everyday people booking vacation flights to the moon. Recently, the Board of Governors at Cedars-Sinai held their 2014 Gala at the Beverly Wilshire Hotel. The topic of conversation was about the vast amounts of real-life scientific possibilities with in the medical field of stem cell research.
The event honored distinguished philanthropists Janet and David Polak who received the Philanthropic Leadership Award Gala co-chairs Harriet Nichols and Sally Magaram welcomed guests, as Nichols noted, "this isn't a dinner, it is an investment for a better, healthier tomorrow."
The event was hosted by comedian Paul Reiser who noted that stem cell research used to be "the stuff of science fiction, but you are making it science fact. I'm thinking you guys have found the fountain of youth and I want in. If you are looking for a guinea pig, I'm your man!"
Singer-songwriter and seven-time Grammy winner Al Jarreau sang five songs including, "We're in this Love Together."
Proceeds from the Gala will benefit the Regenerative Medicine Institute under the leadership of Clive Svendsen PhD., which will focus on stem cell research and other therapies for neurological disorders, cancers and metabolic, eye and skeletal diseases.
About the Cedars-Sinai Board of Governors
The Cedars-Sinai Board of Governors is a diverse community of donors and leaders who are committed to supporting the Medical Center by providing financial resources, educational experiences for its members and volunteer opportunities. For more information on how to get involved with the Cedars-Sinai Board of Governors, please call (310) 423-7471.
Follow @JulieSpira on Twitter