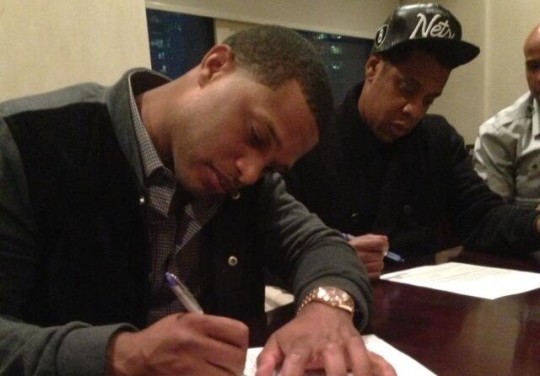 What's wrong with this picture? OK, here is my take.
I believe that Cano and his agent Jay-Z made a BIG mistake going for the big bucks in Seattle and leaving the Boogie down Bronx. For starters Cano and his agent knew the Yankees were not going to budge and offer a 10-year deal to a 30-year-old. Cano and Jay-Z should have known that accepting less, perhaps a 7-year deal worth $180 million would in the long run earn Cano more money.
Here is how? Cano is one of the last homegrown Yankees. He has been with them since his teenage years up from the Dominican Republic academy, to minor league and eventually to the big circus all with the Yankees. From his rookie year through this 2013 season Robinson Cano has been a true-bred Yankee. That means if he had stayed he would have been the new face of the Yankees, the franchise player. That has a value, something that he will not get in Seattle as they already have that in the name of King Felix. Here in New York he would have been first in line to replace the exiting captain, Derek Jeter. How much more money in endorsement deals would Cano have made in New York (the marketing capital of the world) as the franchise player? I believe enough to make up the difference of his asking price of $240 million.
Cano could have made all his money here in New York with the Yankee brand. He would have completed his career with one team, something that is very rare today. By staying, Cano would have been making money for as long as he lived. After baseball he would have been invited to every old timers game, special events at the stadium in New York, Tampa and in the Dominican Republic, gala events and been making special appearances all raking in cash for the rest of his life. Not to mention that he would be playing in the city with the most Dominicans in the country, that also has a value.
I don't believe that he will ever come close to getting any of that in Seattle especially in a city that averages among the lowest fan attendance rates in Major League Baseball. What was Jay-Z thinking when he signed Cano to Seattle? Can he, or will he use his mega image to help Cano land endorsements deals and make him a star icon outside of Seattle? We shall see? I believe that Robinson made a bad decision, yes he got more money, but he will not get what he could have in New York, money plus much, much more.
Meanwhile we have Carlos Beltran who accepted a contract with the Yankees, 3 years for $45 million when he could have played elsewhere for $48 million. Beltran did not need a Jay-Z to tell him that though on paper you might be losing $3 million, but in the long run, Beltran could make that $3 million up just by being a Yankee and ending his career here in the Bronx, New York.