I went to the stadium to specifically see Robinson Cano. During his first trip here, back to what used to be his home, The Bronx, I purposely stayed away because I knew it was going to be the circus that it was. However, I believed that today, coming back on a Monday for a make up game would be a much better day to get a few minutes in with Robinson.
We have a bit of history as I have been following him since his rookie season and as his first unofficial interpreter. If I was at any event that he attended, or if there was any press, he would insist and ask me to please interpret for him. At his request, I also helped him get some ambulances to his hometown of San Pedro De Marcoris. He asked for my assistance after a friend of his died from a motorcycle accident and died because he was not taken to the regional hospital in time because there was no ambulance available. That was a long time ago and my friend Robinson can now speak fluent English and can probably supply an entire hospital in San Pedro.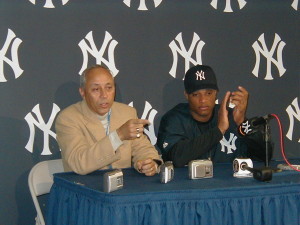 Julio Pabón Interpreting For Cano (Photo Latinosports.com)
The entire stadium seemed slow, very little traffic, parking lots were empty, not many fans waiting for the doors to open and not too many reporters hanging around, a perfect day for quality time with the players. I waited a few minutes in the visitor's locker room and I finally saw Robinson walking in he saw me and said my name, "Pabón." I approached him and we gave each other "High Five," a quick hug and I told him I was not present for his first New York visit because I knew he was going to be swarmed. He smiled and knew exactly what I meant.
Unfortunately, by now all the other reporters began to arrive and surround his locker. Forget the quality time and just roll with the situation.
Most of the questions were about his health. Robinson recently sat out four games and that is a big thing for him since he has never sat out that many games since his early days with the Yankees, a long time ago.
Robinson explained that it was not anything serious. "I had some discomfort in my foot and I told the team. We decided it was best for me to rest for a few days. That was all."
He was asked how is he settling in to his new surroundings. He stated that it was going well. That at first he felt he had to adjust to a lot of new things, but that thanks to his teammates and the team he feels quite comfortable in his new city.
One reporter asked how did he feel that his old teammate, CC Sabathia had told the press that "it was wrong for the Yankee fans to boo him during his first visit." Robinson stated that, "Fans are fans. I understand the fans reaction and I am OK with it. My focus is always on the game and not on the fans. It was nice of CC. He is a good friend.
Asked about his lack of home runs in his new stadium. Robinson stated that it was a big stadium and the fences were further out. "I'm not a home run hitter. I like to go with the pitch and put the ball in play. My objective is to get on base and help my team win."
I walked away knowing that there would be no quality time to talk about other items that are not related to his present statistics. It's obvious that Cano is "not sleepless in Seattle." but then again statistics is the only interest in the sports media.
Are you still a Robinson Cano fan even if he left the Yankees? I'm interested in your comments. The first 5 that write a comment on the www.latinosports.com article will receive a collectible LatinoMVP poster of Cano when he won the LatinoMVP award (winners just pay for shipping).