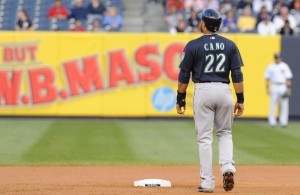 For the past three days, Yankee Stadium had been buzzing with press everywhere. It was like every press organization wanted to scoop up an exclusive on Robinson Cano's first trip back playing for another team. In this case, the Seattle Mariners visit became more of a three-day circus, and thanks to the cold weather and rain, it only lasted for two nights, as one games was postponed. All the commotion was surrounding Robinson Cano returning for the first time to play against the team that he started his professional career with, the New York Yankees.
I don't know what others will be writing, but I want to write about the memorable moments I remember with the young Robinson Cano. Many of us who saw the youngster for the first time in 2005 when he was promoted up to the big circus saw a young 23-year-old grow into the star veteran he has become. I'm proud to see that Cano never changed his demeanor towards the press and the fans. Well, in this case I'm speaking for myself. Robbie never said no to me whenever I needed to ask him a question or interview him. He never let his growing star status get to his head. I always saw him go out of his way to make a young child smile at home and away (I recently saw that with California Angels, Mike Trout).
I remember translating for Robinson. When he first came up, he spoke very limited English and preferred to speak in Spanish. We grew a bond as he saw the difference when I translated (I am a professional Spanish interpreter) as opposed to others who spoke Spanish and English. He was as sharp at scoping the interpreting problem as looking for that fastball over the plate. It came to a point that he insisted I translate for him in most of the events that he attended and that I was present. Every chance I got, I would remind him that he needed to learn English if he really wanted to market himself to all of baseball. To his credit, he did.
In only his third year in the majors he blew my mind when he approached me during Spring Training and asked me to help him get an ambulance to take to his town, San Pedro De Marcoris. I was shocked to hear that his close friend had died in a motorcycle accident because there were no ambulances to transport him to the general hospital near the capital. Robinson was so affected by that death that he knew he could use his status to help change that reality in his town. I worked with him and the end result was that he was able to take three ambulances to his San Pedro. How many young players would have cared to do what he did? I don't know, but again, his keen eye outside the baseball field was as good as his ability to see every ground ball hit anywhere near second base. He was quickly becoming a well-rounded player, on and off the field.
I have other Robinson Cano stories, like the number of times he won the prestigious Latino Sports LatinoMVP award, but for now I just want to say that we did not have to bombard Robinson in this, his first visit to New York, to ask him "How he felt being booed by Yankee fans?" We already know the answer to that question. Robinson Cano understands that baseball is a business, enough said.
I was just proud to see this young Latino grow and become the player that he has become. If you're a baseball fan, or like me, the new Latino fan that follows players and not necessarily teams, then Robinson Cano will always be loved. I walk the streets of the South Bronx every day and these last three days I conducted my own survey. I asked many people old and young what they felt about Cano, on this his first trip back wearing another uniform? My conclusion is that Robinson Cano is still loved here in the Condado De La Salsa, The Bronx; no matter what uniform he wears.